This Three Cheese Prosciutto Alfredo Baked Ravioli has layers of mariana, prosciutto alfredo sauce, cheese ravioli, and Italian cheeses all baked together.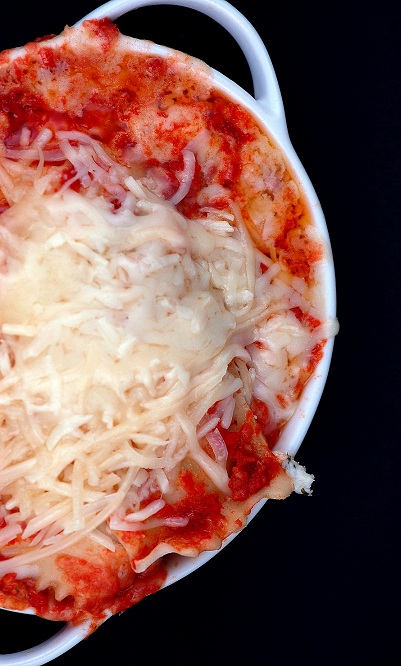 One can talk a good talk but in all honesty my talk was put to the test on Super Bowl Sunday.
While scrolling through my Facebook page on the way back from the party (no I was not driving) I noticed that my ex-husband had changed his profile picture.
As well as posted photos of him and a girl hiking.
This was it.
This was my gut check moment.
The moment where you can say all you want oh gee I want them to find someone, but what is your real feeling?
So what did I feel?
Happiness.
He looked happy.
Genuine in the moment happy.
And I was happy for him.
She looked nice.
I didn't pick her to pieces like women like to do.
I texted him and asked about her.
When I found out she wasn't with him in a romantic capacity I was disappointed as he seemed so happy in the photos.
But then I kindly reminded myself that as long as he looked that happy I should just be thankful for that.
I passed my gut check.
I passed my real test so to speak…or what I thought was going to be my real test.
It was nice to know in a way that when push came to shove I was truly happy for him.
And I hope he feels the same for me.
Some people ask me why it works for us, how can we stay friends?
Well for one thing it's one of the reasons we split.
Makes no sense right?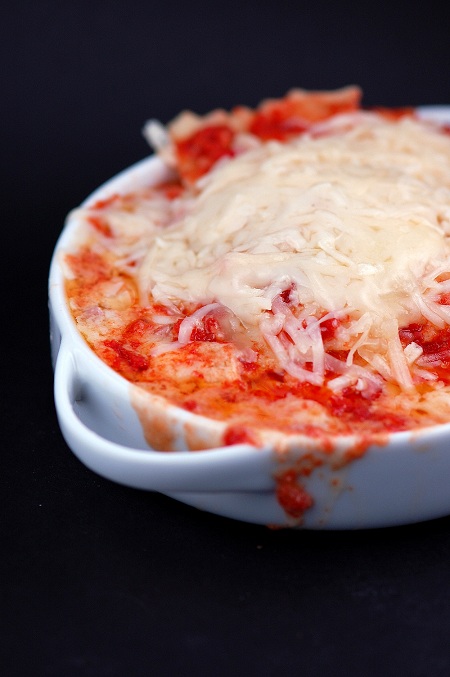 We made the choice to split before we hated each other because we didn't like the idea of hating each other.
And while we knew we weren't a good match as a married couple we knew that we were still compatible as friends.
We also don't hang out all the time.
He isn't my best friend.
He isn't my go to on personal stuff.
There are boundaries and that's okay…there should be.
If you have followed this blog for a long time you know that my ex was always referred to as the picky eater.
Apparently he is expanding his taste buds now, but this Three Cheese Prosciutto Alfredo Baked Ravioli I know he would have eaten.
It's kiddo approved and something that gets made often around here.
The Alfredo sauce makes it sinful but oh so yummy.
P.S. It's a great day to buy my cookbook Holy Sweet!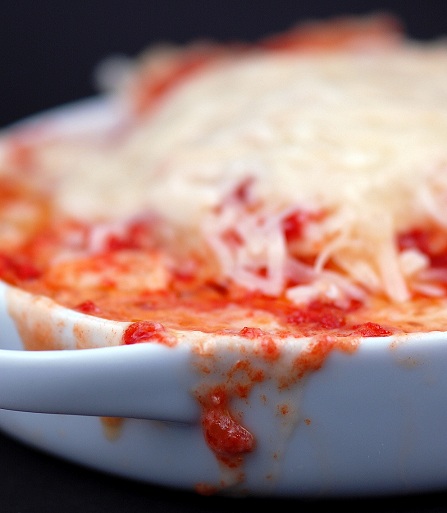 Want More Pasta Ideas?
BBQ Pulled Pork Mac and Cheese
Alpine Dijon Macaroni and Cheese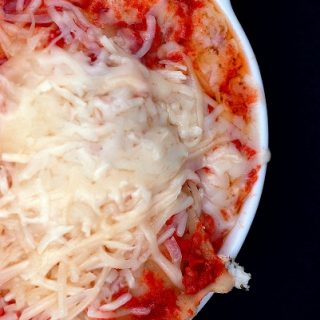 Three Cheese Prosciutto Alfredo Baked Ravioli
Ingredients
For the Prosciutto Alfredo Sauce:
4 ounces Prosciutto, small dice
6 TBSP unsalted butter
2 tsp. chopped garlic
6 TBSP flour
1 cup heavy cream
3 cups milk
8 oz. Parmigiano-Reggiano cheese, grated
For the Pasta:
1 Jar (26oz) San Marzano marinara sauce (you can use your favorite)
2 pounds store-bought fresh three cheese ravioli
1 1/2 cups shredded mozzarella
1/2 cup grated Parmesan cheese
Instructions
For the Alfredo Sauce:
In a large saucepan over medium-high heat and add prosciutto pieces and cook for two minutes.
Turn heat down to medium and add the butter and garlic and let sauté for one minute.
Then add the flour and stirring the whole time sauté another minute. It will be clumpy at this point.
Add the cup of heavy cream and the milk, whisking the whole time.
Turn up to medium-high heat and bring to a boil.
The minute you get to the boil.
Turn down to low-medium and add the cheese, whisking the whole time.
When cheese is completely melted and sauce is smooth (minus the prosciutto pieces) the sauce is ready.
To make the Pasta:
Preheat oven to 425 degrees.
Cook ravioli in a large pot of boiling salted water just until they float to the top (pasta will continue to cook in oven). Drain pasta; return to pot.
Spoon some marinara sauce on the bottom of a 9-by-13 inch baking dish.
Layer one layer of cooked ravioli.
Spoon over 1/3 of the Alfredo sauce.
Then spoon over a thin layer of the marinara sauce.
Sprinkle with ½ cup mozzarella, and 1/8 cup Parmesan.
Repeat until you get to the top of the baking dish.
Cheese on top should be the last layer.
Bake until golden, 20 to 25 minutes.
Cool slightly before serving.