These Strawberry Cheesecake Chocolate Chip Cookies are chocolate chip and strawberry cookies filled with a strawberry cheesecake filling.
I rarely get to just make a chocolate chip cookie.
Not because I don't like them but because when I make cookies most people always seem so disappointed.
They always expect me to bring so outrageous dessert.
With the exception of cookie exchange each December of course.
Then you are supposed to bring cookies.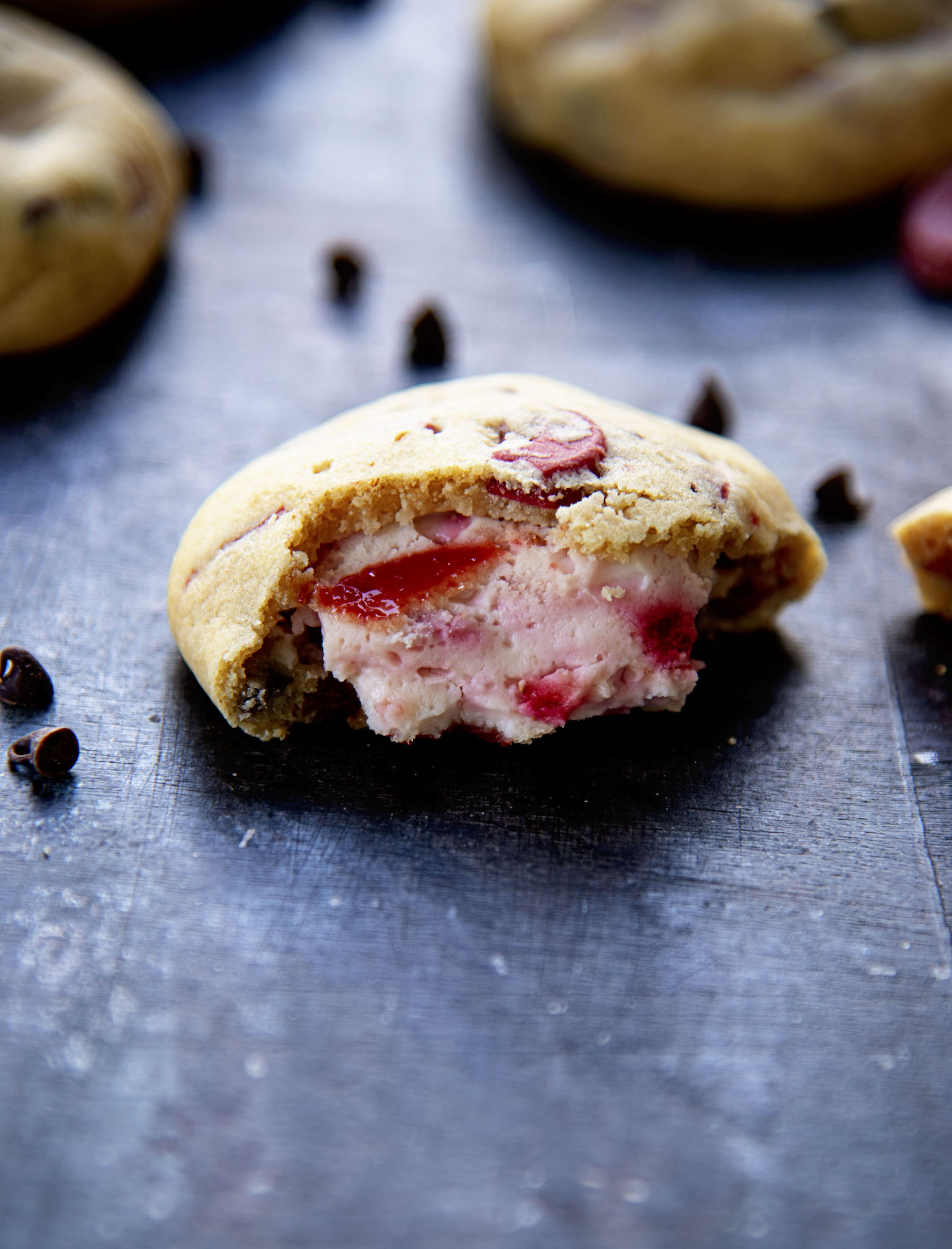 But I've been taking these Bake from Scratch/Williams Sonoma online.
They are not interactive (though you can type questions) but they are just fun.
And they are only an hour which is nice as well.
I mentioned before that they send the recipes ahead of time.
While I rarely have questions about baking I like to make the recipes ahead of time in case a question about the recipe comes up.
But it's me…so I have to change it up.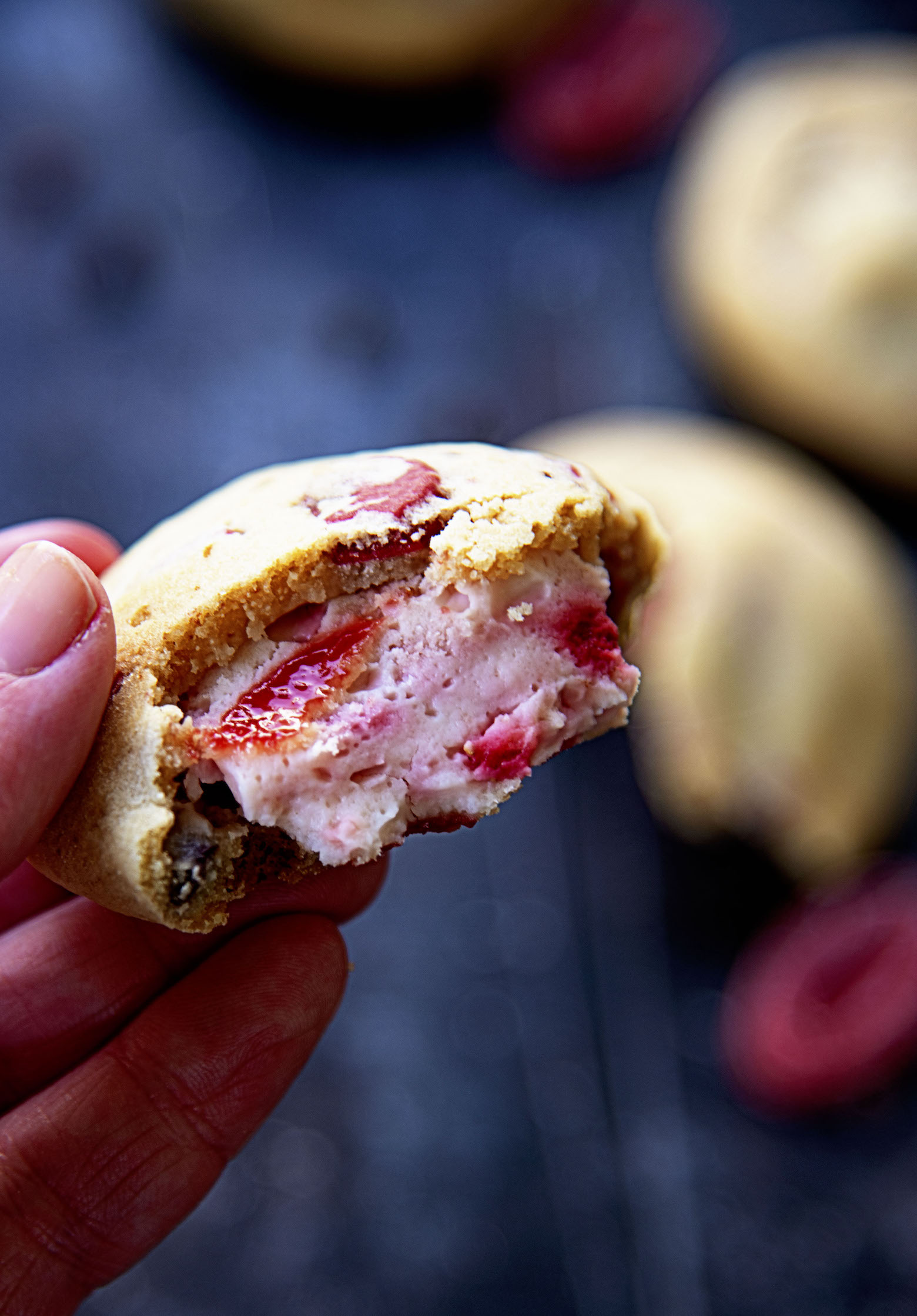 The original recipe was for chocolate chip cookies stuffed with cream cheese.
Which I'm sure was tasty as is.
However, I wanted to use my Valrhona Strawberry Inspirations I had.
And so the Strawberry Cheesecake Chocolate Chip Cookie was born.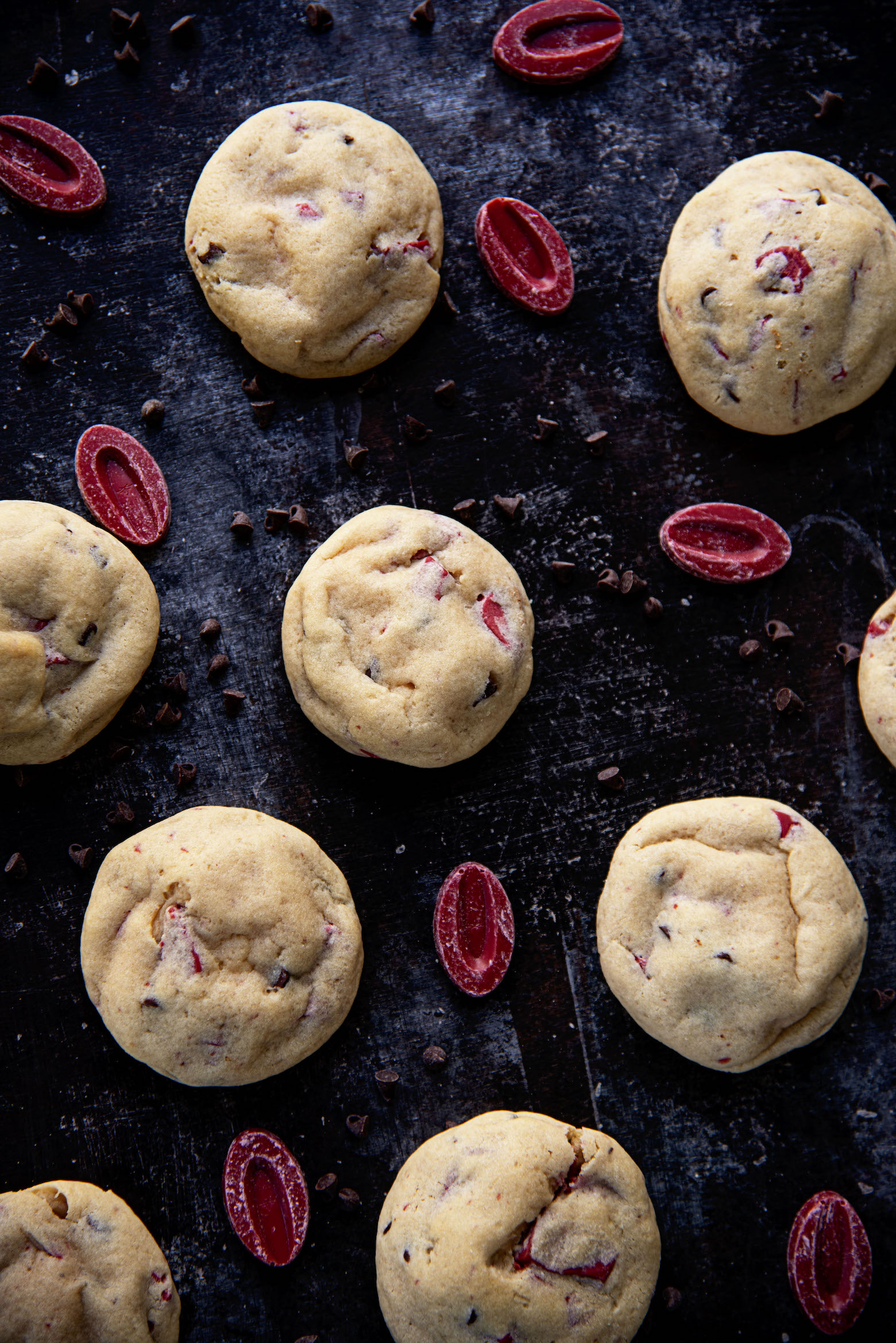 These cookies have the texture of the Keebler Soft Batch Cookies.
I totally forgot how much I liked that texture in a cookie.
So that was a nice surprise when I made these.
The filling using freeze dried strawberries which I use all the time on the blog.
If you haven't looked into freeze dried fruit yet you really should.
It's very versatile, especially in baking.
P.S. It's a great day to buy my cookbook Holy Sweet!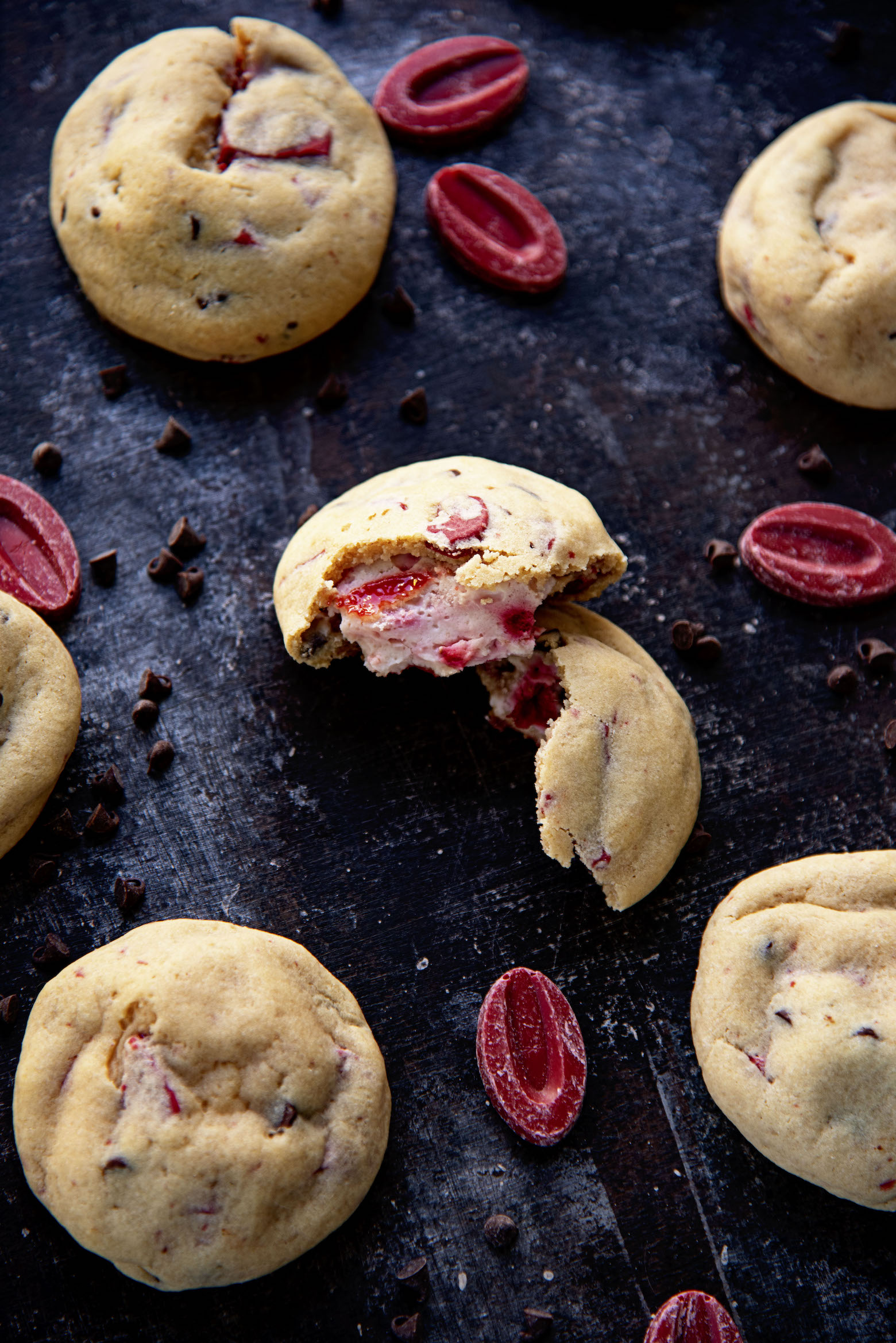 Want More Cookie Recipes?
Roll Out Shortbread Sugar Cookies
White Chocolate Chip Creamsicle Cookies
Vanilla Bean Caramel Thumbprint Cookies
White Chocolate Dried Pineapple Salted Macadamia Nut Cookie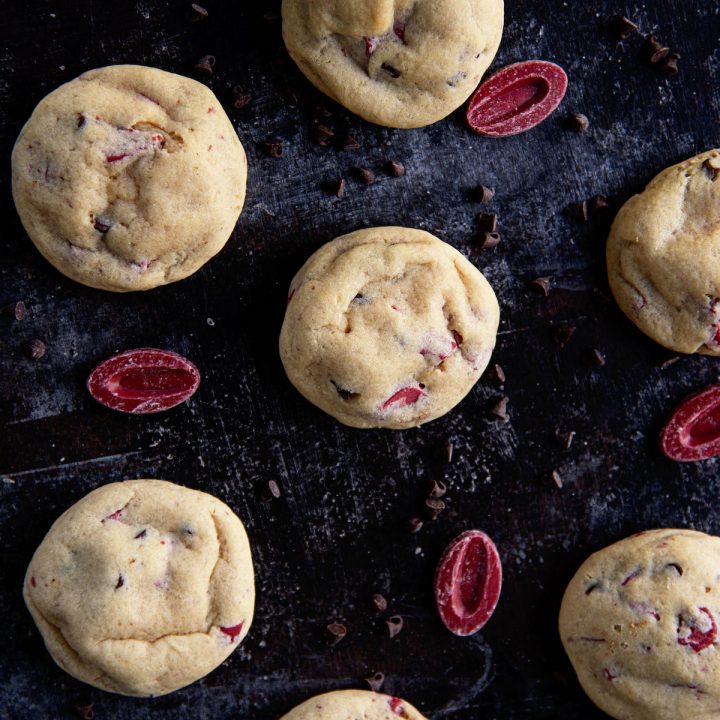 Strawberry Cheesecake Chocolate Chip Cookies
Ingredients
½ cup unsalted butter, softened
10 ounces cream cheese, softened and divided
⅔ cup firmly packed dark brown sugar
⅓ cup plus 3½ tablespoons granulated sugar, divided
1 large egg, room temperature
2 tsp vanilla extract
2 cups all-purpose flour
1½ tsp cornstarch
1 tsp baking soda
1 tsp kosher salt, divided
4 ounces mini semisweet chocolate chips
5 ounces Valrhona Strawberry Inspirations, chopped into pieces
Instructions
In the bowl of a stand mixer fitted with the paddle attachment, beat butter at medium speed until smooth and creamy, about 1 minute, stopping halfway to scrape sides of bowl.
Add 2 ounces cream cheese; beat until smooth and well combined about 30 seconds; scrape sides of bowl.
Add brown sugar and ⅓ cup granulated sugar; beat until fluffy, about 2 minutes, stopping to scrape sides of bowl.
Add egg and vanilla; beat until combined.
In a large bowl, whisk together flour, cornstarch, baking soda, and ¾ teaspoon kosher salt.
Add flour mixture to butter mixture all at once; beat at low speed just until combined.
Fold in chocolate chips and the Strawberry Inspirations. Cover and refrigerate for 30 minutes.
Preheat oven to 350°F (180°C). Line 2 rimmed baking sheets with parchment paper.
In a medium bowl, stir together remaining 8 ounces cream cheese, remaining 3½ tablespoons granulated sugar, and remaining ¼ teaspoon kosher salt.
Add in the freeze dried strawberries and mix until they are fully combined into the cream cheese mixture and the filing turns pink in color. Set aside. Cover and freeze for 15 minutes.
Divide dough into 48 portions (about 1 tablespoon each); shape each portion into a ball, and flatten into 1½- to 2-inch disks.
Spoon about 1½ teaspoons cream cheese mixture in center of 1 dough disk, and cover with a second disk. Crimp edges to seal, and gently shape into a ball.
Repeat with remaining dough disks and cream cheese mixture.
Place dough balls 1½ to 2 inches apart on prepared pans. Gently flatten balls to ¾-inch thickness, crimping any cracks to seal, if necessary.
Bake until edges are set and lightly golden, 8 to 10 minutes. Let cool on pans on wire racks for 2 minutes.
Serve warm, or remove from pans, and let cool completely on wire racks.