Ropa vieja means "old clothes" in Spanish, but not to worry, there are no clothes in the stew. Just beef, chiles, beans, and so much more.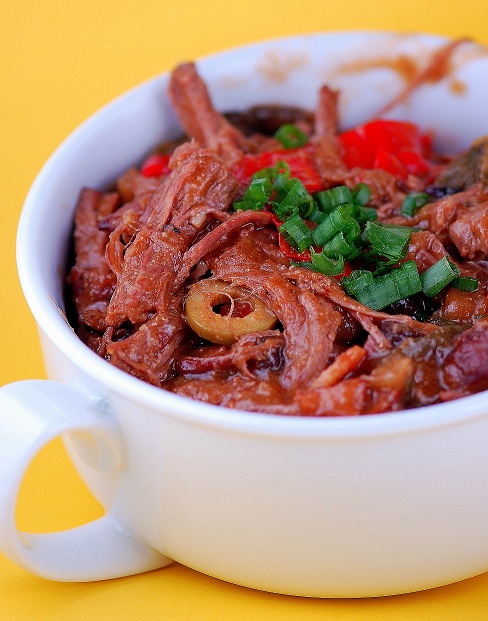 Even though I am allergic to all peppers, raw onions, raw tomatoes, cilantro, and pretty much anything that makes Mexican food Mexican food, I surprisingly love to cook it.
I love the smell of the onions and peppers cooking.
What I just don't love the fact that I have to dress like I am going to a hazmat dinner party to do so. 🙂
And while this is actually more Cuban than Mexican it does possess many of the things I am allergic to.
So why would I make it?
Same reason I cook half the time…for someone else.
Spread the love. 😀
And with that I give you my first savory dish of the new year on the blog Ropa Vieja Stew.
Now while Old Clothes Stew does sound yummy…we will ignore the direct translation.
I promise there are not socks and underwear used in the making of this stew. 😛
This recipe comes from my favorite food magazine of all time Cuisine at Home.
Seriously, I have yet to make something from there that isn't yummy.
And I've gotten the magazine for a long time and I buy every one of their special issues.
You will see them referenced a lot in the savory dishes.
For those who asked about my arm.
I got into the neurologist finally and he was useless.
Nothing like waiting five weeks to go to the doctor only to have them be no help at all.
It also didn't help that he was anti all contact sports.
So clearly the wrong guy for me.
I did get him to refer me to PT and am starting it now.
Is the arm still hurt?
Yep, a whole bunch, but I do take nerve blocker and that helps with the numbness big time.
Unless of course I have to drive and run errands, then I just suck it up and deal with it.
I have stuff to get done.
Can't sit around and not get stuff done because I am in pain….I would never get anything done that way. 🙂
Hopefully the PT will help it and I will be back to semi-good in no time.
And as always it's a great day to order my cookbook.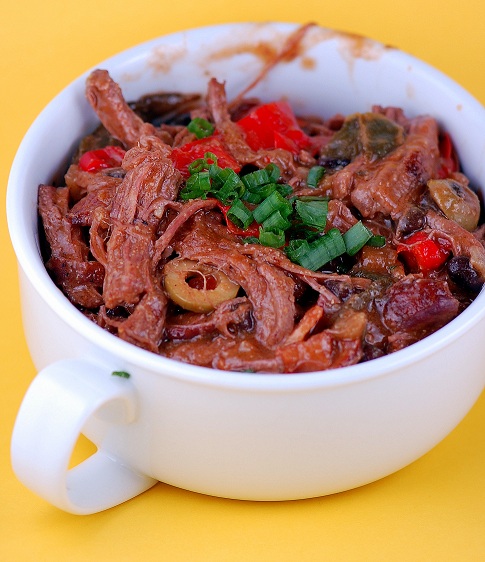 Want More Dinner Ideas?
Easy Vegetarian Reuben Casserole
Grilled Cheese Tomato Soup Casserole
Easy Baked Spaghetti Casserole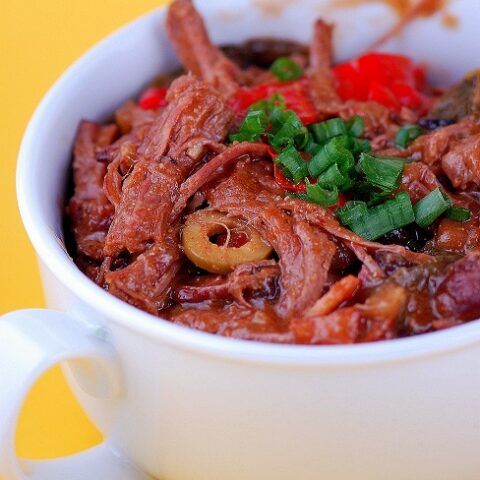 Ropa Vieja Stew
Ingredients
4 strips thick-sliced bacon, diced
1 3/4 LB flank Steak, cut into 3 pieces, seasoned with salt and pepper
2 cups onion, chopped
2 poblano Chiles, seeded, sliced
1 red bell pepper, seeded, sliced
2 T. garlic, minced
1 T. tomato paste
1/3 cup masa harina
1 bottle beer (12oz)
2 cups beef broth
1 can black beans, drained, rinsed (15 oz.)
1/2 cup pimiento-stuffed olives, sliced
1 T. dried oregano leaves
2 t. ground cumin
Salt to taste
Garnish with:
Chopped scallions
Instructions
Preheat oven to 375.
Sauté bacon in a large ovenproof pot over medium-high heat until crisp; transfer to a paper towel-lined plate and set aside.
Brown steak in drippings, about 5 minutes per side, remove and set aside.
Add onion, chilies, and bell pepper, and sauté until beginning to brown, 5 minutes.
Stir in a garlic and tomato paste, cook 3 minutes, then stir in masa harina and cook 1 minute.
Deglaze with beer; simmer until nearly evaporated, scraping any bits from the bottom of the pot.
Add broth, bring to a boil, then return beef to the pot; cover and braise in the oven until fork-tender; about 1 hour.
Remove flank steak from the pot, shred with 2 forks, then add back to the pot with reserved bacon, beans, olives and spices.
Simmer 5 minutes; season with salt.
Garnish with scallions.
Notes
From Cuisine at Home Magazine