Easy to make and a fun cookie project for the kids these Nutter Butter Reindeer Cookies should be a must on your holiday cookie plate.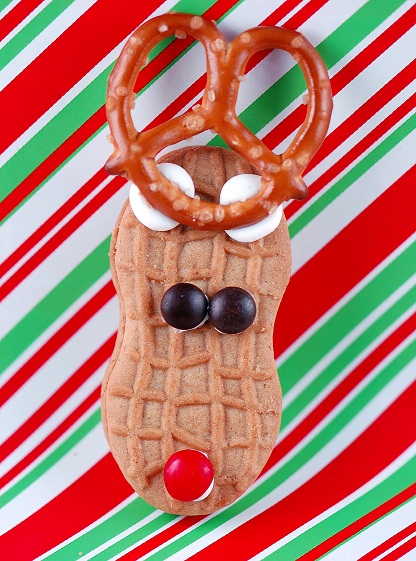 A couple people I know are struggling with the blending of holiday traditions once they are in a relationship, get married, have kids, etc.
More specifically the time honored debate of Christmas Eve vs. Christmas Day and when do you really celebrate Christmas.
I come from a family of Christmas Day'ers.
As mentioned in a previous post we always got to open one gift Christmas Eve, which was always pajamas.
Other than that we were sent to bed at a way too early hour with the excuse of us not getting to see Santa.
But now I really know it was so my parents and relatives could start on the heavy drinking without us kids. 😀
Well, that and my dad was stuck assembling all the "some assembly required" gifts that all the instructions were in another language. 🙂
I have ALWAYS been a get up early Christmas girl.
Usually starting around 4am going into my parents room begging for me to get to go look.
And them saying no.
In my defense if they didn't make me go to bed at 8pm then I probably wouldn't be up at 4am (they would hold out till about 6:30).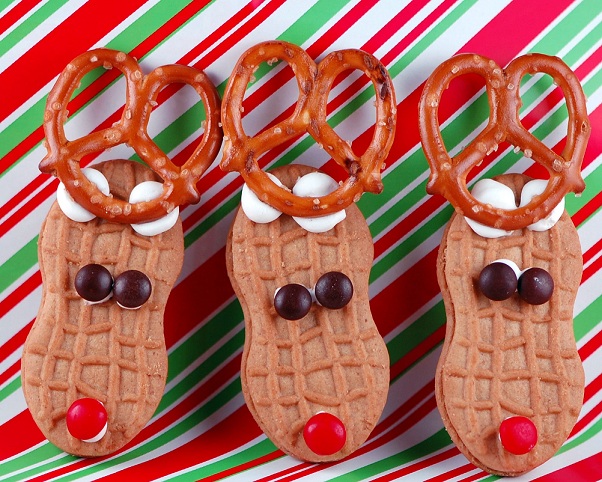 I've slowed down in my old age as when you are an adult you pretty much know what you are getting.
This is how our open your stocking without parents came into effect.
We were allowed to see what was in the stocking but not anything else until my parents came downstairs.
One year my brother convinced us that if we opened our gifts on Christmas Eve we could all sleep in.
We did.
We slept in.
It sucked.
There was nothing to look forward to except Christmas dinner.
That was the first and last year we did that.
But I know a lot of people that celebrate it Christmas Eve.
What about you?
Are you a Eve or Day'er?
I saw these Nutter Butter Reindeer Cookies on Our Best Bites and thought they were too cute not to make.
So while making the gingerbread houses I made these too since the frosting and candy were out.
Obviously they are very simple, yet totally festive all the same!
Want More Holiday Cookie Ideas?
Mini Chocolate Gingerbread Men Sandwich Cookies
Shortbread Roll Out Sugar Cookies
White Chocolate Topped Gingerbread Cookies
Vanilla Bean Caramel Thumbprint Cookies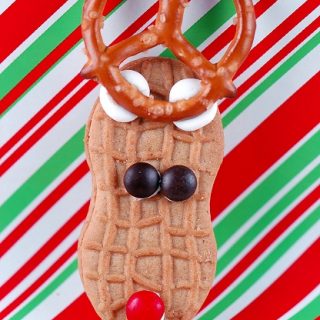 Nutter Butter Reindeer Cookies
Ingredients
Nutter Butters
Pretzel Twists
Mini Brown M &M's (think of all the lefts overs you get to eat)
Cinnamon Candy Red Hots (or a red M&M)
Royal icing or melted chocolate (to "glue" stuff on)
Instructions
I think this is self-explanatory to figure out.

Place the Nutter Butter on wax paper or parchment paper (in case run away candy pieces).

Using either royal icing or melted chocolate glue on the two mini brown M and M's for eyes.

Cinnamon Candy Red Hot for a nose.

The pretzel twist for the antlers.

You might want to find something to rest the pretzel antlers on until they dry. I used a thin book that was the same height as the cookie.