These Rice Krispie Treat Gingerbread Houses are a fun, easy, and tasty alternative to making traditional gingerbread houses.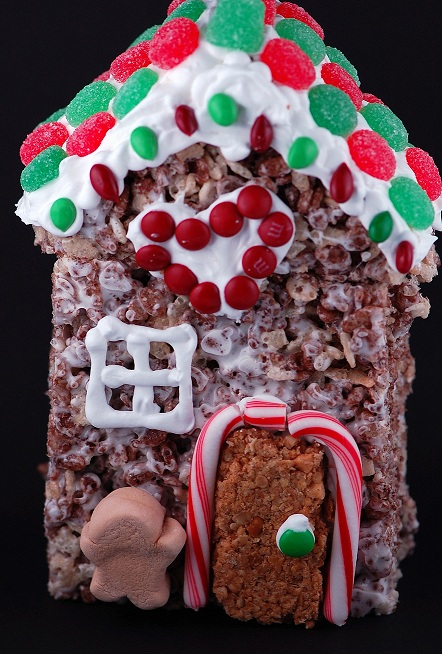 I'm often surprised when people tell me that they don't have any holiday traditions.
My ex-husband didn't have any, which I actually loved because that meant we would just do mine. 😛
But I have met more than a few people in my time that don't do this.
And while I think traditions are fun, in some ways, they can also cause unnecessary stress to your holiday season.
This year one of my traditions is getting broken.
Ever since I can remember we were allowed to open one gift on Christmas Eve, which amazingly were always new pajamas.
My mom always bought them for me even as an adult, until I got married in which she let my ex-husband know that he was in charge of that now.
Even last year, my ex-husband's gift to me was pajamas since he knows that is one of my major holiday traditions.
This year when he told me that he was playing Santa I wrongly assumed that I was getting pajamas.
Don't get me wrong he got me a way cool gift that is more exciting than pajamas it just made me realize I wasn't getting them this year.
I have to be flexible and go with it.
So I bought a cheap pair of pajama bottoms (I usually just wear a t-shirt on top) and wrapped them up and put on the tag that they were from Crazy Cocker Spaniel and the Little Fuzzy Bunny.
Would I have preferred to have someone get them for me, sure, because we never really get surprises as adults, but those are the breaks.
I have a new normal now.
And maybe now my tradition is that I buy myself a new pair each year.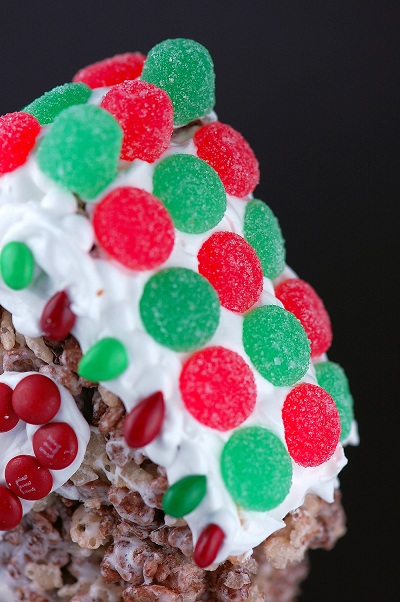 I think too many people put emphasis on the traditions and they get a little freaked out if they don't get done.
It's okay if they don't get done.
As the Grinch can attest to, you can't keep Christmas from coming.
So you can either be a stress case and make other people miserable right along with you or you can not worry about it.
I'd go with option two if I were you.
One thing that isn't so much a tradition as it is fun to do is decorating a gingerbread house.
Last year I didn't get mine done for the holidays, and if you remember I just ended up making one for Valentine's instead.
Which was pretty fun as well.
They are pretty time consuming.
And I was thinking about how when I taught 6th grade we would always go down and help the kindergarteners make gingerbread houses.
They made them using little milk cartons and graham crackers.
They were messy and ugly and I was usually covered in frosting with random gum drops on me.
But they had fun and that was all that mattered.
While making Rice Krispie Treats for my hockey team I started thinking.
I should make a little house using Rice Krispie Treats instead of milk cartons.
And make Rice Krispie Treat Gingerbread Houses.
They are a good size and completely edible.
Because let's face it, even though the gingerbread is edible…it doesn't taste that great since it's made more for structure than it is for eating.
So if you don't get to all your holiday traditions this year, give yourself and the others around you a break and don't sweat it.
P.S. It's a great day to buy my cookbook.
Want More Rice Krispie Recipes?
Vanilla Bean Rice Krispie Treat Cupcakes
Toasted Marshmallow No Bake Cheesecake in Rice Krispie Treat Crust
Cookies and Cream Rice Krispie Treats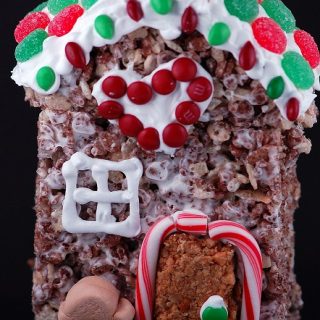 Rice Krispie Treat Gingerbread Houses
Ingredients
For the Houses:
6 TBSP unsalted butter
16 ounces marshmallows
12 cups Rice Krispie Cereal (I used a mix of plain and chocolate)
For the Royal Icing:
5 TBSP meringue powder (you can find this at the grocery store or craft supply store)
1 TBSP cream of tartar
¾ cup warm water
4 cups powdered sugar
various candy to decorate houses with
Instructions
For the Houses:
In large saucepan melt butter over low heat.
Add marshmallows and stir until completely melted. Remove from heat.
Add cereal. Stir until well coated.
Using buttered spatula or wax paper evenly press mixture into 13 x 9 x 2-inch pan coated with cooking spray. Cool.
Cut the treats the size you would like your house to be.
Then cut a square…cut that diagonal so that it makes the roof. How many you get is really going to depend on how big you cut your houses.
I got four houses and some ends to eat as I decorated.
For the Icing:
Make royal icing and put into a piping bag.
Using the icing, attach the roof to the top of the house and let it dry a little.
Continue to decorate as desired.
Using a stand mixer with the paddle or whisk attachment, add the meringue powder, cream of tartar, and water.
Just hand whisk the ingredients together to make sure there are no lumps.
Add the powdered sugar and mix on low speed for about three minutes.
Increase speed to medium and let mix for about 5-7 minutes. This is a thicker icing for gingerbread house making.
If you want to use leftovers for cookies, add water to it to thin it out.
This makes a very large batch of icing.
Use the icing and candy to decorate your houses as you please.