These Peppermint Bark Deep Dish Cookies are a holiday twist on the classic chocolate chip cookie topped with candy cane ice cream.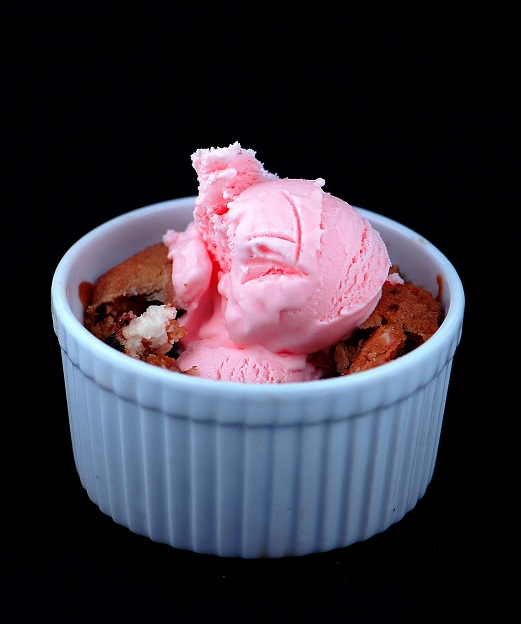 I put my mind somewhere and apparently can't find it.
See I went to cookie exchange today, the same one I go to every year.
We also do an ornament exchange on that one as well (I got a cute penguin one of the exchange).
And I exchange gifts with someone there as well.
Plus my friend J got me the cutest little ornament that has gingerbread cookies on a baking sheet (very me).
My point being there was a lot in my hands when I left.
So much so that when I was pretty much all the way home (I do not live close by) I realized that I forgot my cookie tray there.
I figured I have another cookie exchange on Saturday and the hostess of this exchange is going to that one as well (we like our cookies).
But then the hostess called me while I was driving home.
I was about to say I know I left my tray when she uttered very sad news…yes, I had left my tray…and ALL of my exchange cookies as well.
AHHHHH.
That pretty much sucks broken Christmas bulbs.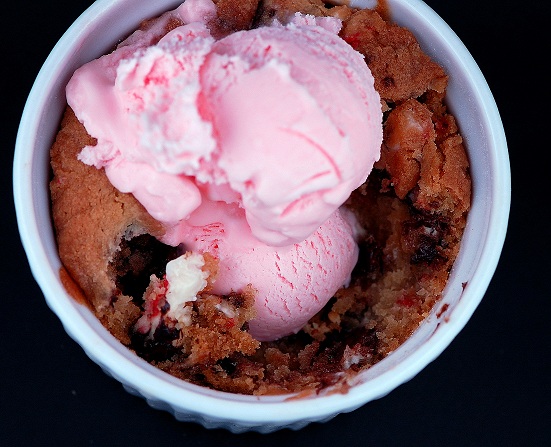 So to cheer my cookie-less self up I decided to make a holiday version of the deep dish cookie pie that I had seen on yes, Pinterest.
Peppermint Bark Deep Dish Cookies.
Instead of chocolate chips I used chopped up peppermint bark…and what a good choice that was!
Topped with some candy cane ice cream…screams holiday time.
These are definitely best when eaten fresh out of the oven, but I plan on reheating one later and don't see it being too much of an issue.
The good news is I can still find my computer and can obviously still bake, so maybe my brain is still working a little. 😛
P.S. It's a great day to buy my cookbook Holy Sweet!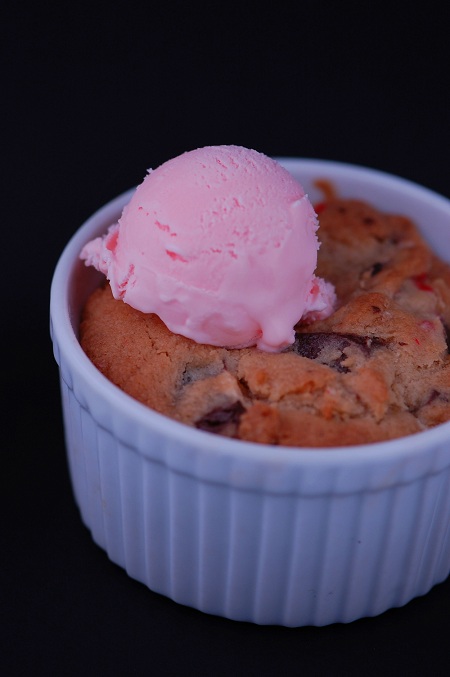 Want More Candy Cane Recipes?
White Chocolate Candy Cane Cracker Toffee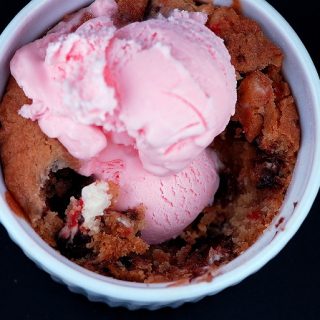 Peppermint Bark Deep Dish Cookies
Ingredients
6 small ramekins (about 4″ diameter)
Peppermint Bark Cookies (see recipe below)
Peppermint Bark Cookies:
1 cup unsalted butter, at room temperature
1/2 cup granulated sugar
1 ½ cups brown sugar, packed
2 eggs
3 cups all-purpose flour
1 tsp. salt
1 tsp. baking powder
1/4 tsp. baking soda
2 cups peppermint bark, chopped in small pieces
Instructions
For the Cookies:
In the bowl of electric mixer fitted with paddle attachment, cream together the butter and sugars until well blended and fluffy.
Add eggs, one at a time and beat until well incorporated.
Into the bowl, add the flour, salt, baking soda, baking powder and mix until just combined. Gently fold in peppermint bark.
Preheat oven to 375 F.
Fill ramekins 3/4″ deep with raw, room temperature cookie dough.
Set ramekins on baking sheet and bake on the middle rack of the oven for 13-16 minutes, or until the top is just slightly golden brown. You're aiming for slightly undercooked cookies.
Place ramekins on individual plates or napkins (they'll be hot) and top with candy cane ice cream, as much or as little as you like.
These are best served straight from the oven.
Top with candy cane ice cream.