These Candy Cane Roca Cookies have a brown sugar cookie base with milk chocolate toffee bits and crushed candy cane pieces.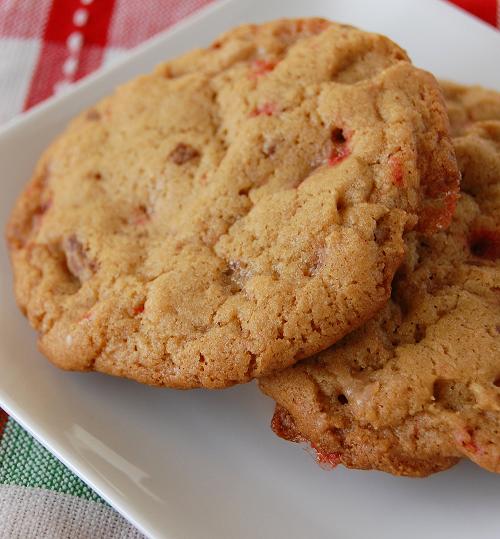 When I moved to the state of Washington I had no idea how many things I loved originated here.
Liberty Orchard Aplets and Cotlets are from here.
The Cinnabon originated here before it went off and became its own company (now out of Atlanta), Starbucks of course…and Almond Roca.
Oh, oh, oh how I LOVE me some Almond Roca.
We used to only see it around the holidays at first when we were in Arizona but then slowly throughout the years you could get it year round.
And though it was still good, it kind of lost it's specialness because you could get it whenever.
When walking through a Washington Rite Aid one day my head did a 180 when I saw the words Candy Cane Roca.
I was a tad skeptical I will admit…toffee and candy canes?
But in the name of research, I of course bought some.
I went home and had a piece, then another, and another…you get the idea.
It got to the point where I am only allowed to buy myself one can a year.
That first year I went through many a can. 😐
So when I saw that Susan from Food Blogga was hosting a Eat Christmas Cookies event I thought I would make a cookie based on my beloved Christmas time candy treat.
I made these Candy Cane Roca Cookies to go with my hot chocolate.
These cookies are meant to be eaten with either hot chocolate or milk for dunking.
They are more crispy and chewy than soft.
Though the name would have you think there is Candy Cane Roca in it, there is not…this cookie is simply inspired by that tasty candy.
It's a brown sugar cookie base with milk chocolate toffee bits and crushed candy cane pieces.
They really don't taste like the candy but are just about as addicting.
I blew through the whole batch in about 2 days…though in all fairness it was about the only thing I was eating. 😛
Last but not least…it's a great time to order my cookbook. 😀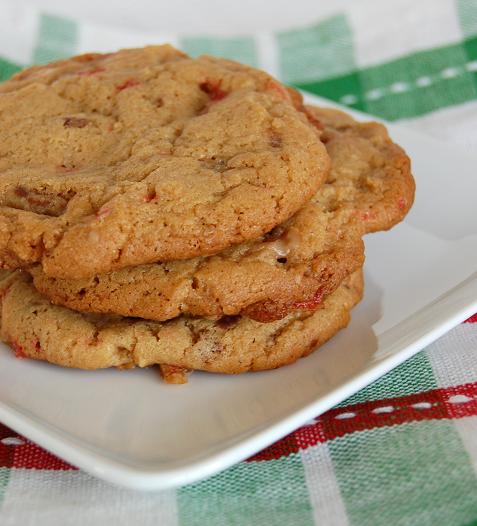 Want More Cookie Recipes?
Vanilla Bean Caramel Thumbprint Cookies
White Chocolate Dried Pineapple Salted Macadamia Nut Cookie
Caramel Cream Filled Snickerdoodles
Double Chocolate Rainbow Chip Cookies
Strawberry Cheesecake Chocolate Chip Cookies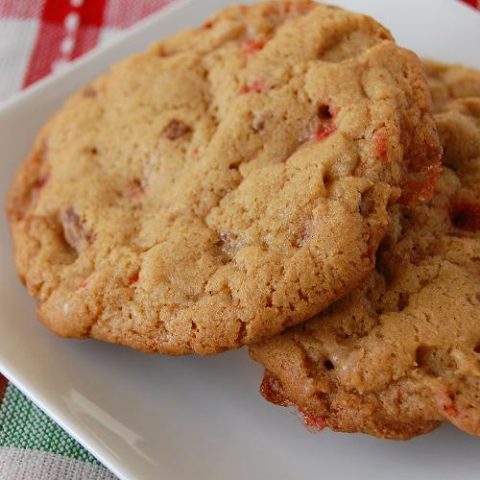 Candy Cane Roca Cookies
Ingredients
½ cup unsalted butter, softened
1 ½ cups dark brown sugar
1 egg
½ tsp vanilla extract
½ tsp almond extract
1 ½ cups all-purpose flour
1 ½ tsp baking powder
¼ tsp salt
¾ cup Milk Chocolate Toffee Pieces
¼ cup Crushed Candy Cane Pieces
Instructions
In a mixer attached with a paddle attachment, cream the butter and brown sugar, until light and fluffy, about 3 minutes.
Add egg and beat 1 minutes. Scrape down bowl.
Add both extracts and beat for 30 seconds.
In a separate bowl, sift together flour, baking powder and salt.
Add flour mixture to the butter/sugar mixture and mix on low speed until the ingredients are well combined.
Add toffee and candy cane pieces. Either fold in, or briefly mix to incorporate.
Form into 1 -inch balls and place on greased cookie sheets.
Flatten cookies with the bottom of a greased glass. Don't press too hard, just enough to flatten the top a little.
Bake 350F for 10 minutes.
Remove from oven and transfer to a wire rack to cool.
The cookies will be more crunchy and slightly chewy when they cool.
They are not meant to be a soft cookie.