This Candy Cane Cheesecake has a secret ingredient that you will never guess that helps bring out the candy cane flavor in this holiday treat.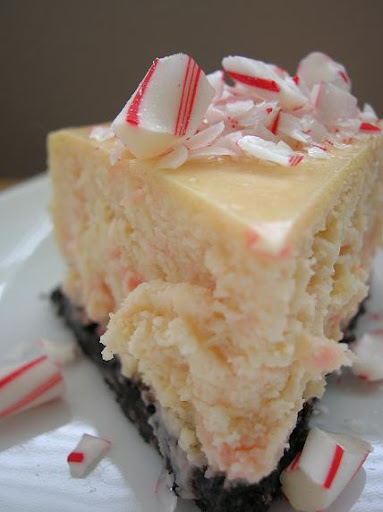 The tree is up, the stockings are hung and cookies have been a baking.
I'm official in the holiday mood, it just took a little longer this year is all.
I turn once again to the beloved candy cane.
In my previous life in Phoenix, when I was a school teacher, I actually grew quite sick of candy canes.
Every year kids would give me Christmas cards and every year there would be a candy cane attached to it.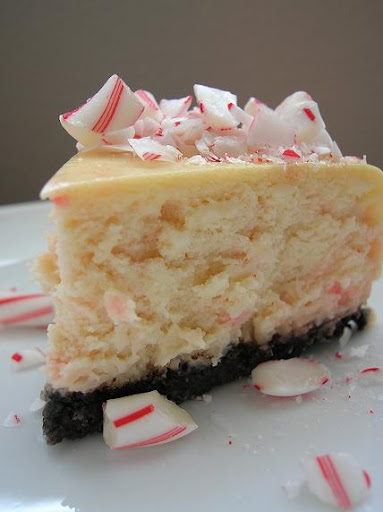 When you teach junior high and you teach a little over 100 kids…that adds up to a lot of candy canes.
But now that I have been out of teaching for a few years my love for peppermint candy canes has been growing back again…just like a lizard's tail.
I still can't put them on the tree…this year I think ours are jolly rancher flavored, but I have brought them back into my baking and into my hot chocolate(yum!).
I was violently killing candy canes with a mallet for another idea that I had.
It went bad and I had to do something else.
My friend A, or my goat as I like to call her, has a hubby who thinks he should get cheesecake from me for his own personal cheesecake of the month club….and so far it has worked out that way.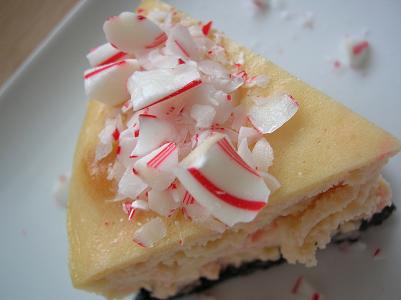 I head over there tomorrow for a cookie exchange so I thought why not bring him a Candy Cane Cheesecake?
This is not exactly your typical candy cane cheesecake.
And you might be scared off a tad by the orange juice, I get that.
But it isn't really noticable and it brings out the mint flavor nicely oddly enough.
So if you are really wanting something good from Santa this year, maybe you should leave a piece of this out instead of a cookie or a peppermint stick.
Last but not least…it's a great time to order my cookbook. 😀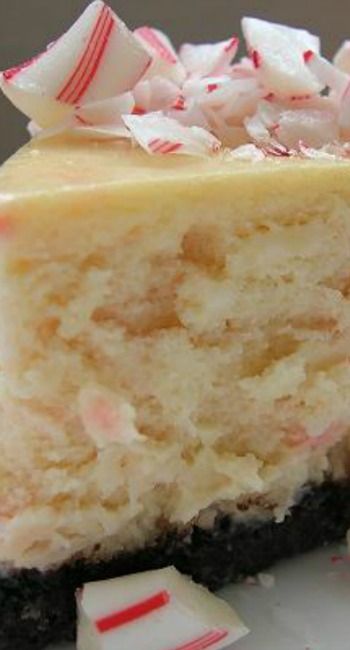 Want more Peppermint Recipes?
Peppermint Mocha Latte Sweet Rolls
Milk Chocolate Peppermint Fudge
Peppermint Bark Red Velvet Cupcakes
Chocolate Dipped Chocolate Peppermint Cupcakes
Peppermint Mocha Blossom Cookies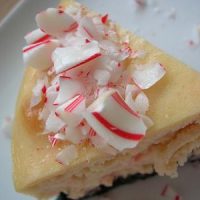 Candy Cane Cheesecake
Ingredients
For the Crust:
2 cups oreo cookie crumbs
1/2 cup crushed candy canes
1/4 cup sugar
1/4 cup butter, melted
For the Cheesecake:
1 1/2 lb. cream cheese
1 1/2 tbsp. peppermint schnapps
1/2 tbsp. orange juice
1/2 tbsp. vanilla extract
1/2 cup heavy cream
1 cup sugar
4 eggs
2 tbsp. sour cream
1/4 cup half and half
1 cup crushed candy canes
Instructions
For the Crust:
Combine all ingredients and mix well.
Butter two 8 inch cake (spring form) pans.
Divide crumb mixture between the two pans, making 1/2 inch crust.
For the Cheesecake:
Beat cream cheese, schnapps, concentrate, vanilla, cream, and sugar together until light and fluffy.
Add eggs, one at a time, beating after each addition.
Add remaining ingredients and beat well until blended.
Fill both prepared pans with cheesecake batter. Place pans in water bath of boiling water and bake at 325 degrees for 1 1/2 hours.
Cool on rack and chill overnight.