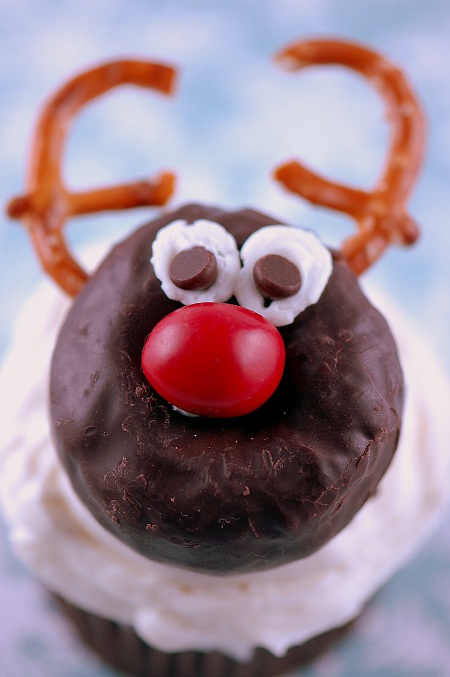 Peabody currently is feeling a little bit like Rudolph. See I don't get to play in any reindeer games right now…I know it as hockey. In fact I'm getting to do very little as of right now. A few months ago I wrote that my right hand was being weird and they chalked it up carpal tunnel from being on the computer and mixing stuff by hand often. But then about three weeks ago my whole right arm decided randomly to go numb. When it didn't go away I went to the doctor.
After poking and prodding my new internist, who I actually like, decided that it's a nerve thing, with it most likely being a pinched nerve in my neck or shoulder. Oh goodie. Lucky for me the day I went unlike when I normally go, my pinched nerve was in full force, with me not even being able to touch my ring finger or pinky finger to my thumb. So he referred me to a neurologist and gave me never blockers until I got an appointment. Oh and uttered the words I dreaded to hear…no hockey until it's no longer numb. Ugh. 🙁
When is my appointment? Not until January!
January. I can't feel my arm/hand but I can't get in until January. Got to love specialist. I'm on the waiting list just in case there is a cancellation, but other than that I wait…and learn to do stuff left handed. Which FYI, I am not skilled at. So if my food seems extra un-pretty right now, it's because my hand was not cooperating at the time. 🙂
So as usual I felt the need to want to do something sort of involved…if you are using your left hand and are right handed. If you have normal use of your limbs…these are actually quite easy…other than the pretzel part. They make it sound so easy in the directions, just break them in half. Yeah, that doesn't happen…maybe you will have better luck. All I know is that I ate a lot of broken pretzel pieces. 😛 Not that it's a bad thing.
I chose to go with a chocolate coffee cupcake, because of coffee and donuts, but feel free to omit the coffee if you are making these for kiddos. I was just making them for me, though I am a kiddo at heart.
Have a good Tuesday…as I wave to you with my left hand! 😛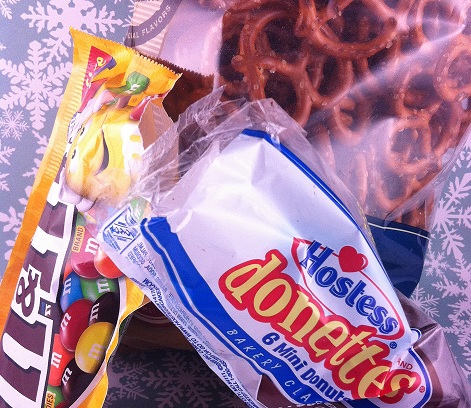 Donut Reindeer Cupakes
One batch (about 22 cupcakes) devils food cupcakes with 2 tsp. instant coffee powder added with the flour (I used Via)
1 batch frosting of your choice, with ¾ cup of it set aside to use for eyes, I used the vanilla frosting from here
Chocolate Frosted Mini Donuts (22 of them)
Peanut M&M's® (the red ones…you will have to eat the extra…darn)
Mini Chocolate Chips
Mini Pretzel Twists
Bake cupcakes and let cool. Frost when completely cool.
Place remaining frosting in a piping bag.
Press a red peanut M&M® into the hole of the chocolate frosted mini donut. I secured mine with frosting since the holes weren't that big.
Pipe two dots for eyes and press mini chocolate chips (tip side down) into the frosting to create eyes.
Break a mini pretzel twist in half and press them into the top of the donut for antlers.
Adapted from FreeFunChristmas.com