These Candy Cane Ice Cream Chocolate Sandwiches have candy cane ice cream sandwiched between two mini chocolatey cookies.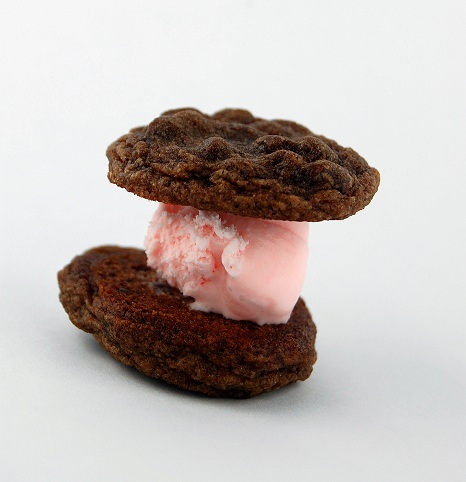 So one of the main reasons one gets married is so that you have a full time bug killer.
I for one, fear spiders.
Each time I move somewhere I make a loud announcement to the spiders of the apartment/house that I don't care if they live there (as they kill other bugs) but that if I see them or they touch me, they are fair game to be dead.
I realize I am mental.
Anyway, since moving I have had to kill two spiders as well as some sort of beetle shaped bug.
Now technically the beetle was already dead but still, the fact that I had to wad it up into a tissue is upsetting.
Because at any time it could have taken on zombie form, come back to life, and tried to eat my hand off.
Just saying.
Now I could have done what I did and covered the spider with a glass when my ex would be gone and wait for it to die.
But sadly these suckers have been in my tub.
Waiting for me.
Apparently my apartment if full of pervert spiders who just want to see me naked. 😉
So if I wanted to bath, the spiders were going to have go, and trust me after moving boxes up three flights of stairs (that alone is another post), I needed a bath.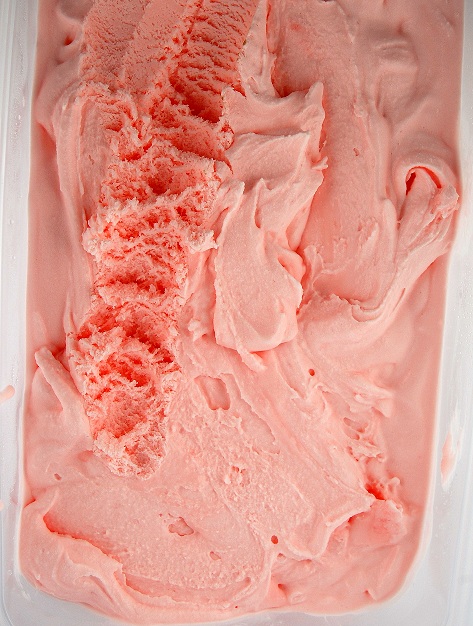 So I tried my first method of a blood curdling scream in hopes of scaring the spider (and usually the neighbors) but sadly, that never works.
I like the hair spray method, because that freezes their legs up pretty good.
And we all know that the legs are what they jump and get you with.
Then I find as much tissue as I can to squash the spider.
Which never seems to work either.
I swear, when spiders are young they all get pulled off to the side and are taught how to escape wadded up tissue paper.
So then I have to try again and again.
Finally succeeding, but traumatized nonetheless.
After a hard afternoon of spider slaying, one needs some serious comfort.
Cookies and milk is always comforting. Ice cream is always comforting.
Ice cream sandwiches, even more comforting.
These Candy Cane Ice Cream Chocolate Sandwiches are comforting.
I chose to use the same method of making ice cream as I did with the candy corn ice cream, except this time use candy canes since we have moved on to that holiday now.
And what goes best with candy canes but chocolate!
So I made little chocolate cookies filled with candy cane ice cream.
Truly worthy of a single spider slayer.
P.S. It's a great day to buy my cookbook Holy Sweet!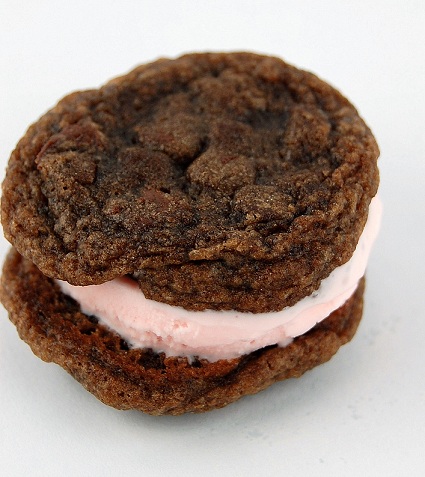 Want More Candy Cane Recipes?
White Chocolate Candy Cane Cracker Toffee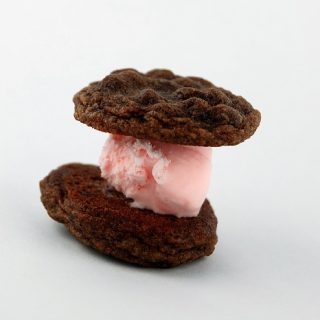 Candy Cane Ice Cream Chocolate Sandwiches
Ingredients
For the Chocolate Cookies:
1 cup unsalted butter, at room temperature
1 1/2 cups granulated sugar
2 eggs
2 cups all-purpose flour
1/2 cup unsweetened cocoa powder
1 tsp. baking soda
1/4 tap. salt
1 cup mini chocolate chips
For the Candy Cane Ice Cream:
2 cups Heavy Cream
1 cup Whole Milk
60 miniature candy canes.
Instructions
For the Ice Cream:
Pour 1 cup of the cream into a medium saucepan and add the candy canes.
Warm over medium heat, stirring, until you start to see the candy canes dissolve.
Turn heat off and let cream come to room temperature.
Add the remaining cream and milk.
Put into an airtight container and refrigerate overnight, at least 12 hours.
When you can remember to, shake the container up to get the candy canes loose.
Remove from refrigerator and strain the milk/cream mixture through a sieve or really small strainer to catch the candy cane pieces that did not disintegrate.
Freeze in your ice-cream maker according to the manufacturer's instructions.
Top with crush candy canes if you would like.
For the Cookies:
Preheat oven to 350.
Cream butter, sugar, and eggs until light and fluffy, about 3 minutes.Add flour, cocoa powder, baking soda and salt and mix until combined.
Fold in chocolate chips. Roll into balls and set on baking sheet (I use the super mini ice cream scooper…about the size of the small side of a melon baller)
Bake at 350 for 6-7 minutes.
Let cool on rack.
Take a scoop of ice cream and put it between two cookies…you know, make a sandwich, hence the name.