This Frozen Peppermint Bark Cheesecake Pie is super easy to make and is frozen so it frees up space in your oven for holiday events.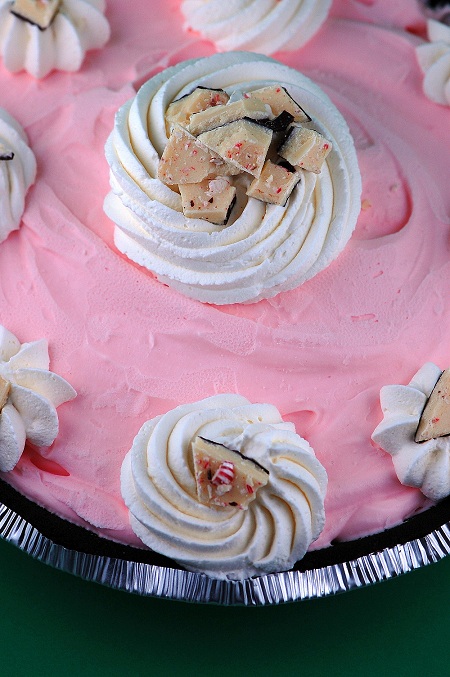 I would love to say that I can't believe the calendar will read December tomorrow.
And that we are just one month shy of yet another new year, but I do believe it.
The older I get the quicker the months just seem to go.
I blinked and November was gone.
So I want to take this opportunity on this last day of the thankful month to say thanks for being a reader.
You really have to like my site to read it.
I don't do giveaways (don't get me wrong I would love to have the money to give away a mixer, crock pot, or a camera) so you are just here for the food. 🙂
If it weren't for you the only readers I would have would be family members that I would guilt into reading it and a few former teacher friends. 😛
But no use fighting it, tomorrow is December.
I'm ready this year.
Last year at this time I didn't have an ounce of Christmas spirit (if you know me, this is highly unusual), I only put up decorations because my parents were coming out.
But this year, the tree is up and the apartment has been sufficiently decorated in gingerbread men, snowmen, and penguins.
Much can change in a year.
I had a reader email me the other day that is going through a divorce and asked me if I had remained friends with my ex-husband as I had planned on.
Yes.
Now it isn't a Friends episode where we hang out at the coffee shop together the entire time chit chatting on the sofa, but we do go to dinner or a movie from time to time.
He fixes my computer emergencies, even when my computer is faking it.
He comes by to say hi to the dog.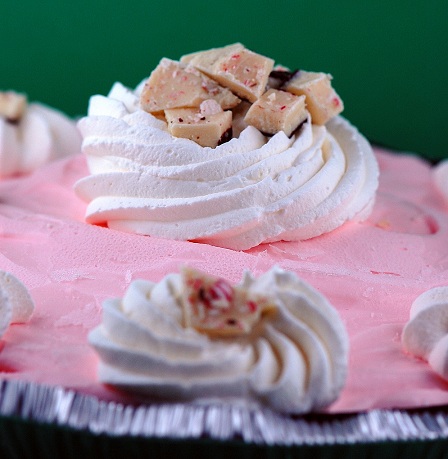 We send each other emails if we see something the other person might like.
So friends but not bff's, but we fully know that we would be there for each other if need be.
Do I think all people can do that?
No.
See I still like my ex as a person ( I mean the man took the test to donate his bone marrow people).
Many people who split find out things they don't like about their spouse throughout the time, often their "true" personality shining through.
I certainly know many a man with a crazy ex-wife.
As well as a woman with a crazy, jealous, stalker ex-husband.
These are the people it doesn't work for.
But for those people who still like that person as a person but not in the capacity of a spouse, than yes.
So if that is you dear reader, I wish you luck.
Enough with the heavy stuff, let's get to something light and fluffy!
And easy for that matter.
Frozen Peppermint Bark Cheesecake Pie.
The original recipe had you making your own crust.
But I found Oreo Cookie Crusts at the store for less than $1…you can't beat that!.
You don't have to soak the candy canes but it gives it a nice two tone of peppermint flavors in my opinion.
Same thing with the peppermint bark, you don't need it but why not. 🙂
Hold on kids…here comes December!
It's a great day to buy my cookbook.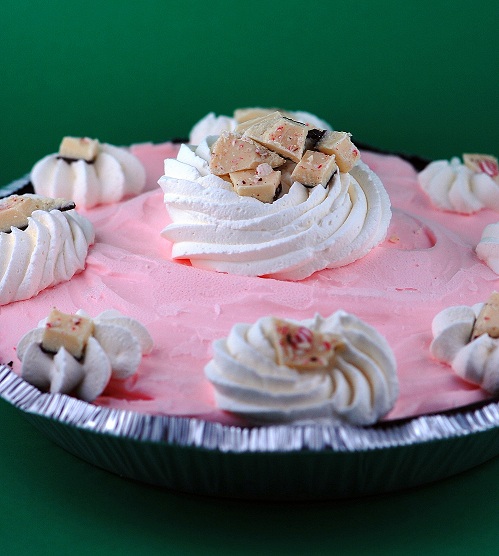 Want More Peppermint Recipes?
Peppermint Hot Chocolate Babka
White Chocolate Peppermint Pretzel Fudge
Chocolate Chip Peppermint Cupcakes
Peppermint Bark Brownie Mosaic Cheesecake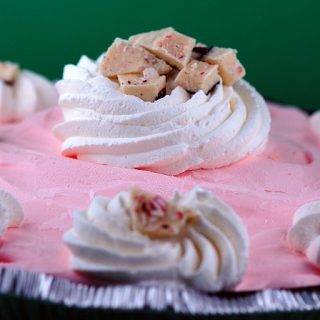 Frozen Peppermint Bark Cheesecake Pie
Ingredients
1 9-inch Oreo Pie Crust (mine was premade…$.79, can't beat that)
1 ( 8 oz.) package cream cheese, softened
1 (14 oz.) can Sweetened Condensed Milk
2 tsp. peppermint extract
2 ¼ cups heavy cream, whipped
10 full size candy canes
Red food coloring (optional)
1 cup peppermint bark, chopped (to make your own go here)
Instructions
Unwrap candy canes (you laugh but one time I had a reader not do that on my candy cane ice cream and got mad I didn't point it out…so I am pointing it out) and place them into 2 ¼ cups heavy cream.
Let sit over night or for at least 8 hours.
Remove any candy cane pieces out before you make into whipped cream. You can place the cream in a saucepan and slowly melt the candy canes into the cream. But I really prefer the cold dissolve method. And I find it works best for this recipe.
Using a stand mixer with the paddle attachment, cream cheese until fluffy in large bowl.
Gradually add sweetened condensed milk until smooth.
Stir in peppermint extract and food coloring, if desired; mix well.
Fold in candy cane whipped cream.
Take pie pan and sprinkle ¾ cup of peppermint bark.
Pour filling into pan.
Cover and freeze 6 hours or until firm. Garnish with whipped cream and peppermint bark if desired.