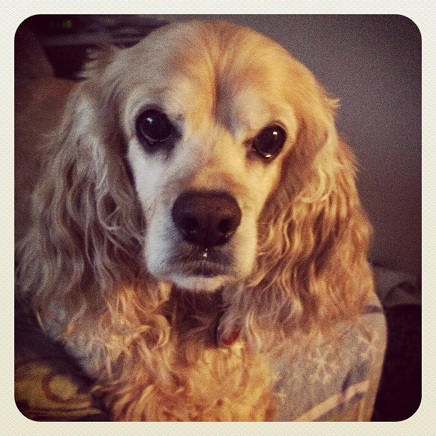 Crazy Cocker Spaniel and I are at an inpasse, unlucky for her is that she will lose this battle of wits….not to the death though. 🙂 See CCS is on a food strike of sorts, it happens every time we go to her "grandma's" or grandma comes to us.
See grandma is nice and sprinkles chicken breast, turkey breast, etc on her food each meal. I do not. After awhile of this CCS wont even eat the food at the bottom. Which is how we ended up when we left on Saturday. Except she isn't eating period. I would like to say I think she was doing a Thanksgiving cleanse, but I'm pretty sure that she is trying to hold out. Hoping and praying that grandma will walk through that door any minute. Sorry dog. She usually breaks down by the end of the night and eats her breakfast bowl but then if you put more out back on strike she goes.
So there she sits and mopes my poor abused dog. No treat in site. I'm sure you all feel sorry for her.