This Peppermint Bark Brownie Mosaic Cheesecake has peppermint bark and brownie chunks in the cheesecake batter topped with rich ganache.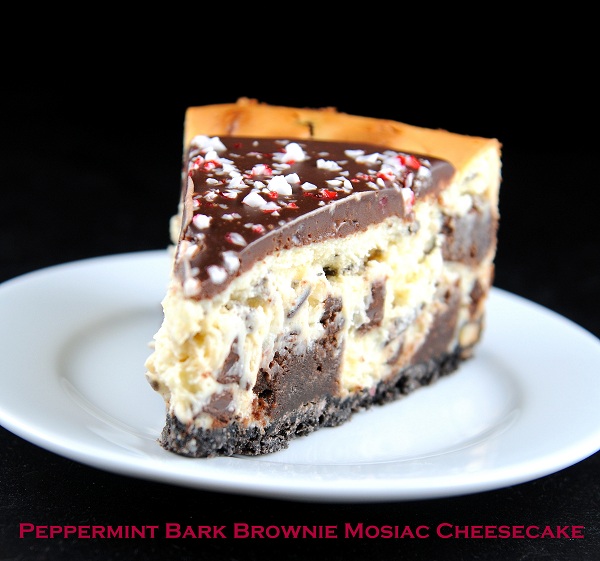 I watched Trouble with the Curve on Christmas night while snuggled up eating Chinese food (which was surprisingly a little too hard to find a place that was open).
And of course all that ran through my head was the part in Christmas Story where they sing farararara-rararara. 😀
I liked the movie though the part with Clint Eastwood going blind makes me nervous and worry about my parents getting older.
The part we will concentrate on though is how his lawyer daughter while good at her job realized baseball is what was in her blood.
I often watch shows like Triple D or other restaurant shows where they interview the owner and often they had a change of career.
And more often than not it's because their parents owned a restaurant when they were growing up.
I learned about 10 years ago that while I enjoyed teaching in some aspects (the kids and inspiring part) it was really cooking/baking that I wanted to do with my life.
I knew I didn't really want to own a restaurant though tons of people nudge me all the time to open up a bakery (negative Ghost Rider).
So in a way I combined what I liked doing (the teaching and inspiring part) and my love of food.
I really think that is what blogging is…if done right.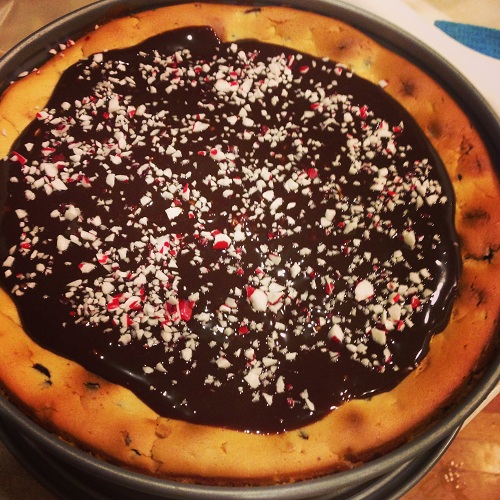 The best part of blogging for me is when people come back and say I made this.
Now if it doesn't turn out I feel really bad as I try to put up only stuff that works as there is no point in putting up a recipe that didn't turn out for me.
Sometimes people try and fail.
That happens to me as well.
The big complaint I get is mine didn't look like yours.
Hi…I'm Peabody.
I've been running a blog where I style things to look good for what will be 8 years coming up.
Before that I went to pastry school.
I don't expect yours to totally look like mine if you are a novice baker.
That's okay…worry about how it tastes!
Hopefully you got a lot of cooking stuff for Christmas.
This is the first year ever that I hardly got any cooking stuff.
However the first Christmas where all but one thing was a complete and utter surprise.
That my dear readers just doesn't happen when you are an adult.
All good stuff too. 🙂
Quite a few people were curious as to what our Christmas dessert was.
I made a Peppermint Bark Brownie Mosaic Cheesecake.
It was a spin in Smitten Kitchen Brownie Mosaic Cheesecake…but a Peppermint Bark version.
I still have tons of peppermint bark (I went overboard with making it this year and then hoarded it thinking I was going to do more with it).
This has a lot of peppermint flavor and next year I will probably do half peppermint bark and half chocolate chips because there was no doubt there was peppermint in there.
The brownie mosaic makes it extra special but also takes time.
This is a make people go wow dessert.
Also know that if there are pieces of brownie in there it does make cutting easy.
The piece you see is the piece I cut the best. 😀
I'm off to spend my gift card on cookbooks…got any suggestions.
And speaking of Christmas it's a great day to buy my cookbook for others.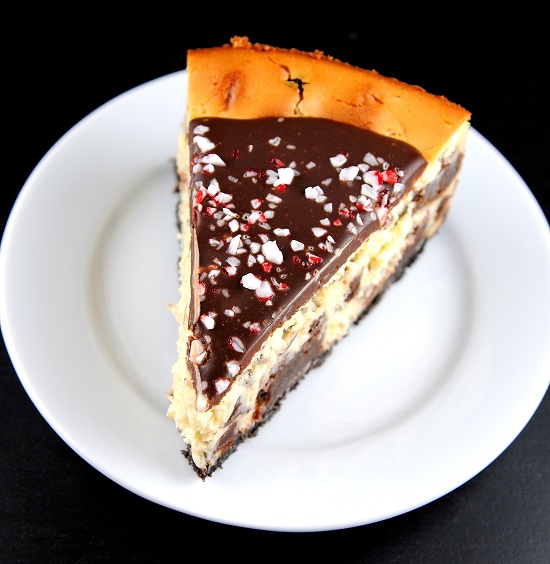 Want more Peppermint Recipes?
Peppermint Mocha Latte Sweet Rolls
Peppermint Bark Red Velvet Cupcakes
Milk Chocolate Peppermint Fudge
Chocolate Dipped Chocolate Peppermint Cupcakes
Peppermint Mocha Blossom Cookies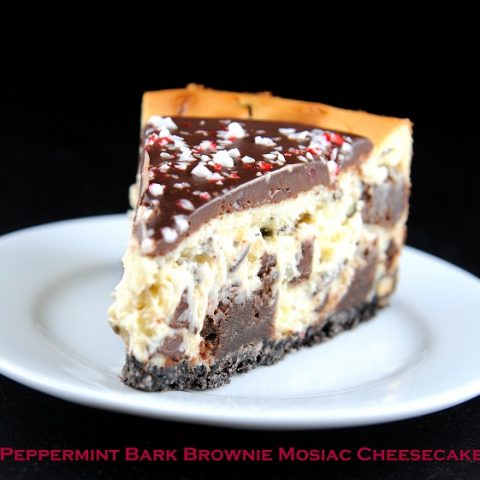 Peppermint Bark Brownie Mosaic Cheesecake
Ingredients
For the Crumb Crust:
1 1/2 cups or 5 ounces (3 cups or 10 ounces to double) finely ground Oreo cookies
5 TBSP (10 tablespoons to double) unsalted butter, melted
1/8 (1/4 teaspoon to double) tsp. salt
For the Brownies:
4 ounces unsweetened chocolate (Baker's chocolate, optional of course)
3/4 cup (1 1/2 sticks)unsalted butter
1 3/4 cups granulated sugar
3 eggs
1 tsp. vanilla
1/2 tsp. salt
1 cup all-purpose flour
½ cup semi-sweet chocolate chips
For the Cheesecake:
3 (8 ounce) packages cream cheese, at room temperature
4 large eggs
1 tsp. vanilla extract
1 cup sugar
2 cups brownie cubes (from recipe above)
½ cup chopped peppermint bark
¼ cup chopped semi-sweet chocolate
For the Peppermint Ganache Glaze:
3 ounces peppermint bark, broken up, chopped up
2 oz unsalted butter
¼ cup heavy cream
1/2 tsp. vanilla extract
1 TBSP powdered sugar
Crushed candy cane pieces for décor
Instructions
For the Crumb Crust:
Stir together crust ingredients and press onto bottom buttered 24-centimeter springform pan.
Preheat oven to 350F.
Place on a baking sheet.
Bake for 10 minutes.
You will see that what looks like oil might have gathered at the bottom of the pan.
This is the heated up Oreo stuffing leaking out.
It's fine. Let cool completely.
For the Brownies:
Preheat oven to 350°F. Line 13×9-inch baking pan with foil, with ends of foil extending over sides of pan. Grease foil.
Microwave chocolate and butter in large microwaveable bowl on high for 2 minutes, or until butter is melted.
Stir until chocolate is completely melted. Stir in sugar.
Blend in eggs and vanilla.
Add flour and salt; mix well.
Fold in the chocolate chips. Spread into prepared pan.
Bake 30 to 35 minute or until toothpick inserted in center comes out with fudgy crumbs. (Do not overbake.)
Cool in pan on wire rack. Remove brownies from pan, using foil handles.
Cool brownies, then cut* them into 3/4- to 1-inch squares for use in the cheesecake.
You will have more than the two cups of cubes, loosely measured, than you will need, and I'm sorry, you're just going to have to decide for yourself what to do with the extra (mine went with Peppermint Hot Chocolate Ice Cream).
Add cubes to the cheesecake batter as directed below.
For the Cheesecake:
Beat cream cheese with an electric mixer until fluffy and add eggs, 1 at a time, then vanilla and sugar, beating on low speed until each ingredient is incorporated and scraping down bowl between additions.
Fold brownie cubes and peppermint bark in very gently and pour mixture into prepared pan.
Put springform pan with crust in a shallow baking pan.
Pour filling into crust and bake in baking pan (to catch drips) in middle of oven 45 minutes, or until cake is set 3 inches from edge but center is still slightly wobbly when pan is gently shaken.
When completely cool, top with glaze.
For the Peppermint Bark Ganache:
Grind the peppermint bark into powder in the food processor, scald the butter and cream in a saucepan (or in a Pyrex cup in the microwave).
With the machine running, pour the hot cream/butter mixture slowly through the feed tube onto the chocolate.
Blend until completely smooth, stopping machine to scrape down sides once or twice.
Add the extract and sugar and process until smooth.
Spread over cheesecake while ganache is still warm and sprinkle with candy cane pieces.
Chill until ready to serve.