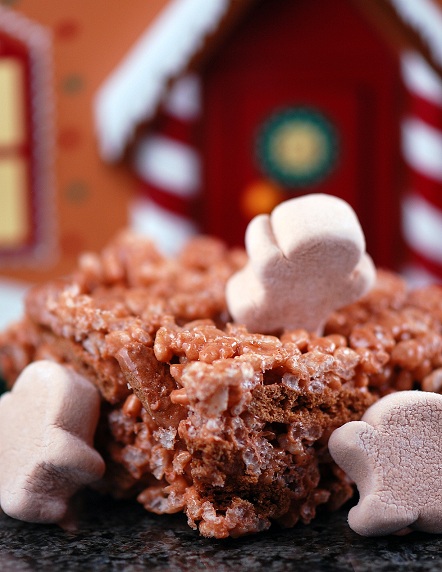 I love all things gingerbread men. My advent calendar (the building in the background) is a gingerbread house. I have gingerbread men spatulas, rugs, tea towels, plates, spoon rests, mugs, salt shakers, lights, etc…I love me some gingerbread men. They just make me smile. So when I stumbled across gingerbread marshmallows in the shape of gingerbread men I was sold. I quickly grabbed two bags…should have grabbed more!
I made these for the hockey boys. In what appeared to be a compliment but also an insult in my opinion over and over I heard "wow, these are actually good". Gee thanks? I mean I get that they were a little out there and not everyone enjoys the flavor of gingerbread but I don't usually serve them stuff that tastes like crap so I had to laugh that everyone was so surprised they were good. So good the whole bag was gone at the end of the night.
If you are a gingerbread fan, these are definitely a great treat to make. I was a little sad to watch the gingerbread men melt (luckily they don't have eyes or I would have major guilt!) but I got over that sadness when I ate the treats. 🙂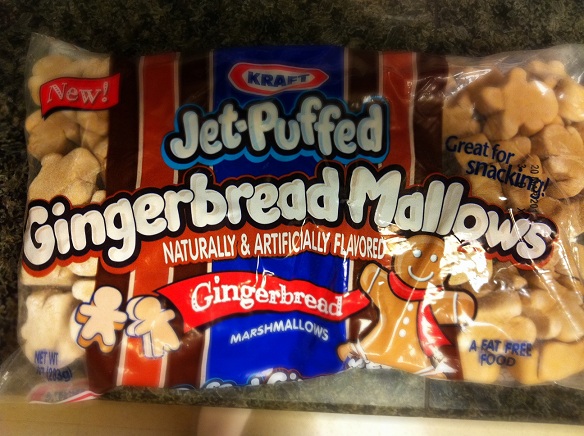 Gingerbread Rice Krispie Treats
One 10.5 ounce bag of Gingerbread Flavored Marshmallows
3 TBSP unsalted butter
6 cups Rice Krispies cereal
25 gingersnaps, chopped up
In large saucepan melt butter over low heat. Add marshmallows and stir until completely melted. Remove from heat.
Add cereal and cookies. Stir until well coated.
Using buttered spatula or wax paper evenly press mixture into 13 x 9 x 2-inch pan coated with cooking spray. Cool. Cut into 2-inch squares. Best if served the same day.