These Cake Batter Cream Cheese Muffins have a vanilla muffin base with a Funfetti cream cheese filling topped with sprinkles.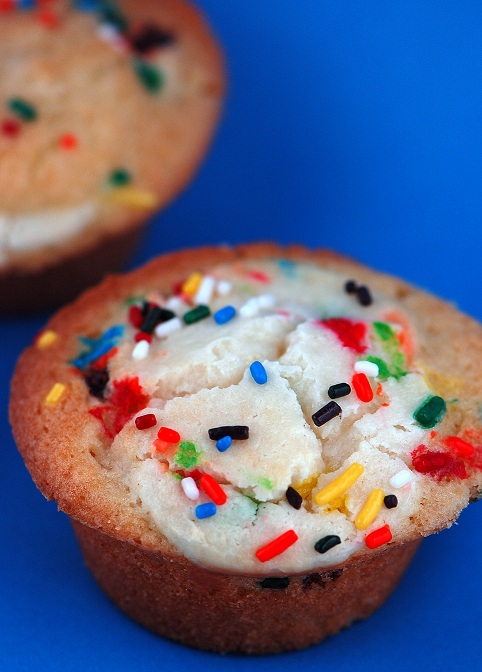 I think next to former smokers the most annoying people are people who just lost weight and love to try and tell you how to eat.
I personally don't smoke, I've never smoked a day in my life, but I'm not going to annoy someone by telling them how bad it is.
Guess what, they know.
It's pretty hard not to these days.
What is hard to figure out nowadays is what to eat.
First it was no fat.
Then fat is okay.
Then only certain fats.
Don't eat eggs.
Okay eat eggs.
Only eat the white part of the egg.
Oh wait you can eat all the egg again.
Then eat only meat.
Don't eat too much fruit.
No white food.
No potatoes.
And on and on.
It changes often.
If I followed the guidelines I should technically already be dead based on my bacon consumption.
I loathe going out to eat with my friends who are on a health kick.
I just went out to eat with my friend who is a stay at home mom.
She is a stay at home mom (which is hard but she also has a nanny).
Her husband pays for her to work out three times a week with a personal trainer.
She goes to boot camp, yoga, etc.
And has been eating clean for months now.
For those of you who are unfamiliar with clean eating basically no bread, sugar, white foods, no alcohol or caffeine for that matter.
Basically things that I like.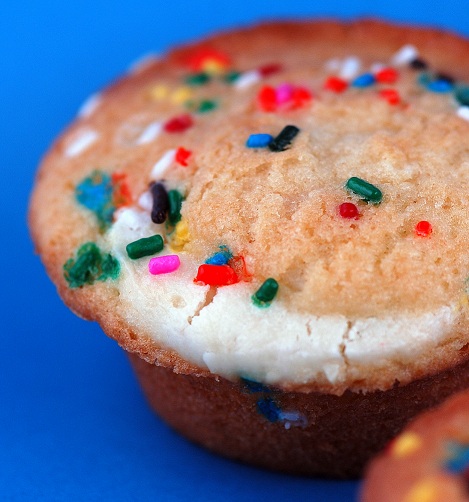 We went to a place that was acceptable to her way of eating.
She had an egg white omelet with veggies no cheese, no toast, and water.
Now I love me an egg white omelet actually, I prefer them to real omelets so I had no issues with what she was eating.
I never have issues with what people are eating.
What I do have an issue with was her commentary on everything I put into my mouth.
Spewing whatever latest and greatest nutrition book that Dr. Oz told her to read this week.
And then we really got into it.
"Remember when you used to be so in shape" she said to me.
I said, "Oh you mean when I didn't have to work and could go to the gym all the time? And could afford to be on Weight Watchers? And could afford whatever kind of food I wanted? Then?"
Why yes, I was in much better shape then.
She actually wouldn't shut up about this so I went there and asked back.
"Remember when you were fatter and more out of shape?"
She said "yes, I felt so horrible" and went on and on.
And then I said "do you remember how many TIMES you have been in and out of shape?"
Oh that's right you lost 30 pounds and then gained 40.
Lost the 40 then gained the 50.
Lost the 50 and gained 55.
This time losing 60 pounds…..statistically speaking she will be up 65 pounds next year.
My point being is she just lost all her weight.
She hasn't maintained anything and she isn't eating in the real world.
What she is doing is something that will be very hard to maintain.
And God forbid if she ever has to go back to work and won't get in her 2-3 hour workout a day like most normal people don't get to do.
I am all for people being in the shape they want to be in.
Go for it.
I would love to get to go to the gym all the time with a personal trainer.
But just don't annoy other people with your stuff.
About as non-clean as you can get is the world of Funfetti.
So I made Cake Batter Cream Cheese Muffins.
I am calling these muffins because they sound healthier that way. 😛
Plus in my opinion any and all things that come out of a muffin pan that do not have frosting is a muffin.
Even glaze on top of a baked good is a muffin, not a cupcake.
You can't change my mind on this. 🙂
Anyway, this time of year there are the good ol' pumpkin muffins that are filled with cream cheese, the idea for these came from that.
That and the $0.88 box of Funfetti at that store.
*Since no one ever reads through a recipe…you have to freeze the cream cheese part for at least 4 hours (preferably overnight) so know that going into this! 😛
And last but not least it's a great day to buy my cookbook.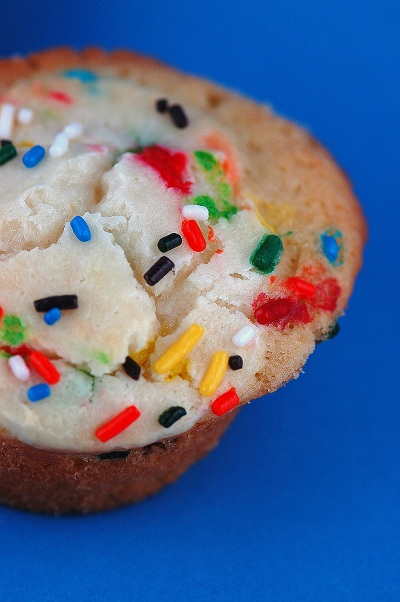 Want More Muffin Recipes?
Cider Glazed Apple Fritter Muffins
Cranberry White Chocolate Chip Crumb Topped Muffins
Chocolate Candied Orange Peel Sour Cream Muffins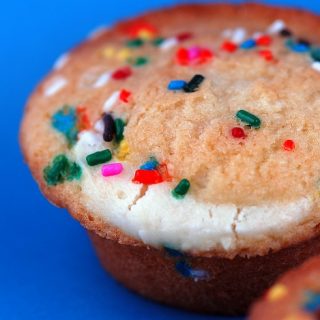 Cake Batter Cream Cheese Muffins
Ingredients
For the Filling:
8 ounces cream cheese, at room temperature
½ cup powdered sugar
½ cup Funfetti cake mix
For the Muffin Batter:
1 1/2 cups all-purpose flour (spooned and leveled)
1 1/2 tsp. baking powder
1/2 tsp. salt
1/2 cup milk
1 tsp. pure vanilla extract
1/2 cup (1 stick) unsalted butter, room temperature
3/4 cup sugar
2 large eggs
sprinkles for garnish
Instructions
Using a stand mixer using the paddle attachment beat together the cream cheese and sugar on medium-high high for 3 minutes.
Add the cake batter and beat for another minute until fully incorporated.
Lay down plastic wrap and form cream cheese mixture into a log, so that the circle is about the size of a half dollar.
Wrap up and freeze for at least 4 hours.
Preheat oven to 350 degrees; line the cups of a standard (12-cup) muffin tin with paper or foil liners.
In a small bowl, whisk together flour, baking powder, and salt; set aside.
In a liquid-measuring cup, mix milk and vanilla; set aside.
In a large bowl, with an electric mixer, beat butter and sugar until light and fluffy, 3 to 4 minutes.
Add eggs one at a time, beating well after each addition.
With mixer on low speed, add half of dry ingredients, followed by milk-vanilla mixture, then remaining dry ingredients. Do not over mix.
Divide batter evenly among prepared muffin cups (a 2-ounce or 1/4-cup ice-cream scoop is good for this).
Take cream cheese mixture out of freezer.
Remove plastic wrap.
Slice about ½ inch thick.
Place on top of the muffin batter and push down slightly.
Add sprinkles to top if desired.
Bake until a toothpick inserted in center of a cupcake comes out clean, 20 to 25 minutes.
Cool cupcakes 5 minutes in tin, then remove and cool completely on a rack.