These Glazed Orange Craisin Muffins are a sour cream based muffin with the classic flavor combo of orange cranberry and covered in thick orange glaze.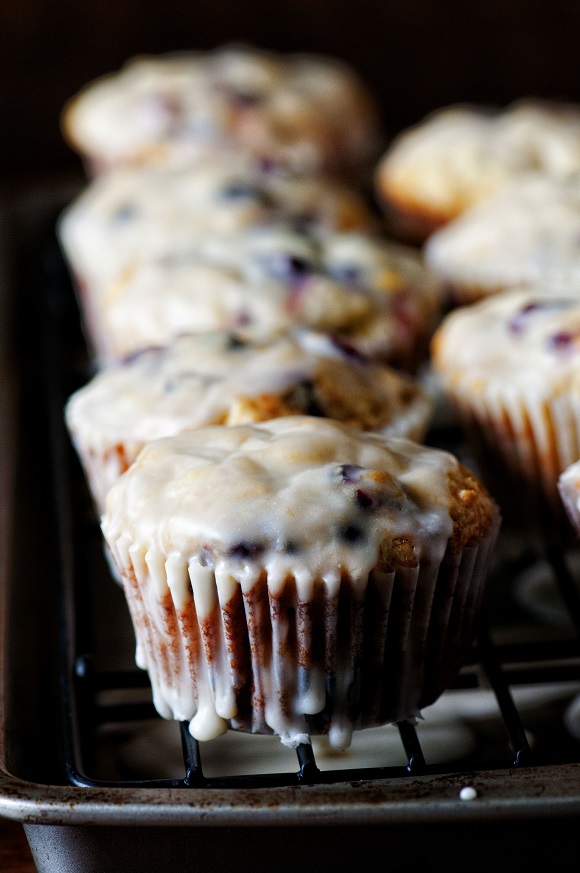 In a roundabout way, this blog started because of these muffins.
When I was a school teacher I started to bring snacks on payday to the teacher's lounge.
My baking skills were appreciated greatly and what was a once every two-week occurrence turned into teachers giving me money or ingredients several times a week for treats to be available all the time.
Stress eating is big when you teach children. 😛
So is binge drinking for that matter (I joke, sort of).
These muffins were the first thing I made and the most requested.
So much so that I decided that I would teach a class in the Home Economics room on how to make them.
I called the class Culinary Concoctions and in tiny print below it read by Peabody.
So when I started a blog we just named it that because it's all I could come up with.
I since, of course, have learned that is WAY too long but after almost 10 years of blogging I won't be renaming (and yet I did). 🙂
I do not make these often as it is one of my trigger foods as in I will eat them all.
The original muffins did not have a glaze but in the later years I added it because well glaze is your friend.
Since I was craving them and went to print off the recipe from this blog only to realize I've never put the recipe up.
I really quite surprised I never did.
It's time to change that.
If you aren't going to use Craisins (which tend to stay moist) and just use dried cranberries I highly suggest that you soak the cranberries in hot water for 10 minutes.
You want for them to plump up and so they don't remove moisture from your muffins as you bake.
These Glazed Orange Craisin Muffins are a great versatile muffin that can be made into several different versions.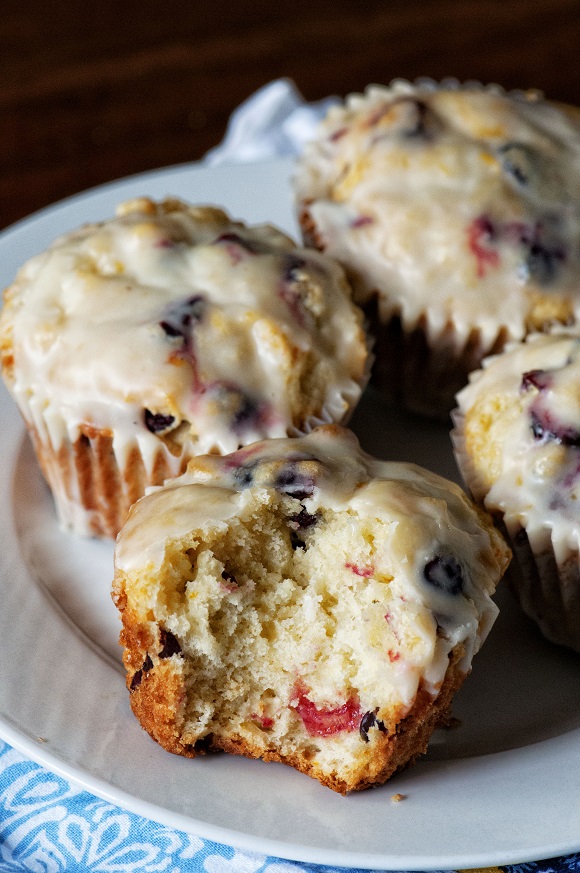 In other news…I normally am on the side of no pants are the best pants. 😉
However, I recently got to learn why pants are pretty good.
Or pajama bottoms or skirts, items along that line.
See Mr. Squishy Face is great about telling you when he wants to go to the bathroom, except sometimes it's at 2am.
Normally he quickly goes downstairs, does his thing, then quickly comes in and back upstairs we go.
So last night when he wanted to go out I just rolled out of bed, it was warm and so I was in TMI a t-shirt with just boy shorts.
I thought for a second about putting more on but thought no he will just go out and back in, no problem.
Wrong.
All of a sudden he takes off down the side of the house barking…loudly…at 3:20am.
He's deaf so calling him is not a good option.
So out I go into the pouring rain with a blanket wrapped around me attempting to get my dog.
He of course did not want to come in so we got to play that game.
Normally I would not chase him.
But I needed him to stop barking to avoid the neighbors making voodoo dolls of me and my family. 😀
I finally won, though he never went potty.
From now on, I will now have pants by the bed at all times. 😛
P.S. It's a great day to buy my cookbook Holy Sweet!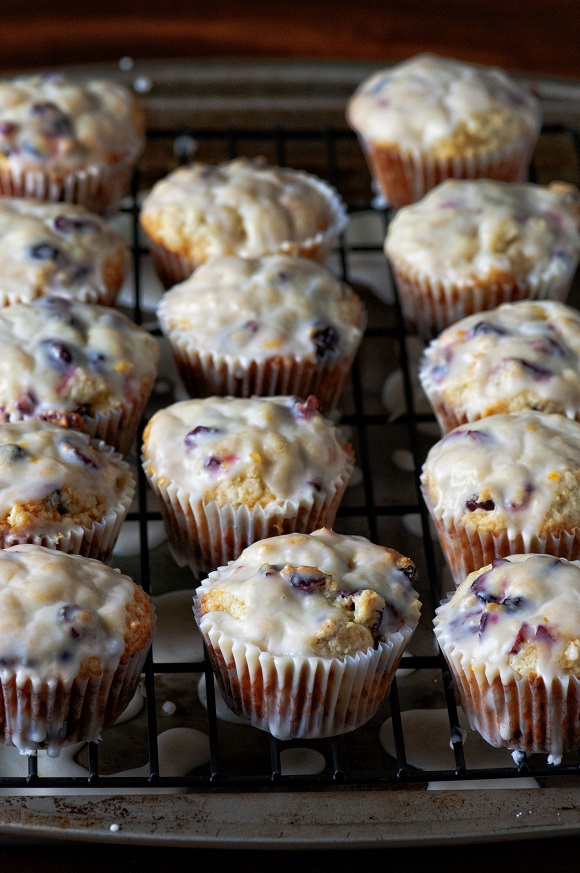 Want More Muffin Recipes?
Clementine Chocolate Chip Muffins
Cider Glazed Apple Fritter Muffins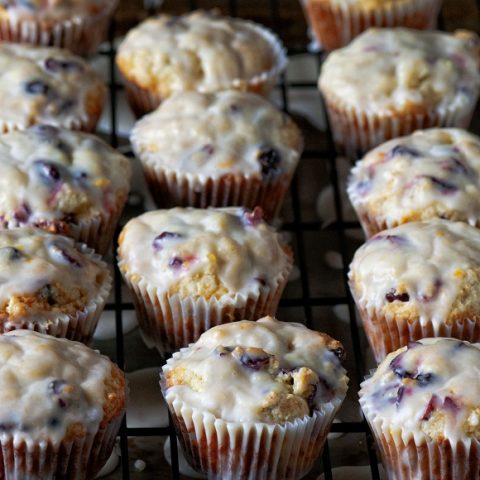 Glazed Orange Craisin Muffins
Ingredients
For the muffin:
8 oz. unsalted butter (I used Plugra)
1 cup granulated sugar
zest of one orange
1. tsp. vanilla extract (I used Rodelle)
2 large eggs
¾ tsp. baking soda
¾ tsp. baking powder
Pinch of salt
2 and ¼ cups all-purpose flour
1 and ¼ cup sour cream
¾ cup Craisins (or dried cranberries)
For the glaze:
3 TBSP unsalted butter, at room temperature
1 ½ cups powdered sugar
zest of one orange
1/3 cup orange juice (approximately)
Instructions
Preheat oven to 350F.
Take 1 cup of sugar and place in a small bowl.
Add orange zest.
Using your fingers rub the orange zest into the sugar.
Using a stand mixer with a paddle attachment, cream the butter and sugar until light and fluffy about 3 minutes.
Add in the vanilla.
Add the eggs one at a time and mix until each is incorporated.
In a separate bowl, mix together the flour, baking soda, baking powder, and salt.
Add the flour mixture and the sour cream alternately to the egg-butter mixture in the additions.
Start with the flour and end with the flour.
Scrape the bowl occasionally.
Fold the Craisins into the batter.
Portion the muffin batter into greased tins (I use an ice cream scoop).
Depending on the size of your tins, you should get about 12 to 14 muffins.
Bake them for approx. 20 minutes.
If making mini muffins, reduce time to 15 minutes.Let cool to room temperature before glazing.
For the Glaze:
Beat together in an electric mixer with paddle attachment the butter, sugar, and zest.
Add juice and mix.
This is when I got bad about measuring and just kept adding orange juice until it was at the consistency I wanted.
You want it to be a glaze more than a frosting.
Once the muffins are cool.
Dip the top part of the muffin into the glaze and set aside.Let the glaze set up for about 5 minutes and dip them all again for a second coat.