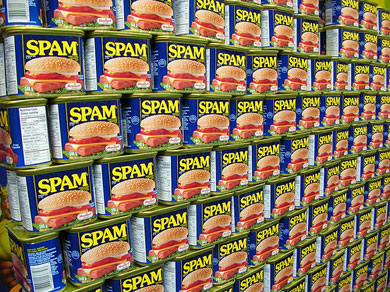 Now before you all panic and freak out that I am going to make some kind of dessert with Spam, I am not, this is not Iron Chef. And though the corn ice cream made people raise an eyebrow or two (it really is awesome like beyond awesome) I wouldn't go as far to make Spam ice cream. 🙂
Several less than polite emails have come to me saying that they commented and I deleted them. Or I kept their comment but now their link is not in there. First off I probably didn't delete your comment unless you told me to eat a bag of dicks or something. It most likely went to the spam folder which I check from time to time but not all the time. If you went to spam there could be a few reasons:
1. You are spam and you deserve to sit in the shame that is the spam folder.
2. You look like spam because you have posted your website all over your comment. Don't do this. This causes you to go to spam. Then if I catch it I have to go and remove the link to let you though. Then you write me less than polite emails asking why I removed it…that's why. This mostly happens to the more new bloggers out there. Don't worry your site will get out to people. Not by plastering it everywhere. If you have an interesting comment people will click on your name, which will bring them to your site plain and simple. Want to build an audience? Write something of quality that people are interested in, because even if you get them there, if you aren't doing anything uniquely yours then you won't get people to stick around.
3. You are actually commenting but you are promoting your website that is not a blog that you make profit from. The spam folder catches that too. If you were genuinely only concerned to comment you won't be worried about your link being attached.
And those are the reasons why your comment did not make it though. Not because I am on some power trip as one email suggested. Not exactly sure what kind of power trip that would be? Anyway, my point is I am sorry if you write a legitimate comment and it goes to spam. Sometimes they just do. Sometimes it is how you word things and it picks it up as spam even though it is not.
This has been your friend Spam PSA…have an above average Thursday!
-Peabody