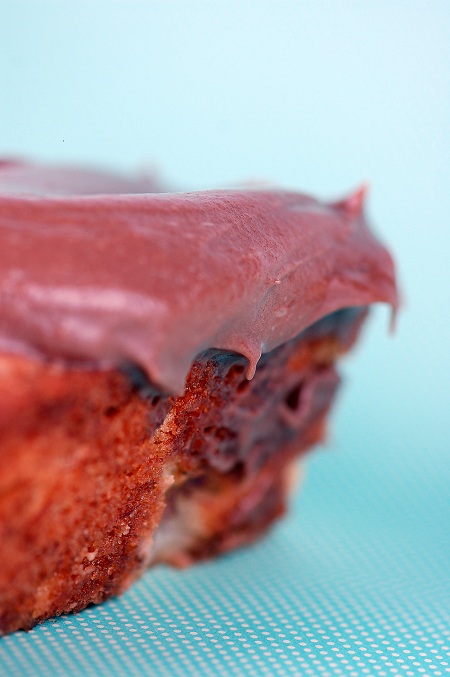 So while to some people 68F isn't that warm it is to me, when you live in the apartment I do. PNW apartments are built to keep heat in, as most of the time we are more cool than warm, and therefore can get quite warm and a little stuffy. This makes me not want to bake so much. It doesn't help that I live on the 3rd floor either. But just to keep me in check I like to keep on my MSN page what the weather is doing in Phoenix. I was beyond amused when this is what I saw.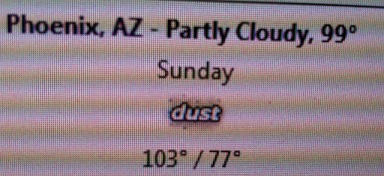 Since when did DUST become weather? I know they get dust, I lived there. Even better is when you get a dust storm followed by an afternoon monsoon storm so everything is caked in mud. So in honor of Phoenix I will highlight things I learned while living there:
1. The phrase "leave no stone left unturned" should be ignored. Never, ever check under a rock. You will most likely meet Mr. Scorpion or worse, his friend the vinegaroon (which think spider meets scorpion…it's so not good).
2. It's a dry heat. Oh sure, there isn't nearly the humidity as back east and the south, but you are going to sweat all the same. And at 114F you aren't going to be wanting to do crap regardless of what the hygrometer reads.
3. Brown ground, brown sky (Phoenix ranks #3 for pollution…just under LA). It was hysterical last summer when my friend came out to buy me birthday lunch (not just that) she kept taking all these photos of the flowers and trees and couldn't get over how everything was so green…yes, she lives in Phoenix.
4. Buy a car you don't really like that much and don't care if it will get stolen. I've had two taken when I lived there…and not exactly high end cars.
5. Since we have a lot of pools, women seem to think they should have floatation devices built into them so as not to drown. Breast aren't the only thing that is fake there…if you are a brunette you kind of stick out. 😛
6. Expect salsa to come as a side with anything you order. I even know a Chinese place that used to serve you chips and salsa when you first sat down (???)
7. There is such thing as a jumping cactus and though it's not plotting against you if you come close to its spines it has this little hook that loves to "jump" and stick to your pants. Whether you attack it or it attacks you…it hurts all the same. Though it is a nice way to get a doctor to look at your bare butt (that has been covered in cacti).
8. Ice tea and mister systems are your friend.
9. Flip flops are appropriate foot wear for any and all occasions. Seriously…I wore them to my wedding.
10. If you drive through Sun City a golf cart is a legal form of transportation and you will get stuck behind one…and you will consider ramming your car into that old man in the cart about 15 times per minute. 😀
As you can tell I don't really miss living in Phoenix. I could say a lot more but I won't. Now I will say that the city works for a lot of people…there is always a seat for an ass as my grandfather used to say. The Pacific Northwest is what works for my ass (though if you want to see a real one, AZ does have plenty of donkeys and they are cute). From the minute we moved up to the Seattle area I knew that this was the place for me, and after 6 ½ years I can still say that.
This cake has nothing to do with Phoenix other than of course the brown frosting makes me think of the grass in June. 😛 Ours in green by the way. Anyway, this is a simple banana cake that I was just going to frost with cream cheese frosting but that's been done a ton so I decided the best thing to do was to add Nutella to it, because, why not? If it's not fattening enough for you, try the half bread pudding/half cheesecake from this weekends post. 🙂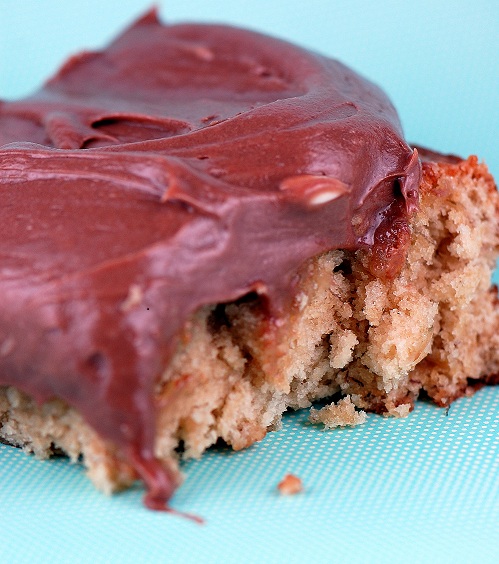 Banana Cake with Nutella Cream Cheese Frosting
½ cup butter, softened
1 ½ cups granulated sugar
2 eggs
½ cup sour cream
1 tsp. vanilla extract
1 TBSP Lyle's Golden Syrup (if you don't have just omit)
2 cups all-purpose flour
½ tsp. baking powder
½ tsp. baking soda
¼ tsp. salt
1 ¼ cup mashed ripe bananas
Preheat oven to 350 degrees F . Grease a 9×13 inch pan.
Using a stand mixer with the paddle attachment, cream together the butter and sugar until light and fluffy, about 3 minutes.
Beat in the eggs, one at a time, then stir in the sour cream, Lyle's Golden syrup, and vanilla extract.
Combine the flour, baking soda, baking powder, and salt and mix into the batter on low speed. . Finally, mix in the mashed banana. Spread evenly into the prepared pan.
Bake for 25-30 minutes or until a toothpick inserted into the center comes out clean. Cool on a wire rack before frosting.
Nutella Cream Cheese Frosting:
1 (8) ounce package cream cheese, at room temperature
½ cup unsalted butter, at room temperature
1 ½ cups Nutella
4 cups powdered sugar
1 tsp. vanilla extract
In the bowl of your mixer fitted with the paddle attachment, mix cream cheese, Nutella, and butter until smooth.
Add in the powdered sugar one cup at a time and mix until smooth and creamy, you may end up needing less or more depending on how sweet you like your frosting or the consistency you want it at.
Beat in vanilla extract.
Frost cake when cool.