We have a player on our team who has been with us since the beginning. His wife was going to start going to school full time and their income was going to be split in half. The first season I found him money through some local sponsorship (a local physical therapist…hockey brings big business). The second season however I could not find him any. So I sent an email to my team and asking them if anyone would be willing to chip in to help cover his costs. Which everyone gladly did varying from $10 on up. At first he was taken back because of the fact that the team paid for him, but then I kindly reminded him that we were a family, all be it a hockey family, but a family all the same. And families take care of each other and that we could not imagine a season without him. I also told him I am sure if he was in a place to help out other he would (he would). BTW, if you want to see the Sheep in action check out this cool video that one of our players boyfriend made. Black Sheep Hockey
You will notice a baked good up. My CCbP family was kind enough to make donations(the buttons' on the side) to the blog so that my over-opinionated poor grammar ramblings and fat filled food could continue on this month. I had several mini donations and was sad to see people write me saying they were sorry they couldn't give more. The fact that you the reader are willing to give me ANY amount of money is truly amazing and beyond touching to me. You are my food blogging family and I am currently the dead beat relative living on your couch and eating your food. 🙂 But I do clean up after myself if that makes you feel better. 😀
For Easter I made a large batch of Honey Crisp Applesauce to go with my ham. Interestingly enough this was the first time EVER that I cooked a ham. I used Andrea Meyers Maple Whiskey Glaze and it turned out sooo good. My roommate was all over it. We lived off of it for a week. I had no idea how easy hams were to make and when on sale pretty cheap as well. Go ham! I froze some of the applesauce for later use. I went in search of an applesauce cake and found one by good ol' Smitten Kitchen and she never steers me wrong. I chose this cake not just because of the applesauce in the freezer but because another member of my CCbP family was kind enough to send me Cinnamon Chips. They are made by Hersey's and I had seen a bunch of people use them in baked goods. Only problem was I could not find them here local at all.
The cinnamon chips have a lot more flavor than I thought they would so I used them sparingly in this cake. Since this is an applesauce cake it by definition is moist. The original cake was baked in an 8-inch square pan but I went the loaf route so that I could give some of them away. I was going to leave off the cream cheese frosting and then came to my senses and realized that was probably against my religion or something along those lines and threw some on top for good measure so as not to be struck down by the baking Gods. 🙂 If you can't find the cinnamon chips, you will survive. The original cake didn't have them, I just thought it would add a little zing, and it does!
Thanks again to all of you who donated. It was really, really nice. And if there is a nicer word than nice, than that too. 😀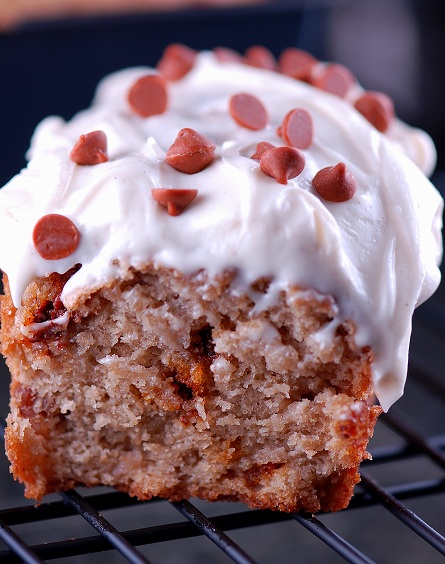 Applesauce Cake with Cinnamon Chips and Cinnamon Cream Cheese Frosting
For cake:
2 cups all-purpose flour
2 tsp. baking powder
½ tsp. baking soda
½ tsp. salt
¾ tsp. ground cinnamon
½ tsp. ground ginger
¼ tsp. freshly ground nutmeg
4 ounces unsalted butter, at room temperature
1 cup dark brown sugar, firmly packed
1 tsp. Vanilla extract
2 large eggs
1 ½ cups applesauce (no sugar added or homemade if you have it)
½ cup chopped walnuts
½ cup Hersey's Cinnamon Chips
For frosting
5 ounces cream cheese, at room temperature
3 tablespoons unsalted butter, at room temperature
¼ tsp. vanilla extract
1 cup powdered sugar
½ tsp. cinnamon
Preheat oven to 350°F.
Butter and flour (or use spray) 3 mini loaf pans or use an 8-inch cake pan.
Make cake: Whisk together flour, baking powder, baking soda, salt, and spices.
Beat butter, brown sugar, and vanilla with an electric mixer at high speed until pale and fluffy, 2 to 3 minutes.
Add eggs one at a time, beating well after each addition, then beat in applesauce.
At low speed, mix in flour mixture until just combined, then stir in walnuts and cinnamon chips. The batter will look a little curdly and uneven but don't worry, it will all bake up perfectly in the end.
Spread batter evenly in pan and bake until golden-brown and a wooden pick inserted into center comes out clean, about 35 to 40 minutes. Cool in pan 15 minutes. Run a knife around edge of cake to loosen, then invert onto a plate. Reinvert cake onto a rack to cool completely. The baking time is about the same for either the loafs or the 8-inch pan.
Make frosting: Beat cream cheese, butter, and vanilla with an electric mixer at high speed until fluffy. Sift powdered sugar and cinnamon over cream cheese mixture, then beat at medium speed until incorporated. Spread frosting over top of cooled cake.
Adapted from Smitten Kitchen