Hummingbird Streusel Loaf Cake is made with bananas, crushed pineapple, and pecans topped with streusel and drizzled with cream cheese glaze.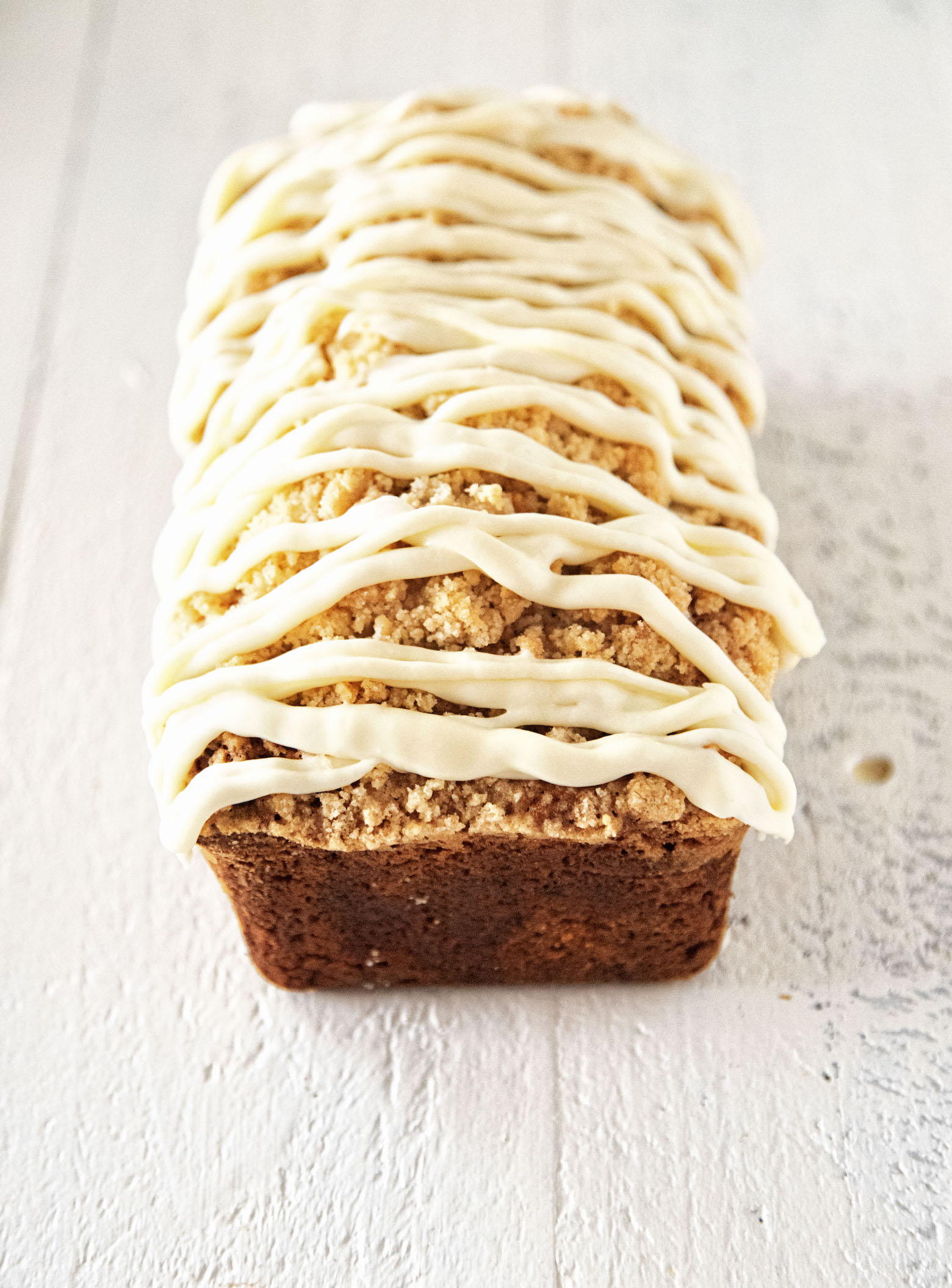 A lot of leftover bananas on the counter and not wanting to make banana bread starts to make you look for new recipes.
Last week my Taste of the South magazine showed up.
I've subscribed to it for what seems like forever.
When I married my ex, the picky eater, I thought for sure he would want me to make Southern food since he was from the south.
He did not. 🙂
Except for red velvet cake and fried chicken.
But I kept subscribing to the magazine because I really liked the recipes and I secretly think I'm part Southern.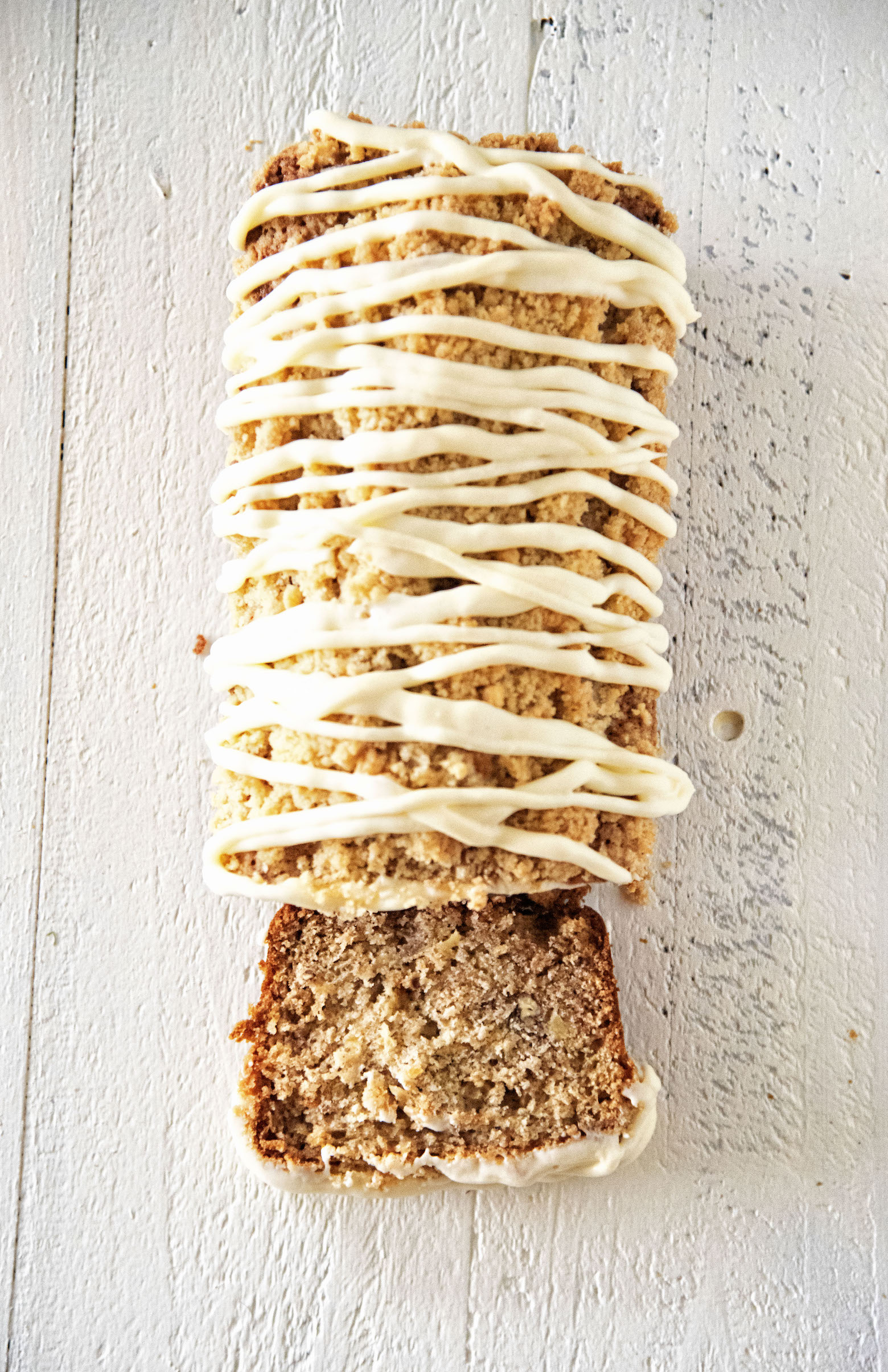 I had never had Hummingbird cake before I met my ex husband.
Which after having it made me sad to know that I missed it all these years.
While my ex loves the red velvet I fell in love with the Hummingbird cake.
So the newest issue had a Hummingbird cake in loaf form with streusel.
SIGN. ME. UP.
I love to throw streusel on everything and this cake is no different.
It really takes it over the top and makes it that more special. I mean…it's cream cheese which always makes things better.
P.S. It's a great day to buy my cookbook Holy Sweet!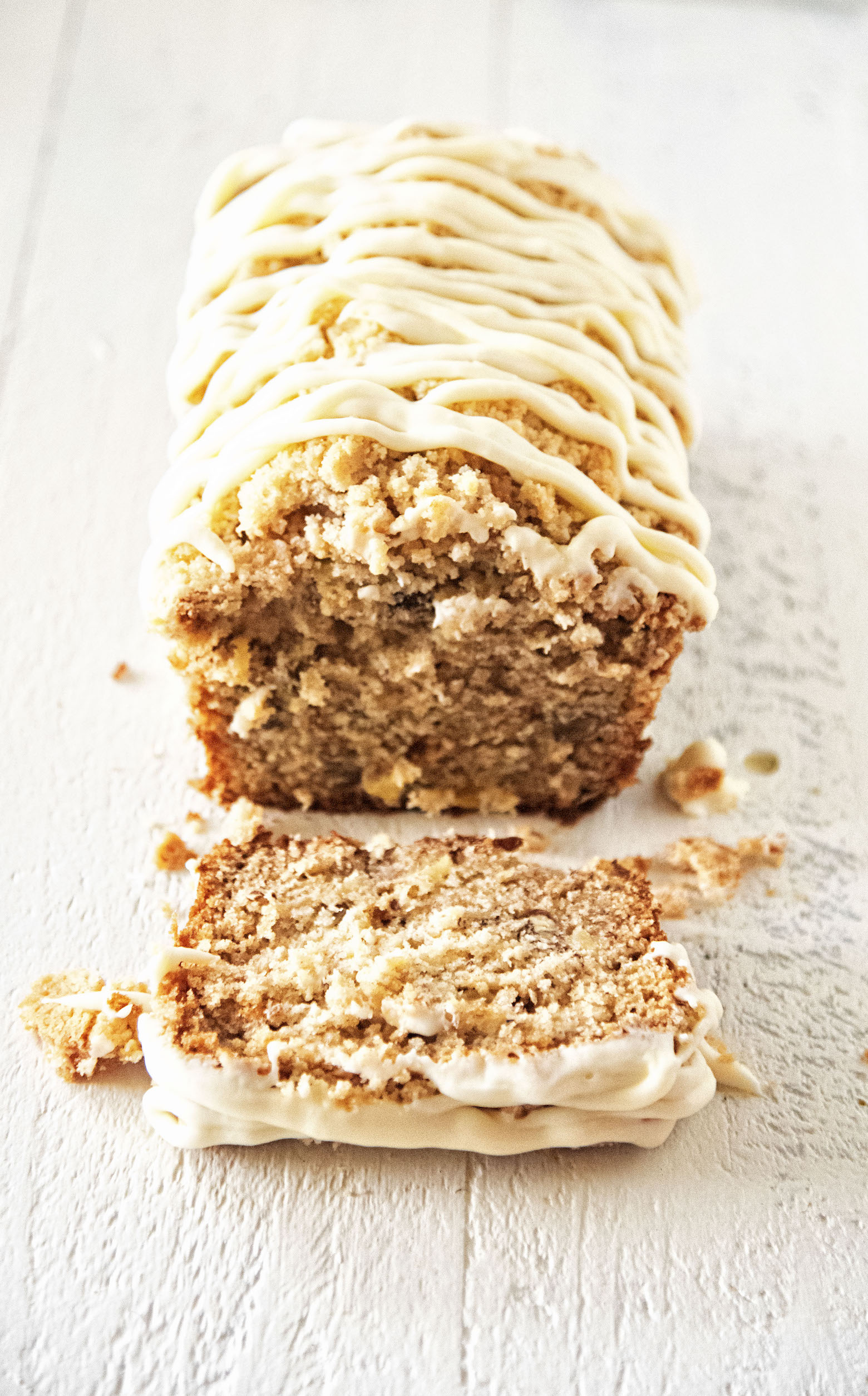 Want More Pound Cake Recipes?
Bourbon Brown Butter Chocolate Chip Cake
Strawberry Lemonade Bundt Cake
Whiskey Glazed Apple Buttermilk Pound Cake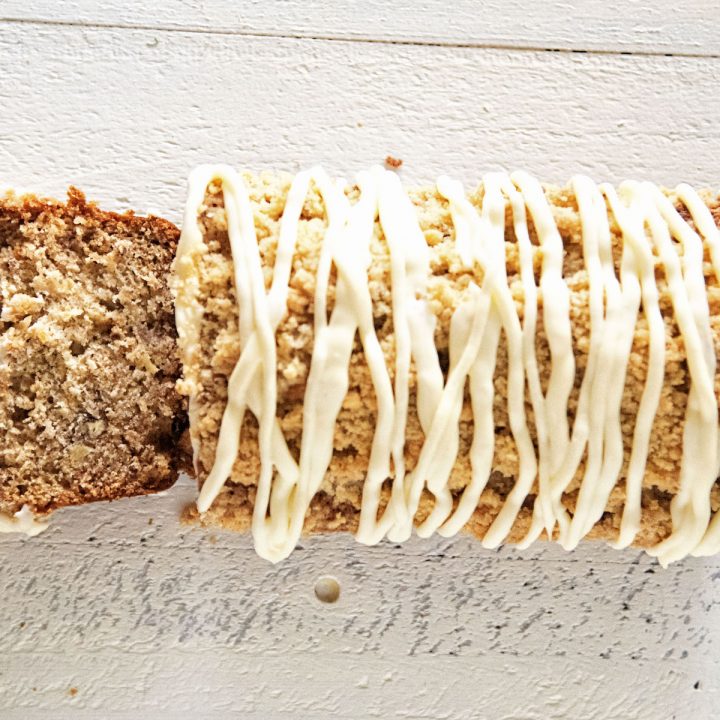 Hummingbird Streusel Loaf Cake
Ingredients
For the Cake:
2 1/4 cups all-purpose flour
1 1/2 cups sugar, divided
1/2 cup chopped pecans
2 1/2 tsp. ground cinnamon
1 tsp. baking powder
1/2 tsp. baking soda
1/2 tsp. salt
1 (8oz) can crushed pineapple, drained
1 cup mashed banana
2/3 cup vegetable oil
2 large eggs
1 tsp. vanilla extract
1/4 cup unsalted butter, melted
Cream Cheese Glaze:
1/2 cup powder sugar
1/2 cup heavy cream
1 oz. cream cheese, at room temperature
1/4 tsp. vanilla extract
Instructions
For the Cake:
Preheat to 350F.
Spray a deep 9x5-inch loaf pan with baking spray.
Line with parchment paper, letting excess extended over sides of pan.
In a medium bowl add 1 3/4 cups flour, 1 cup sugar, pecan, 2 tsp. cinnamon, baking powder, baking soda, and salt and mix together. Set aside.
Using a stand mixer with a paddle attachment, mix together the pineapple, mashed banana, oil, eggs, and vanilla.
Add the flour mix from the medium bowl.
Mix on low speed until fully combined.
Pour into prepared pan.
In a medium bowl add the remaining 1/2 cup flour, 1/2 cup sugar, and remaining 1/2 tsp cinnamon.
Using a fork, stir in melted butter until the mixture is crumbly.
Sprinkle streusel over batter.
Bake until wooden pick inserted in center comes out clean, 53-55 minutes.
Let cool in pan for 15 minutes.
Using excess parchment as handles, remove from pan, and let cool completely on a wire rack.
For the Glaze:
In a small bowl, whisk together all ingredients until smooth.
Drizzle over the cake.
Notes
Recipe from Taste of South Magazine March-April 2019