This Hot Chocolate Loaf Cake with Marshmallows and Cocoa Glaze is the perfect way to have hot chocolate in cake form.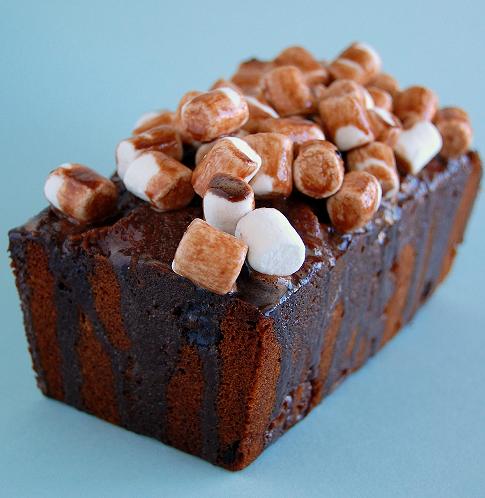 The best things in life are free…well except certain clothing, shoe, and handbag items. 😉
Today's lesson is that this is a free website.
Oh sure, I do have ads on here.
But given that there are thousands of recipes on here scrolling down a few seconds seems like a reasonable exchange.
Plus, all of my blog income goes to our senior special needs rescue dogs vet bills.
And there are a lot of them…bills and dogs.
That being said, I run a free site.
Free.
I bring this up because time to time, since this is a free site and I don't have an editor to hire to edit my work, I forget somethings every now and then.
A dash of salt, how many chocolate chips, things like that.
Or worse.
Which is why I say to you the first thing they teach you in home economics class…read through the whole recipe first.
I type out the recipes half the time right before I go to bed.
I forget things. Oops.
Now if I were to say, write a cookbook (hey I did!), that would be a different story.
Those recipes are checked and rechecked before they go out to publish…and even then they sometimes don't catch something.
In a way, you are my recipe testers.
Aren't you lucky. 😛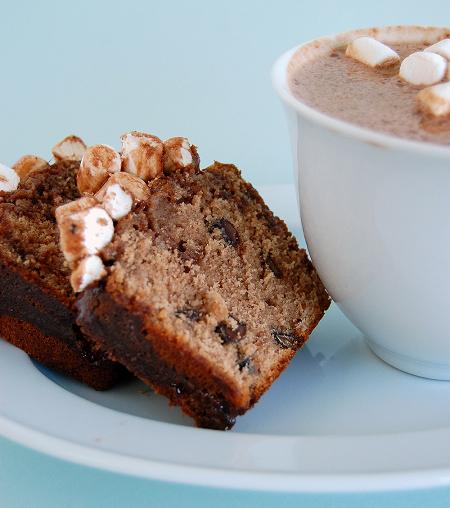 This Hot Chocolate Loaf Cake is one to test out at home with your kids.
I have been on a huge hot chocolate kick now that the weather has shifted to flannel sheet mode.
The actual cake itself does not have a strong hot chocolate flavor, but once you add the glaze on top, it is more than enough hot chocolate flavor.
Don't panic if when you slice into it and don't see the marshmallows, they kind of disappear.
Only the ones right on top sort of stuck around, and those didn't really stay in marshmallow shape.
But when you bite into the cake you can taste them, and that is all that matters.
The end result is definitely sticky, the glaze doesn't harden as much like other glazes, so I find it best to eat it the day of.
If you don't want to eat it the day of, don't glaze them.
They should freeze nicely.
I wouldn't know as I gave the other two of mine away.
That's why I like to make mini loaves all the time…easier to give away. 🙂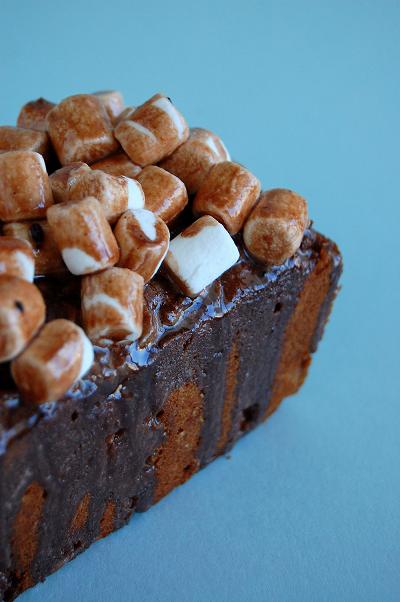 Want More Recipes?
Hummingbird Streusel Loaf Cake
Vanilla Yogurt Cake with Orange Glaze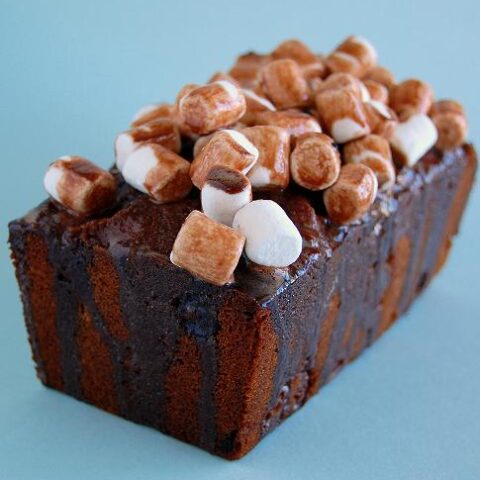 Hot Chocolate Loaf Cake with Marshmallows and Cocoa Glaze
Ingredients
For the Hot Chocolate Loaf Cake:
10 TBSP unsalted butter, at room temperature
1 ¼ cups granulated sugar
2 eggs
1 egg yolk
½ cup buttermilk
1 tsp vanilla extract
1 ½ cups all-purpose flour
½ cup sweetened hot chocolate mix (powdered)
¼ cup unsweetened cocoa powder
¼ tsp salt
½ tsp baking powder
½ cup milk chocolate chips
1 cup mini marshmallows and an additional 1 ½ cups for the topping
For the Hot Chocolate Glaze:
2 cups powdered sugar (sifted)
1/3 cup sweetened hot chocolate mix (powdered)
1 TBSP unsweetened cocoa powder
¼ cup hot milk
Instructions
For the Hot Chocolate Loaf Cake:
Preheat oven to 350F.
Spray three 6-x-3 ½ inch mini loaf pans with baking spray or butter and flour them.
Using a stand mixer (or a large bowl and a hand held electric mixer) with the paddle attachment on medium speed, cream together the butter and sugar until light and fluffy, about 3 minutes.
Add eggs/egg yolk, one at a time. Beat for 1 minute after each addition. Scape down the sides of the bowl and the bottom of the bowl after each addition.
Sift together the hot chocolate mix, cocoa powder, flour, salt, and baking powder in a small bowl.
In another small bowl mix together the buttermilk and vanilla extract.
Alternating, starting with the dry ingredients first, in thirds to the butter mixture. So dry, buttermilk, dry, buttermilk, dry. Mix until just combined.
Remove from mixer. Fold in chocolate chips and marshmallows using a spatula. Mix in any extra flour that might have not made it into the batter.
Divided batter evenly among the three loaves, going about 2/3 of the way up. I find this is about 4 large scoops with the regular size ice cream scoop.
Place loaves on a baking sheet and place in center rack.
Bake for 45-50 minutes, or until a wooden skewer or cake tester comes out clean (might have a little marshmallow, but that's fine).
Let cool for 5 minutes, then remove from pans and finish cooling on a wire rack.
Glaze when cool (see instructions below).
For the Hot Chocolate Glaze:
In a medium bowl, add the hot milk and cocoa powder. Whisk until cocoa granules have dissolved. Add powdered sugar and cocoa powder and whisk until glaze is smooth and shiny. If too thick, you can add more milk.
To top the cake:
Place a baking sheet under the wire rack where loaves are.
Place a bowl under the loaf you are going to glaze. This will catch any extra glaze and you can use again for the second glazing.
Pour glaze over loaf.
Add a sprinkling of marshmallows (about ½ per each loaf).
Press them into the glaze so they stick a little.
Do this to all of the loaves. With remaining glaze, go back over with another coating of glaze over the top of the marshmallows.
This is a sticky cake. I like it best the day of.