Banana Brownie Loaf Cake: Moist banana loaf cake with a ribbon of dense, fudgy brownie layer. An everyday cake that is sure to please.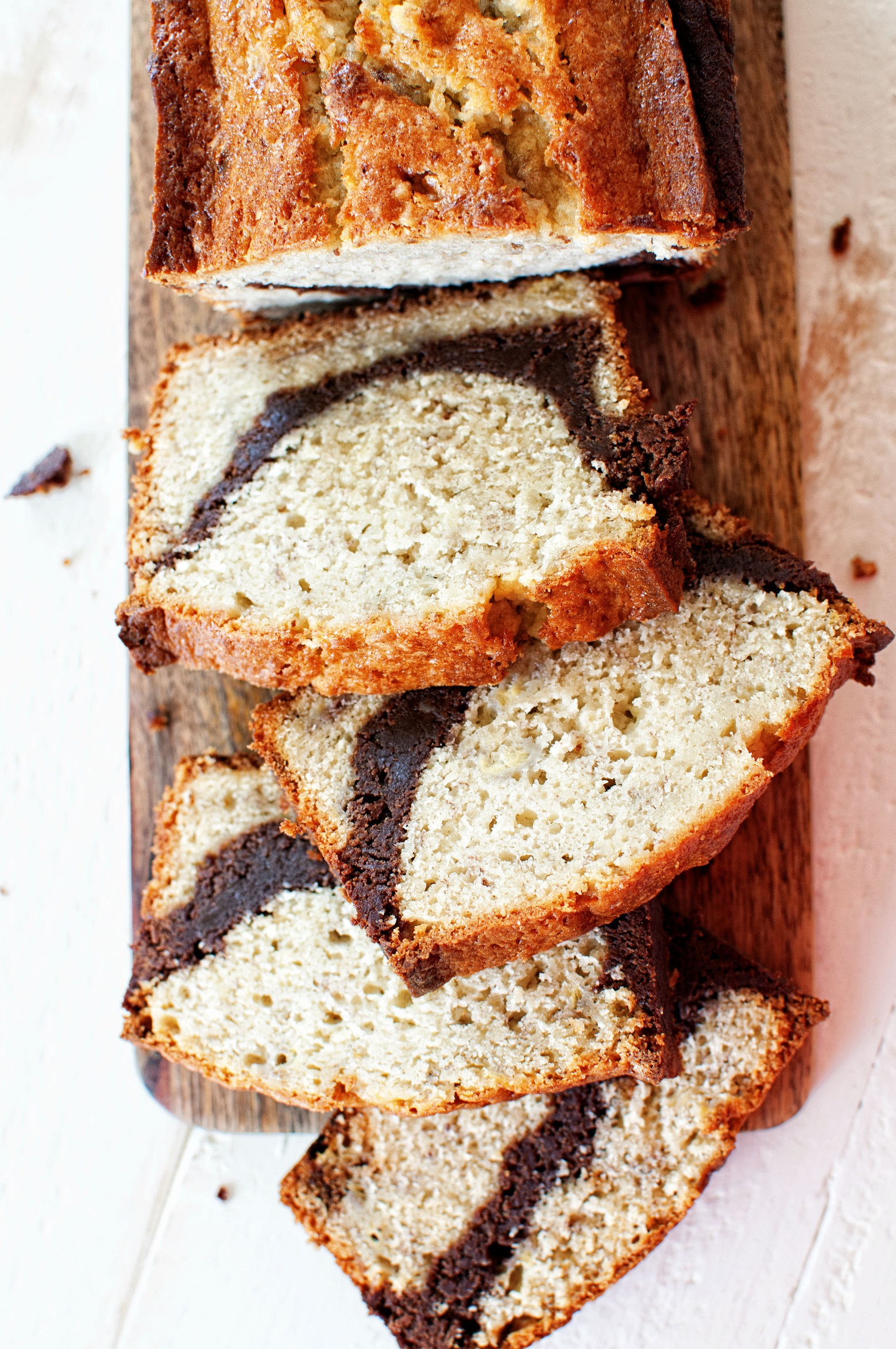 You may have noticed I've been gone for a while…or maybe you didn't. 😀
I originally intended on trying to blog while renovating the home and moving but then I thought why on Earth would I add all the extra stress on myself?
So, I didn't.
Unlike a lot of bloggers, I don't really make much money from my blog.
In fact, as the IRS found out in April, last year I lost money.
A redesign can be very costly. 😐
But I am mostly settled in now, we are just down to the random boxes that all say MISC and we have no idea where to put the stuff.
I'm getting used to cooking in a 78sq. ft. kitchen…it's definitely challenging.
I do love my new double oven that I got and have in fact used the double oven quite a few times already.
In four days my blog turns 12.
So I thought it best to get back to blogging. 🙂
Luckily for me one of my favorite cookbook authors of all time Jill O'Connor finally came out with a new book; Cake, I Love You: Decadent, Delectable, and Do-able Recipes.
It was worth the wait and I love it so.
This Banana Brownie Loaf Cake is from the book.
Heartless Bastard Break-Up Cake, Crème Brûlée Cake, My Pretend Irish Grandma's Irish Whiskey Gingerbread, and Chocolate Peanut Butter Blackout Cake are on the list of cakes to make in the near future.
Do yourself a favor and pick up the book, you won't be disappointed.
This cake is supposed to be swirled but I really wanted just a thick ribbon of fudgy brownie.
Often I find when you swirl the flavors they get too thinned out and the flavors get lost.
I really wanted to taste brownie and this way I definitely do.
P.S. It's a great day to buy my cookbook Holy Sweet!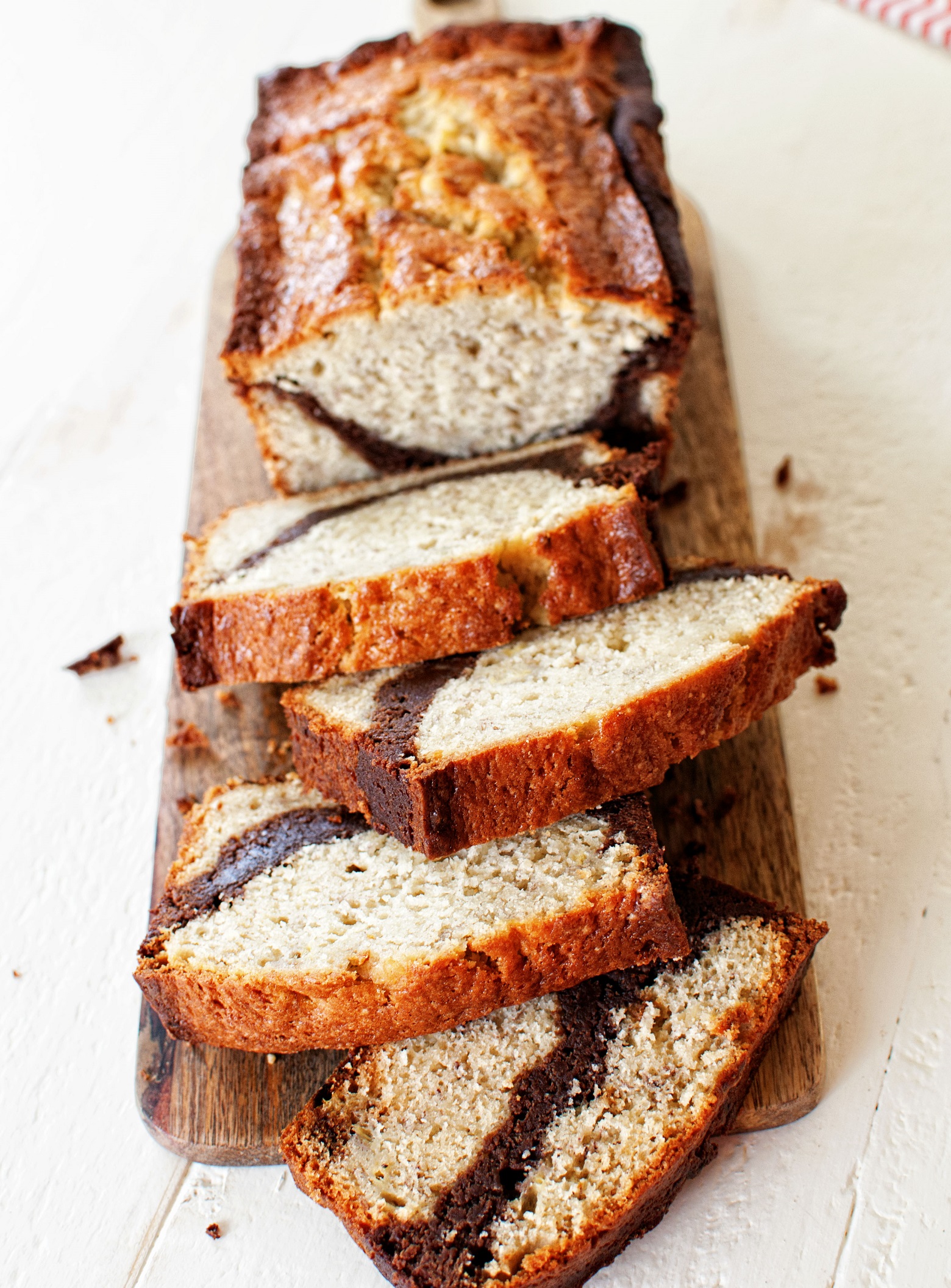 Want more Banana Bread Recipes?
Chocolate Chocolate Chip Sourdough Banana Bread
Dark Chocolate Sea Salt Caramel Banana Bread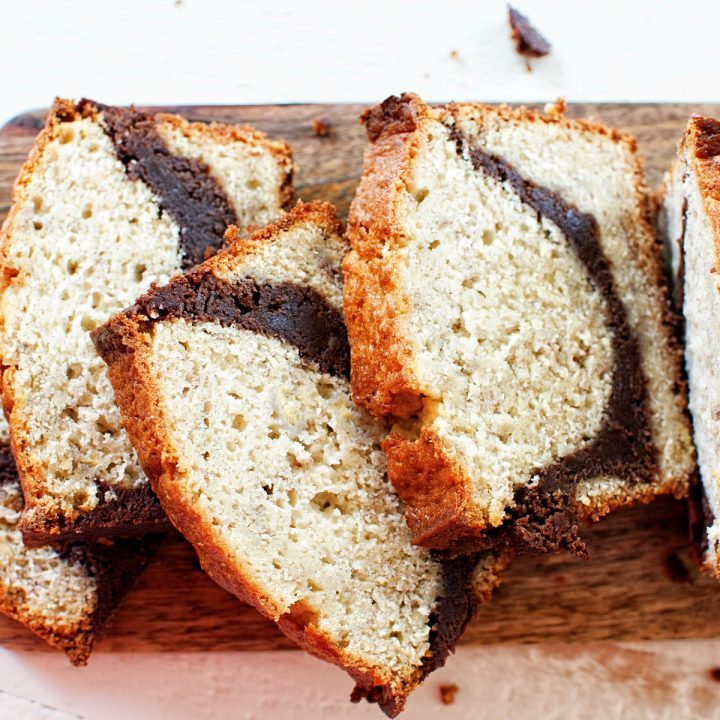 Banana Brownie Loaf Cake
Ingredients
Brownie Batter
5 TBSP unsalted butter
1 oz. unsweetened chocolate
1/2 cup granulated sugar
1 egg
1 tsp. vanilla extract
4 TBSP all-purpose flour
1/8 tsp. fine sea salt
Banana Batter
1/2 cup unsalted butter, at room temperature
1 cup granulated sugar
2 large eggs
1 tsp. vanilla extract (I used Rodelle)
1 cup mashed overripe bananas (it's about two medium bananas)
1/4 cup buttermilk
1 1/2 cups all-purpose flour
1 tsp. baking powder
1/4 tsp. baking soda
1/2 tsp. fine sea salt
Instructions
Preheat oven to 350F.
For the Brownie Layer:
Microwave butter and chocolate for 1 minute and stir until it is completely melted.
Stir in the sugar, egg, vanilla into the chocolate mixture.
Add flour and salt and mix until smooth.
Set aside to cool slightly while you prepare the banana batter.
For the Banana Batter:
Prepare a 9-x-5-inch metal loaf pan with baking spray. Set aside.
Using a stand mixer with a paddle attachment cream the butter and sugar until light and fluffy, 3 to 4 minutes on medium.
Add the eggs one at a time and beat.
Then add vanilla extract, bananas and buttermilk.
Sift flour, baking powder, baking soda and salt and fold it by hand using a rubber spatula until the banana batter is smooth.
Spoon half of the banana batter into the prepared loaf pan and spread evenly then spread the brownie batter over the banana batter and then add the remaining banana batter.
Bake for 45 to 55 minutes.
Check the cake with a skewer to see that it is done.
Transfer to a wire rack and let cool for 10 minutes then remove and let the cake cool on a cooling rack. Let the cake cool completely at room temperature for at least a few hours or overnight to let the brownie layer solidify before cutting into slices.
The cake can be wrapped in plastic wrap and stored at room temperature for up to 3 days.