These Chocolate Chip Cookie Dough Rice Krispie Treats are filled with chocolate chip cookie dough truffles for a great twist on a classic.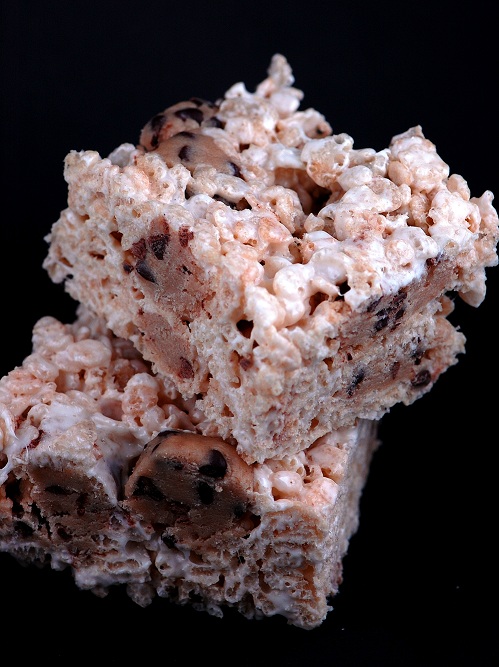 Yeah, I know, Rice Krispie Treats again…but come on, look at them, how could I not?
Plus I am addressing the "I never have time to cook".
Which I call BS on.
I think if you like to do anything; you will find time for it.
Why not just say I don't really like to do that. I don't like to run, I just tell people, I don't like to run.
I don't say I don't have time to run.
And my friends who all say they never have time seem to be the people who love to scrapbook.
Which fine, scrapbook away.
But that takes time, a lot of time, and money.
And well, no offense to scrapbookers of the world, but people would rather eat cookies than sit on your couch and thumb through your family vacation to the Grand Canyon complete with matching stickers.
Scrapbooking and photo albums is today's version of slide shows from when I was a kid.
And most people are too polite enough (funny that can be polite then, no other times) and suffer through them.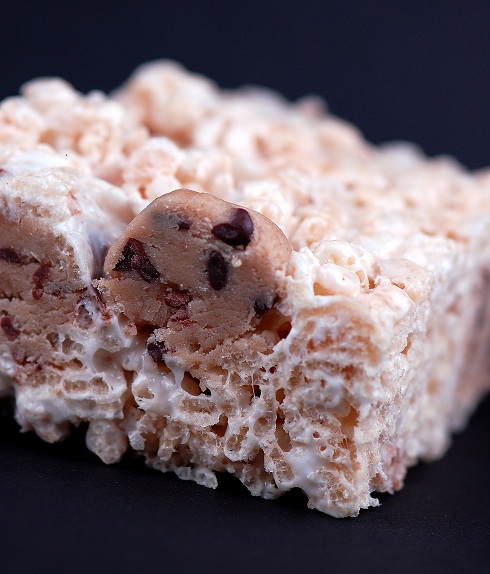 These Chocolate Chip Cookie Dough Rice Krispie Treats didn't take much time.
Even with making the cookie dough truffles, these took me 30 minutes to make (if you don't count the 30 minutes I let them set up).
I did laundry while waiting for the truffles to set up.
You could be doing whatever household thing you need to do.
For those wondering, I use the truffles because number one they keep their shape better than regular cookie dough, and number two, no eggs.
People get picky about the egg thing.
You will want to cut these small, as these are filled with the cookie dough pieces.
Last but not least…it's a great time to order my cookbook. 😀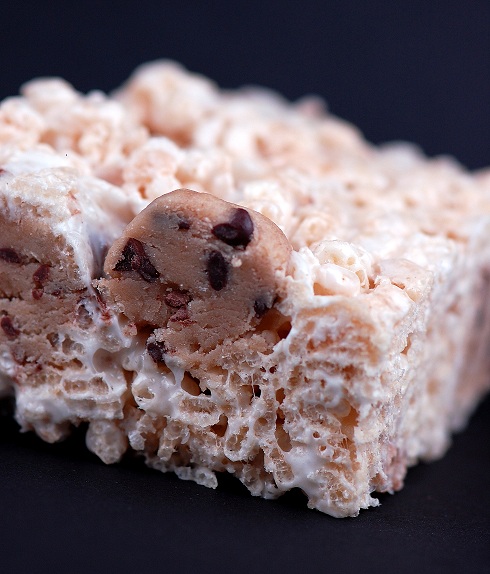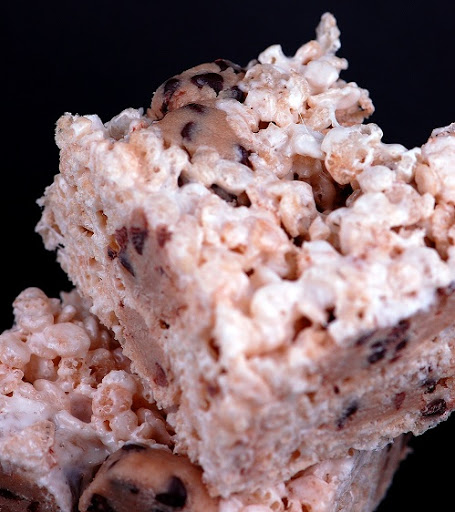 Want More Rice Krispie Recipes?
Vanilla Bean Rice Krispie Treat Cupcakes
Toasted Marshmallow No Bake Cheesecake in Rice Krispie Treat Crust
Cookies and Cream Rice Krispie Treats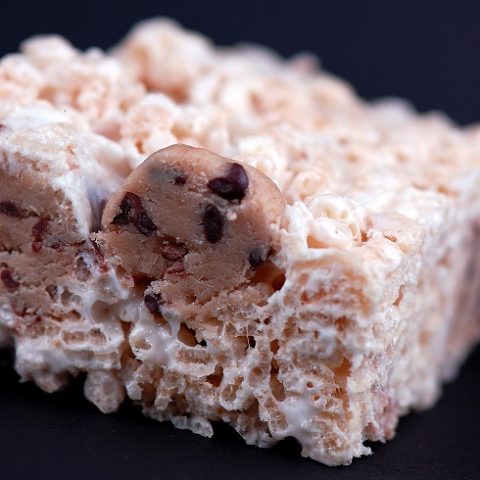 Chocolate Chip Cookie Dough Rice Krispie Treats
Ingredients
For the Cookie Dough Truffles:
½ cup unsalted butter, at room temperature
¾ cup packed brown sugar
1 tsp vanilla extract
½ tsp salt
2 cups all-purpose flour (heat treat the flour if you have concerns)
14 ounces sweetened condensed milk
½ cup chocolate chips
For the Rice Krispie Treats
6 TBSP unsalted butter
1 16-ounce bag of mini marshmallows
1/4 cup malted milk powder
12 ounces Rice Krispies Cereal
32 cookie dough truffles
Instructions
For the Cookie Dough Truffles:
Using a stand mixer (or a bowl and beaters), cream together the butter and sugar until light and fluffy, about 3 minutes.
Beat in vanilla.With speed on low, slowly add flour, alternating with condensed milk, beating g well after each addition.
Fold in chocolate chips.
Shape balls into 1/2-inch balls and place into an airtight container. Store in freezer for at least 3 hours.
These make about 100 depending on what you feel is 1/2 inch. 🙂
For the Rice Krispie Treats
Melt butter in a large saucepan over low heat and add marshmallows.
Stir until they begin to melt, adding in malted milk one spoonful at a time so its combined.
Stir in cereal so it is completely coated with marshmallow mixture.
Fold cookie dough truffles into mixture.
Press into a baking dish (9 by 13…but you need tall sides).
Let sit for about 30 minutes before cutting.