This Milk Chocolate Marshmallow Peep Ice Cream has a creamy milk chocolate marshmallow ice cream with marshmallow Peeps folded into it.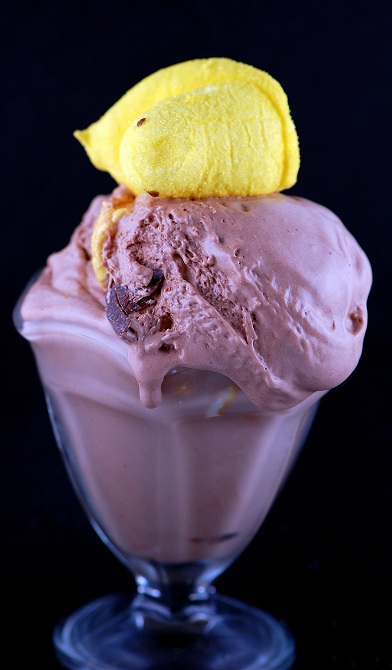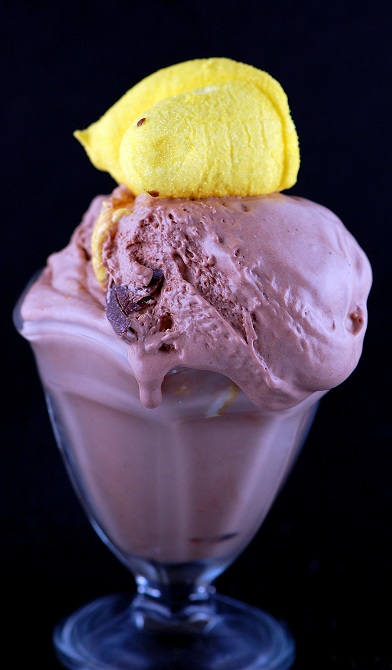 I'll probably get my Marshmallow Peep Fan Club Membership revoked (yes, I really belong) for chopping up Peeps, but I wanted to see kind of an experiment of sorts.
There are three types of Peep eaters:
Number one, the plain Peep eater who eats them fresh out of the container no problem.
Number two is the Peep hater who claims some ridiculous thing about them being too sweet. 🙂
And Number three, my category, those of us who love the stale Peep.
My poor mother each year would have to by my Peeps early and poke a hole in the side of the containers so that by the time Easter did come around they would be properly ready.
And if they weren't, I wasn't eating them.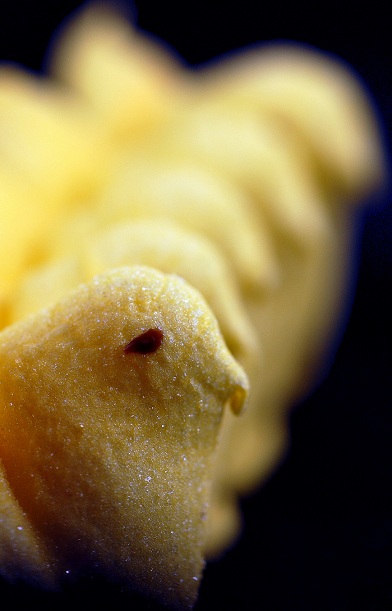 So I kind of wanted to put them in ice cream to see if freezing them would have the same effect of sorts as making them stale.
Not entirely, though I can say I like frozen Peeps now over fresh ones still.
So in a way my little experiment works.
My friend thought it was odd I was using chocolate milk instead of just milk.
But I figured I was making chocolate ice cream so why not start with that.
Mine came from a local dairy and is super thick.
If you can't get good chocolate milk, or one you really like, just use whole milk and add an extra tsp. of cocoa powder and an extra ¼ cup of sugar to the mix and you should be good to go.
This is a thick, creamy, rich, and yes, sweet ice cream.
There are Peeps in there after all…and marshmallows melted into the ice cream custard itself.
So what Peep category do you fall into?
P.S. It's a great day to buy my cookbook Holy Sweet!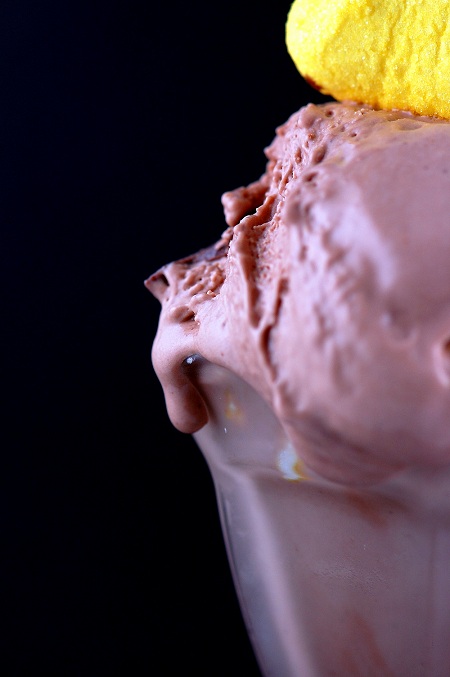 Want More Easter Treats?
It's Not Swimsuit Season Yet Mini Cadbury Caramel Egg Fritters
Deep Fried Cadbury Caramel Egg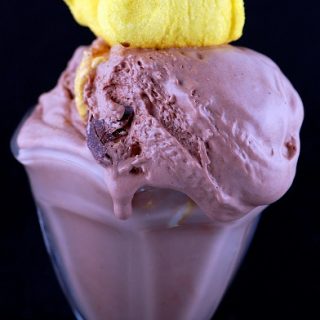 Milk Chocolate Marshmallow Peep Ice Cream
Ingredients
8 ounces milk chocolate chips
1 cup chocolate milk (try and find the good stuff, not like Quick)
2 cups heavy whipping cream (I use a kind that is 40%)
¼ cup granulated sugar
Pinch of salt
1 ½ tsp. unsweetened cocoa powder
½ tsp. vanilla extract
1 cup mini marshmallows
2 egg yolks
6 Peeps Candy, chopped into piece
2 Chocolate Covered Peeps Candy, chopped into pieces
Instructions
In a medium saucepan, over medium heat, warm the milk, sugar, marshmallow and salt together. When the marshmallows have almost melted, continue to the next step.
In a separate medium bowl, whisk together the egg yolks.
Temper the egg yolks by slowly pouring the milk mixture into the egg yolks, whisking constantly, then scrape the warmed egg yolks back into the saucepan.
Stir the mixture constantly over medium heat with a heatproof spatula, scraping the bottom as you stir, until the mixture thickens and coats the spatula, this will take about 3-4 minutes.
Place chocolate chips into a large bowl.
Pour the custard through the strainer over the milk chocolate, and then stir until the chocolate is melted.
Add the cocoa powder and vanilla extract and still until completely incorporated and smooth.
Pour custard through a strainer one last time into an airtight container. Let chill in fridge for at least 10 hours, if not overnight. The mixture will be very thick, I had to scoop mine out…it didn't pour into the machine.
Then follow your ice cream machine manufactures instructions for churning ice cream in your machine.
After the ice cream has churned, fold in the Peep pieces.
Place into an airtight freezer safe container and let it freeze at least another 4 hours.