This Chocolate Tiramisu Pound Cake is a vanilla pound cake with a coffee mascarpone chocolate chip filling covered in chocolate glaze.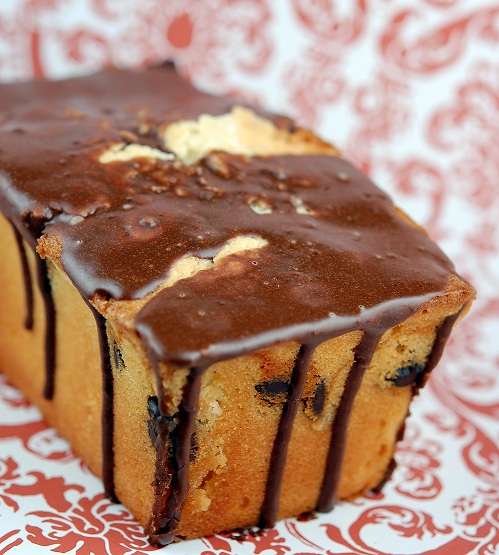 To look at my dog you would think, what a sweet looking puppy.
But don't let her looks fool you.
There lies underneath all the cuteness, the heart of a ruthless killer.
Day in and day out my dog tries to kill me.
I'm not totally sure why, as if she offs me, there is no one to put food in her dish.
I'm sure her thought is that if she offs me, then she gets all the people food.
Only problem is that people food is in the cupboards and refrigerator and well….opposable thumbs anyone?
Something she seems to forget she needs those.
Lucky for me, as a professional killer, she kinda sucks.
Well, not kinda, she really sucks.
Because if she were any good at it, well, I'd be dead.
And so far, I am not (that I know of, life has been weird lately, maybe I am and don't know it?)
While making this pound cake, crazy cocker spaniel had yet another failed attempt to kill me.
While moving a bowl of sifted powdered sugar around the kitchen, she did her (as well as many other killer dogs) signature move of trying to take my feet from underneath me.
She succeeded.
The bowl of powdered sugar went flying (I am still finding sugar in places I didn't know it could go…it's like a day at the beach with sand).
Some of it ended up on her.
She of course didn't mind, and attempted to lick herself clean like a cat.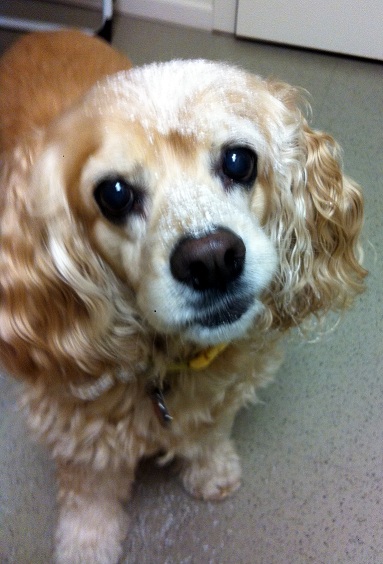 Which didn't work and I had to clean her up as well.
This cake has nothing to do with the dog, other than her trying to kill me while making it.
The idea for it was one of those 3am pop in my head kind of ideas that I get from time to time.
Since I am stuck on Elvis this week, the pound cake portion of the recipe is adapted from Epicurious…with the name Elvis's Favorite Pound Cake.
I figured that just keeps the Elvis week flowing.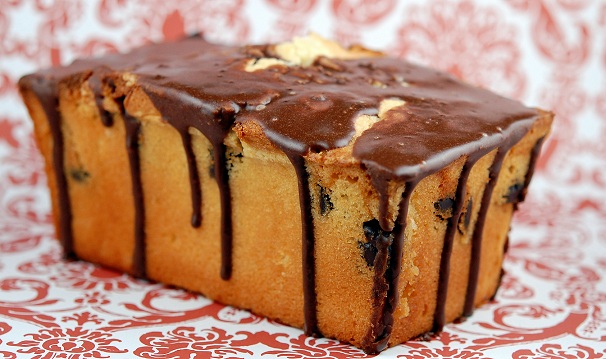 It's a plain vanilla pound cake with a mascarpone-coffee filling.
A few sprinkles of chocolate chips and then covered in chocolate glaze.
My taste testers gave it two (opposable) thumbs up!
Last but not least…It's a great time to buy my cookbook.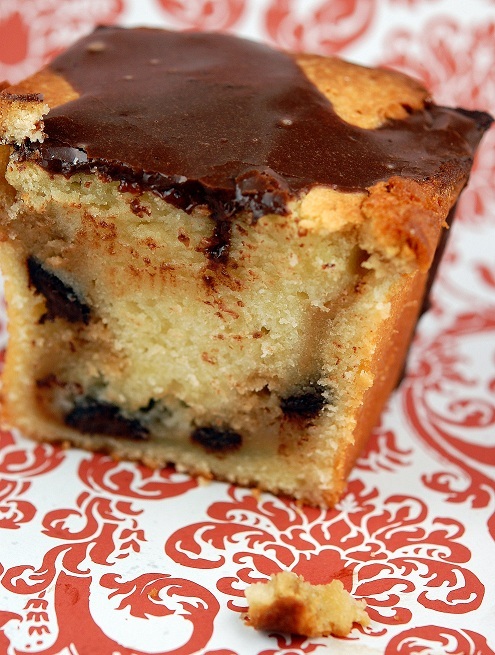 Want more recipes like this?
Big Red Soda Vanilla Pound Cake
Strawberries and Cream Bundt Cake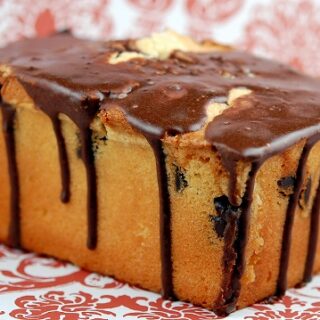 Chocolate Tiramisu Pound Cake
Ingredients
What you need for the Pound Cake Recipe
Mascarpone-Coffee Filling Recipe
Chocolate Glaze Recipe
½ cup Semi-Sweet Chocolate Chips
For the Pound Cake Batter:
2 sticks (1 cup) unsalted butter, at room temperature
2 cups sifted cake flour
1 cup sifted all-purpose flour
3/4 tsp. salt
3 cups granulated sugar
5 large eggs, at room temperature 30 minutes
1 large egg yolk, at room temperature 30 minutes
2 tsp. vanilla extract
1 cup heavy cream
For the Mascarpone-Coffee Filling:
8 ounce Mascarpone cheese, at room temperature
½ cup granulated sugar
3 TBSP all-purpose flour
1 tsp. granulated instant coffee (I used Starbucks Via)
1 egg
Chocolate Glaze:
6 TBSP unsweetened cocoa powder
2 cups powdered sugar, sifted
Milk to thin (I think mine was about ¼ cup)
Instructions
For the Pound Cake Batter:

Preheat oven to 350F.

Put oven rack in middle position, but do not preheat oven.

Generously butter 4 mini loaf pans (I use Chicago Metallic 5-3/4 by 3-1/4 by 2-1/4-inch) and dust with flour, knocking out excess flour. Or use baking spray…I did.

Sift together sifted flours (3 cups) and salt into a bowl.

Beat together butter and sugar in a large bowl with an electric mixer at medium-high speed until pale and fluffy, about 3 minutes in a stand mixer fitted with paddle attachment or 6 to 8 minutes with a handheld mixer.

Add eggs/ yolk 1 at a time, beating well after each addition, then beat in vanilla.

Reduce speed to low and add half of flour, then all of cream, then remaining flour, mixing well after each addition.

Scrape down side of bowl, and then beat at medium-high speed 5 minutes.

Batter will become creamier and satiny.

For the Mascarpone-Coffee Filling:

In a medium mixing bowl, combine all the mascarpone-coffee filling ingredients; beat until smooth and creamy, about 2 minutes. Set aside.

Pour half of the pound cake batter evenly into the four prepared loaf pans (after you have distributed all to all four, there should be half the batter left).

Spoon mascarpone mixture on top of pound cake layer and spread evenly.

Sprinkle with chocolate chips.

Then distribute the remaining pound cake batter evenly among the four pans.

Bake for 50-60 minutes.

Keep checking once you hit the 50 minute mark. You might have to cover with foil for the top to not get too dark.

Once cool, top with chocolate glaze.

For the Chocolate Glaze:

Whisk all ingredients together in a bowl.

Glaze cakes.

Let the glaze set up then serve.