This Cream Cheese Frosting Carrot Cake Ice Cream is a cream cheese frosting based ice cream with chunks of carrot cake folded in.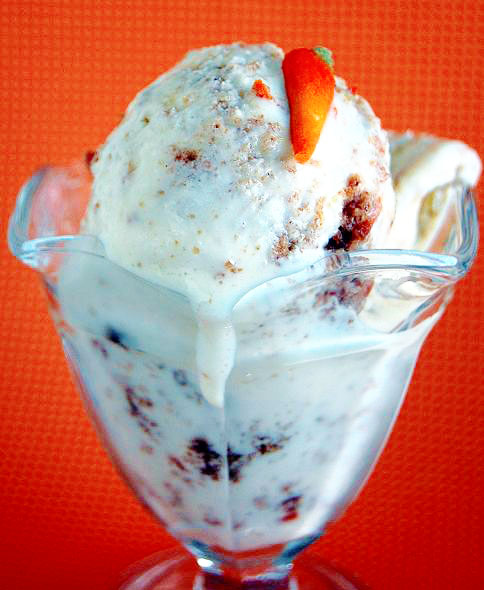 I am an end piece kind of girl.
It's the perfect piece.
Three out of the four sides are covered in frosting.
One day I want to make a cake that has frosting on the bottom as well. 😀
But for now I must settle with the end piece.
I've been known to wrestle a kid to the ground (yes, as an adult…hangs head in shame) to get the end piece.
Only exception being if it's their birthday cake…then I'm nice…that time.
I was the one who always went for the large and gaudy frosting rose that topped the cake as well.
I love me some frosting.
And in all of the frosting world, cream cheese frosting is what makes me…hmmm, no comment. 😉
Many joke that you could put cream cheese frosting on top of cardboard and they would eat it.
I'm not sure I'd go that far, but truth be told, that circumstance has never come up , so I can't really say. 🙂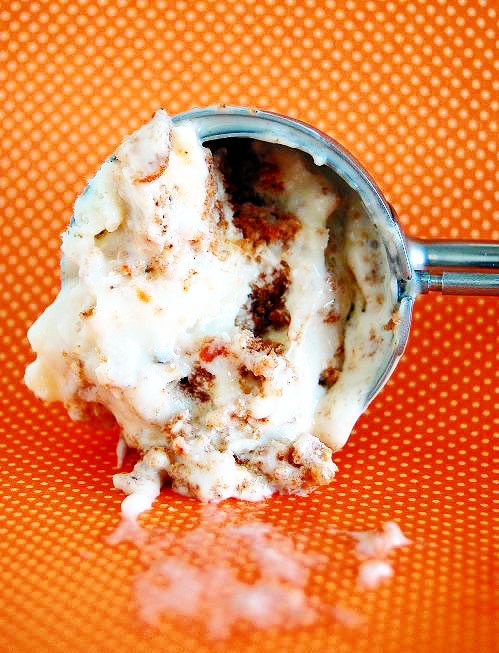 The best thing ever about my mom's carrot cake was the cream cheese frosting.
It was always piled high, and being the awesome mom that she was, she would make extra frosting so we could spread more on to our cake piece.
Hmmm, why am I fat?
Oh yes, I remember.
It is ice cream season and it is a little warm.
Though if I was smart I would not have made this ice cream.
Since you have to bake a cake in order for it to work.
So the whole avoiding the oven thing didn't really work out.
It starts with a sweet cream base, that you make into ice cream.
I couldn't decide for the longest time if I wanted to add the cream cheese frosting before or after the freezing process.
I went with after because I figure that might leave some frosting bits and that might be yummy.
Then of course you throw in carrot cake. I chose to make a full carrot cake, cream cheese frosting and all….because I like me some overkill.
It's pretty darn awesome.
How could it not be?
I could have even thrown cardboard in there and been fine. 😛
Last but not least…it's a great time to order my cookbook.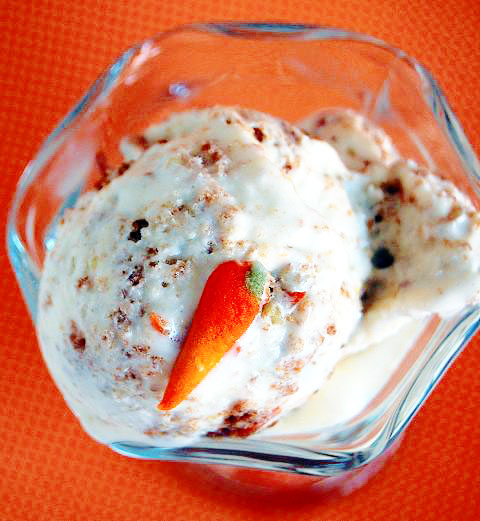 Want More Ice Cream Recipes? Try these:
Peanut Butter and Pretzel No-Churn Ice Cream
Circus Animal Cookie Ice Cream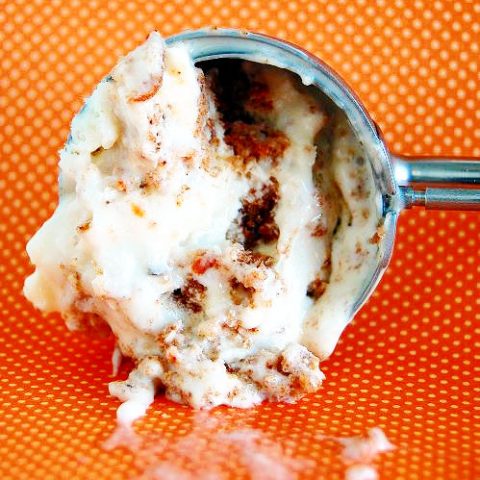 Cream Cheese Frosting Carrot Cake Ice Cream
Ingredients
Needed:
Ice Cream Base (see below)
Cream Cheese Frosting (see below)
3 pieces Carrot Cake (store bought or homemade)
For the Ice Cream Base:
2 cup heavy cream
3/4 cup sugar
2/3 cup half & half
For the Cream Cheese Frosting:
2 ounces unsalted butter, at room temperature
8 ounces cream cheese, at room temperature
2 cups powdered sugar
1/2 tsp vanilla extract
Instructions
For the Ice Cream Base:
Pour cream into mixing bowl.
Whisk in sugar a little at a time, then continue whisking until completely blended, about 1 more minute.
Pour in half and half and whisk to blend.
Pour in to ice cream makers and freezer according to manufacturer's directions.
For the Cream Cheese Frosting:
Using a stand mixer, cream the butter and cream cheese together on medium speed until smooth, about 3 minutes.
Scrape down the sides and add vanilla and 1/2 cup of powdered sugar.
Beat for 1 minute on medium.
Add another 1/2 cup of sugar, beat, and then scrape down sides.
Repeat until all the sugar is used up.
Keep frosting in mixing bowl.
To Make the Ice Cream:
Remove ice cream from freezer and let it get a little on the soft side, but still holding shape.
Add it to the bowl that already has the cream cheese frosting in it.
Using the paddle attachment, beat on medium speed until the two are combine.
Chop up pieces of carrot cake. How much you use is up to you...I used three very large pieces.
Fold into ice cream base.
Pour into a freezer safe container and freeze until solid. Enjoy.