This Chocolate Cinnamon Swirl Coffee Cake is a sour cream based coffee cake filled with cinnamon sugar chocolate chip filling.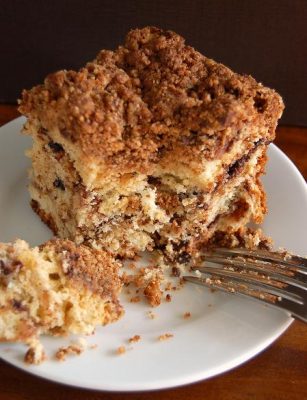 I had wanted to write another story.
An epic tale of the ultimate Cinderella story.
The ultimate comeback story.
And it almost was.
But in the end, we came in second place, or as most like to call it, first loser.
See my other team (not the Black Sheep) went to the playoffs.
We lost our first game.
This really wasn't a surprise to us.
In that league they have double elimination, meaning you have to lose twice before you are out.
So having lost our first game we were banished down to the oh so sad losers bracket.
Now technically you can work your way back from it, but most do not.
Until this year.
When we did.
Won more games, made it to the quarter and then the semi finals.
And then made it to the championship game.
And WON!
Confused yet?
See, that team hadn't lost.
So in double elimination, if the team in the championship hasn't lost, you have to beat them twice.
And in our second attempt, after all that effort, we lost 3-2. Sigh.
Wouldn't that story have been so much better if we won. 😛
But sometimes you don't win.
And that's okay.
It was a fun season.
And when you pay to play hockey you better be having fun.
You never really hear anyone say "I'd kill for some coffee cake right about now" or at least I haven't.
But I don't really know anyone who won't eat it when it's offered to them.
So in a way, it's kind of like a first loser as well. 🙂
This Chocolate Cinnamon Swirl Coffee Cake comes from one of my all time favorite cookbooks, Baked.
I added some chocolate chips to both the topping and the swirl filling.
Not exactly your most nutritious of breakfast but who cares. 🙂
Nice and moist and I love the cinnamon and chocolate combo going on.
P.S. It's a great day to buy my cookbook.
Want more Coffee Cake recipes?
Greek Yogurt Coffee Cake with Chocolate Chips, Dried Cherries, and Coconut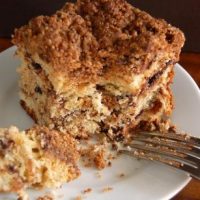 Chocolate Cinnamon Swirl Coffee Cake
Ingredients
For the Crumb Topping:
¾ cup all-purpose flour
¾ cup firmly packed dark brown sugar
1/3 cup mini chocolate chips
½ tsp salt
¾ cup pecans, toasted
6 TBSP unsalted butter, cold, cut into 1-inch cubes
For the Chocolate Cinnamon Swirl:
½ cup granulated sugar
1 tsp dark unsweetened cocoa powder
1 tsp cinnamon
¾ cup mini chocolate chips
For the Sour Cream Cake:
3 ½ cups all-purpose flour
1 tsp baking powder
1 ½ tsp baking soda
½ tsp salt
1 cup unsalted butter, at room temperature
2 ¼ cups granulated sugar
4 large eggs, at room temperature
16 ounce sour cream
1 ½ tsp pure vanilla extract
Instructions
For the Crumb Topping:
Put the flour, sugar, and salt in a food processor and pulse for 5 seconds to mix. Add the pecans and chocolate. Pulse until the pecans and chocolate are finely chopped and thoroughly incorporated.
Add the butter and pulse until combined. The mixture will look like very coarse sand. Cover with plastic wrap and set aside in the refrigerator till needed.
For the Chocolate Cinnamon Swirl:
In a small bowl, whisk together the sugar, cocoa powder , and cinnamon. Fold in the chocolate chips. Set aside.
For the Sour Cream Cake:
Preheat oven to 350 F.Butter a 9-by-13-inch baking pan.
Sift the flour, baking powder, baking soda, and salt together in a medium bowl.
Using the bowl of an electric mixer fitted with a paddle attachment, cream the butter and sugar until light and fluffy, about 3 minutes.
Add eggs, one at a time, scraping down the bowl after every addition.
Add the sour cream and vanilla and beat until just incorporated.
Add the dry ingredients in three additions, scraping down the bowl before each addition and beating only until each addition is just incorporated. Do not overmix.
Pour one third of the cake batter into the prepared pan. Use an offset spatula to spread the batter evenly.
Sprinkle half the chocolate cinnamon swirl mixture over the batter, covering the entire surface of the batter. Spoon half the remaining batter over the swirl mixture and spread it evenly (ha…we all know how fun it is to spread batter over stuff like this, do the best you can). Top with the remaining swirl mixture, then remaining batter, and spread the batter evenly. Sprinkle the crumb topping evenly over the top of the batter.
Bake in the center of the oven, rotating the pan three times during baking, for 1 hour, or until a toothpick inserted in the center of the cake comes out clean. Let cake cool in the pan on a wire rack for 30 minutes, then serve.
The cake will keep for 3 days, tightly covered, at room temperature.
Notes
Adapted from Baked: New Frontiers in Baking by Matt Lewis and Renato Poliafito