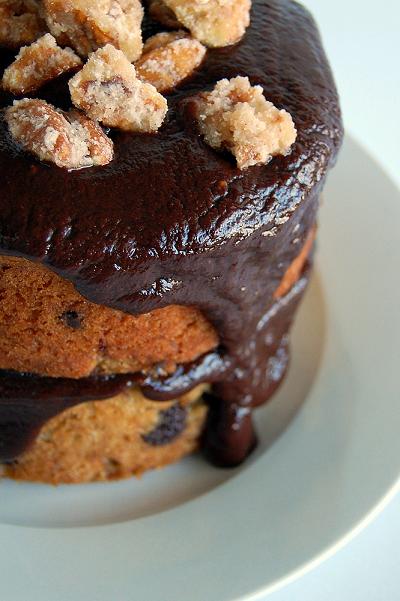 I think of all the fruits, bananas are the meanest. They mock. Often.
First off, let's just get it out of the way, they mock the male anatomy. The banana is used a lot to represent the male penis (about as well as Barbie represents the average female). And I am quite sure there has been many a time when a man has been peeling a banana and thinking to himself…I wish. And even more mocking is when the girlfriend/wife is thinking I wish too. 😉
But the real mocking that most of us relate to of course is the too many bananas mock. I personally fall into the Costco banana trap every time I go. I think, will I be able to use 15 bananas before they go bad? And though I know the answer is NO, I still buy because it's such a good price. And before you say…oh you can freeze them, yeah, I think half my freezer is bananas. So no go there.
So there they sit. And mock. Mock me from the counter. Daring me to figure out how to use them as my husband respectfully requests no more banana bread. 🙂
Lucky for me a new cookbook arrived yesterday. There are just some cookbook authors you go to. Ones that even before I look at the book, I know it will be good and I pre-order it from Amazon. David Lebovitz is one of my go to's. Now, I will admit that as a writer, he is not my favorite, I simply don't get him. But what I do get is the food he makes. Simple, but oh so good. And at the end of the day I want to hear "mmmm, so good" rather than "oh, so pretty". His foods are big on flavor with not too much of the fuss. Well, maybe a little fuss. So I was delighted when I got the package at my door. As with most pre-orders I had forgotten all about it until it showed up.
I was immediately drawn to the Banana Cake with Mocha Frosting with Salted Candied Peanuts (I used pecans). One because I wanted to see what he does with a banana cake. And two, I had bananas mocking me on the counter that needed to be put in their place…or cake pan as the case may be.
This man does banana cake well, so moist and with great banana flavor. I only deviated a little deciding to clear out the bottom of a bag of milk chocolate chips and I used pecans instead of walnuts because that's what I had. I had originally thought I would skip the salted candied pecans. The original like I said, called for peanuts, but I didn't have those. Sooo glad that I did not skip these. I have no idea what the peanuts taste like but the pecans are oh yum! In fact, I make the picky eater taste one. To which he said, "you best get these out of the house". He meant that in a good way.
David's frosting looks way better than mine. I got hit in the wrist twice this week at hockey. It's all beaten up and ferociously whisking wasn't happening. I should have thrown it in the mixer. Oh well, next time. Which there will be a next time. You hear that bananas? A next time. So mock me less, as I have found a new yummy way to use you!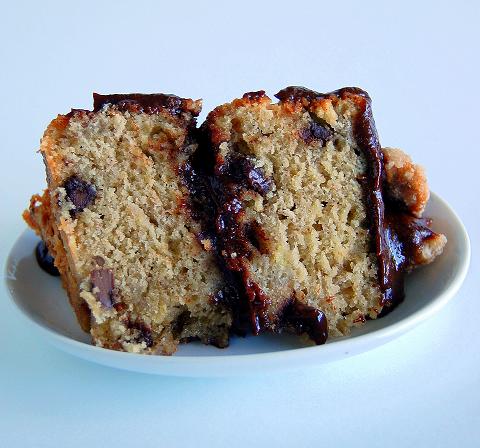 Just Try and Mock Me Now Banana Cake with Mocha Frosting and Salted Candied Pecans

Banana Cake
2 ½ cups all purpose flour
1 ½ tsp ground cinnamon
1 ½ tsp baking powder
¾ tsp baking soda
½ tsp salt
1 cup unsalted butter, at room temperature
1 ½ cups granulated sugar
1 tsp vanilla extract
1 TBSP instant espresso or coffee powder
2 large eggs, at room temperature
6 TBSP sour cream
2 cups banana puree(3 to 4 very ripe bananas)
¾ cup chopped pecans
¾ cup milk chocolate chips
Preheat oven to 350F.
Prepare two 9-inch round cake pans with baking spray.
In a medium bowl, whisk together the flour, cinnamon, baking powder, baking soda, and salt. Set aside.
Using a stand mixer with a paddle attachment, cream together butter and sugar until light and fluffy, about 3 minutes. Add vanilla and coffee powder. Beat an additional 30 seconds.
Add eggs, one at a time, scraping down the bowl after each addition.
Mix in half of the flour mixture on low speed, followed by the sour cream and banana puree.
Stir in the remaining flour mixture by hand. Fold in the nuts and chocolate chips. Be careful not to over mix.
Divide batter evenly among two pans. Bake until golden brown and a knife inserted into the center comes out clean, about 40 minutes.
Remove from oven and let cool completely.
Salted Candied Pecans
1 cup unsalted raw pecans
½ cup granulated sugar
3 TBSP water
½ tsp sea salt
1/8 tsp ground cinnamon (I might have used more)
In a medium-heavy bottomed saucepan, combine pecans, sugar, and the water over medium heat. When the sugar begins to liquefy, begin stirring.
Continue cooking, stirring frequently, until the sugar crystallizes.
Decrease the heat to medium-low and continue to cook, stirring, letting the crystallized sugar on the bottom melt and brown slightly.
The, use a heatproof spatula to scrape up the liquefied sugar and continuously coat the pecans with it, tilting the pan to help the sugar coat the nuts evenly.
Once pecans are a bit glossy and coated with syrup(there will be some sugary crystals on them still, which is normal) sprinkle the seas salt and cinnamon over them Stir the pecans a couple of times, then scrape the candied pecans onto a baking sheet and let cool completely.
Mocha Frosting
10 ounces semi sweet chocolate, coarsely chopped
½ cup espresso or strong brewed coffee
10 TBSP unsalted butter, cut into pieces, at room temperature
Combine chocolate and coffee in a medium heatproof bowl set over a pan of simmering water, stirring occasionally until the chocolate is melted and the mixture is smooth.
Remove the bowl for the heat and whisk in the butter until combined.
To assemble cake: Run a knife around the sides of the cakes to help them loosen form the pans. Invert one cake onto a serving plate. Spread about ¾ cup of the mocha frosting over the surface of the cake. Invert the second cake layer out of the pan, and place it over the frosted cake layer. Spread the remaining frosting evenly over the top and sides of the cake ( I skipped the sides as I am a lazy cake froster).
Chop the pecans and sprinkle them over the top of the cake. Again, I kept mine whole for appearance but if eating, chop.
Will keep for 3 days at room temperature in a cake dome or air tight container.
Adapted from Ready for Dessert by David Lebovitz (loving this book, go buy it)