This Raspberry Swirl Cheesecake has a Chocolate-Hazelnut Cookie Crust and is filled with raspberry puree and a heart design on top.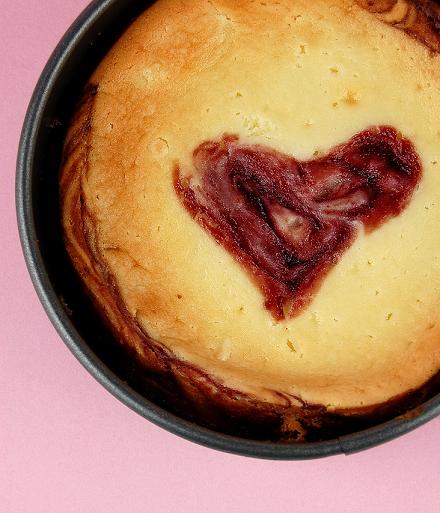 Despite recently punching a girl in the face, I swear I'm a lover and not a fighter. 😉
Now I will admit I am somewhat of a cynic when it comes to matters of the heart.
I was never one of those girls who had a boyfriend all the time.
Not because I couldn't have one (yes, I realize my EGO is out of control 😀 ) but because I simply chose not to.
I was always in awe of my female friends who seem to hop from boy to boy, never having any down time.
No down time to really know, in my opinion, who they were and what they truly wanted.
They also always seem to be in love all the time.
Really, I think most of them were just in love with being in love.
That's just never been my style.
Perhaps it's because I can count on one hand how many times I've been in love.
I certainly believe in it.
And I know it exists. I just used to be quite picky….well, still am.
"You see how picky I am about my shoes and they only go on my feet." -Cher Horowitz
Now granted Cher (Alicia Silverstone) was talking about her virginity in the movie but I can apply it to my heart as well.
Some of you may be familiar with the three date rule?
If you're not, it basically is that come the third, that is the sex date.
Now I NEVER followed that rule at all, give it up when you want to give it up.
And if you are under the age of 18 and read my blog…just don't do it, that's my PSA for the day (cue the cheesy music).
But in my own way, I had my three rule.
But mine was three weeks…and not sex related.
If you lasted three weeks dating me, chances are you were in it for the long haul.
Only problem was, very few made it to the three weeks.
I think I had a little dating ADD or I just knew it wasn't what I wanted and decided it was best to move on.
Now, I am a good breaker upper.
Guys were usually taken back by my response when I was being broken up with.
I thanked them.
Not for breaking up.
But for the experience and time we had together.
That's it.
I learned early on, I don't want to be with someone who doesn't want to be with me.
Plain and simple.
Sadly, I can't say the people I broke up with left so gracefully.
Somehow they seemed to end up drunk on my porch pounding on my door.
Until my friend L's husband would come over and remove them (he is a large guy).
In fact, it became quite the joke.
When guys I was dating would meet him at a party or what not, he would introduce himself as "Hi, I'm J, in about two weeks I'll be removing your drunk ass off of Peabody's porch".
Sad thing was it was a joke, but kind of true. 🙂
One thing I never had a problem professing my love for was cheesecake.
I mean I hosted a whole event dedicated to it.
Next to bread pudding, it's my favorite.
This particular one, Raspberry Swirl Cheesecake, has a lovely chocolate-hazelnut cookie crust, which the extra makes for great sandwich cookies.
You can spread some Nutella between the two cookies…good stuff.
You don't have to make the heart pattern on the cheesecake.
Truthfully, I started off trying to make the maple leaf but that went really, really badly.
So I went back to hearts.
But you can just swirl away if you like all the same.
P.S. It's a great day to buy my cookbook Holy Sweet!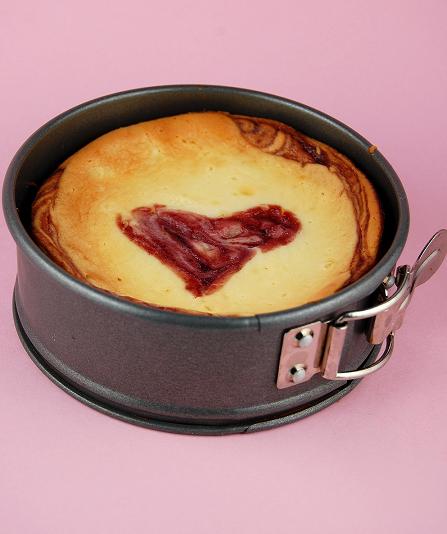 Want More Cheesecake Recipes?
Cinnamon Roll Caramel Apple Cheesecake
Pumpkin Salted Caramel Swirl Cheesecake
Caramel Apple Toffee Cheesecake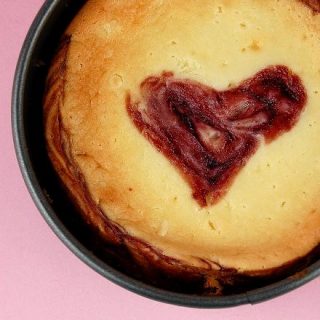 Raspberry Swirl Cheesecake with Chocolate-Hazelnut Cookie Crust
Ingredients
For the Chocolate-Hazelnut Cookie Crust:
12 oz unsalted butter, softened
1 ¾ cups powdered sugar
1 egg
2 cups flour
1 cup cornstarch
1 ¾ cups ground hazelnuts
½ cup unsweetened cocoa powder
For the Raspberry Swirl Cheesecake Filling:
1/3 cup raspberry jam
2 ½ pounds (yes pounds, don't write me asking me if this is right) cream cheese, at room temperature
2 ½ cups granulated sugar
2 TBSP flour
5 eggs
1 tsp vanilla
1 ½ cups raspberries, pureed and strained
Instructions
For the Crust:
Using a stand mixer with a paddle attachment, cream the butter with the sugar until light. Add in the egg and mix well.
Mix together the flour, cocoa powder, ground hazelnuts, and cornstarch.
Add this to the creamed mixture and blend.
Form the dough into a bowl and wrap in plastic. Chill for about 4 hours.
This makes WAY more than you need for the crust. So press the crust onto the bottom of a 10-inch springform pan that has been lined with parchment paper and sprayed with baking spray. Prick bottom with fork. Make the crust about ¼ inch thick.
Bake at 350F for 10 minutes. Let cool. Follow the directions down in the cheesecake portion.
For the extra dough…make cookies:
Roll out the dough to ¼ inch thickness. Cut with a cookie cutter(I chose to make hippos but any shape will do).
Chill the cookies for 10 minutes and preheat oven to 325F.
Bake cookies for about 10 minutes or until lightly browned. Cool on a rack.
For the Filling:
Preheat oven to 350F.
Using a stand mixer with the paddle attachment, cream the cheese and sugar until soft. Add in eggs one at a time.
Mix until incorporated and scrape down the bowl down occasionally.
Add flour and mix well. Stir in the vanilla.
Spread the raspberry jam over the cooled crust coming about ½ inch from the edge.
Pour in 1/3 of the cheesecake batter. Then drizzle half of the puree on top. Repeat with more cheesecake batter and then puree. Pour the last third of the batter on.
With a thin knife marble the cheesecake. If you want to make the sort of heart like I did, make a V with the puree and then shape it into a heart the best you can with the knife.
Bake in a water bath at 350F for approximately 2 hours.
Remove cake from water bath. Cool to room temperature and then chill overnight.