I think Joan Jett said it best. I really don't give a damn 'bout bad reputation. Or my good one for that matter. 🙂
I'm not quite sure when it happens. When you start to care what others think about you. Your youth I guess. Lord knows you obsess over it in junior high and high school. And for some it never seems to go away.
My mother is a people pleaser. I used to be one too. Then somewhere along the way something snapped. The realization that I would never be pleasing all of the people all of the time finally sunk in. And so I just moved on. It's very freeing I might add. Though I often get the reputation of being a heartless bitch. Eh. At least I am a bitch who brings you baked goods. 😉
One reputation I do have and don't mind having is that Cookie Baker Lynn calls me Queen Caramel, because of well, my love for caramel. And the fact that this blog has a lot of caramel. I should write a whole caramel based cookbook. 🙂 Recently both Cookie Baker Lynn and Elle of Feeding My Enthusiasms named me a food blogger that makes them happy. Normally I am bad about filling these things out, but since two of my favorite people named me, I had to do it.
So here I go. I'm suppose to list 10 things that make me happy. I will skip all the regular family, friends, health, blah, blah, blah and get right to the shallow, superficial crap. 🙂
1. Hockey. Duh. Play it. Watch it. My day is much happier with hockey in it. Even happier when I am playing and do something right (such a rarity).
2. 96.723% of the clothing that Anthropologie carries. Some of their clothing makes me so happy I have been known to twirl in it.
3. Baking/Cooking for others and having them really enjoy it. It's one of the most satisfying things ever to me.
4. Receiving random care packages from people out of the blue. There is nothing more fun than going to the mailbox and getting something other than a bill!
5. Getting a new cookbook and having the time to sit down and read it cover to cover. Same thing goes for a new cooking magazine as well.
6. Having someone cook/bake something for me. I think because this sooooo rarely happens that it makes it so much more extra special.
7. Hot Pockets…and other bad things for you. Eating a Hot Pocket and not burning the roof of my mouth. Eating Captain Crunch and not losing pieces of the roof of my mouth. Eating both of those and not have the calories count or the artificial everything destroy my insides. 🙁
8. Beer. Enough beer and I am really, really happy. 😛
9. Discovering a new restaurant…a good one. Finding a crappy one isn't all that hard.
10. Mascarpone cheese. Caramel. Hence this tart.
As we all know I have a Mascarpone cheese issue. I use it a lot. I use caramel a lot. I figured since they both make me happy, making this tart seemed like a no brainer for the happy post. It's basically really creamy cheesecake (but no tang) topped with caramel baked into a cookie-like crust. Um, makes you pretty happy.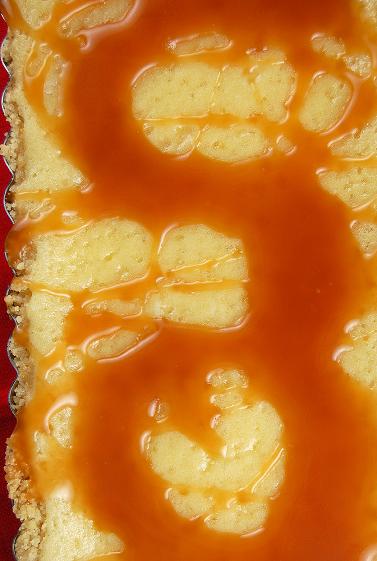 Caramel Topped Mascarpone Cheese Tart
For the Crust:
6 TBSP unsalted butter, softened
¼ cup sugar
2 large egg yolks
1 tsp vanilla extract
2/3 cup all-purpose flour
½ cup semolina flour
½  tsp salt
zest of one orange
Vegetable oil spray
Filling:
2 TBSP unsalted butter, softened
¼ cup sugar
1 ½  cups mascarpone cheese
1 large egg
1 egg yolk
1 tsp vanilla extract
2 TBSP heavy cream
Caramel Sauce (recipe follows)
For Crust:
Preheat the oven to 350°. In a bowl, using an electric mixer, beat the butter and sugar at medium speed until fluffy, 2 minutes.
Beat in the egg yolks, zest, and vanilla.
Beat in the flour, semolina, and salt and until a dough forms. Gather the dough into a ball and transfer to a large nonstick baking sheet. Cover with plastic wrap and roll it out to a 9-inch square, a scant 1/4 inch thick. Bake for about 10 minutes, until the edges are lightly browned. Immediately transfer the dough to a food processor and pulse until fine. Lower the oven temperature to 300°.
Line a 13 3/4-by-4-inch, straight-sided rectangular tart pan with a removable bottom with foil. Spray the foil with vegetable spray. Press a 1/2-inch layer of the crumbs evenly over the bottom and up the side of the pan. Refrigerate until firm, 20 minutes.
For the Filling:
In a medium bowl, using an electric mixer, beat the butter with the sugar at medium speed until fluffy, about 2 minutes.
Add half of the mascarpone cheese and beat at low speed until combined.
Add the remaining mascarpone cheese, the egg, egg yolk, vanilla, and cream and beat just until smooth, about 1 minute. Pour the filling into the crust and smooth the surface.
Set the tart pan on a sturdy baking sheet.
Position racks in the bottom and center of the oven. On the bottom rack, place a roasting pan filled with 1 inch of water. Place the tart on the center rack and bake for 35 to 40 minutes, until the filling is puffed and set. Let cool to room temperature, then refrigerate until chilled, at least 2 hours. Lift the tart from the pan and remove the foil. Transfer to a platter. Top with caramel sauce and serve.
Adapted from Food and Wine
Caramel Sauce
2 cups sugar
½ cup water
1 ½ TBSP light corn syrup
½  cup heavy cream plus 1 TBSP
1 tsp vanilla
2 TBSP unsalted butter, at room temperature
To make the topping:
Put the sugar, water and corn syrup in a medium heavy bottomed saucepan, stir just to combine the ingredients and then put the pan over medium-high heat.
Heat, without stirring , until the caramel turns deep amber, 5-10 minutes.
Take the pan off of the heat and, standing back from the saucepan add the cream and butter. When the spatters are less vehement, stir to calm down the caramel and dissolve any lumps. Add in the vanilla and whisk until smooth.
Adapted from Baking From My Home to Yours by Dorie Greenspan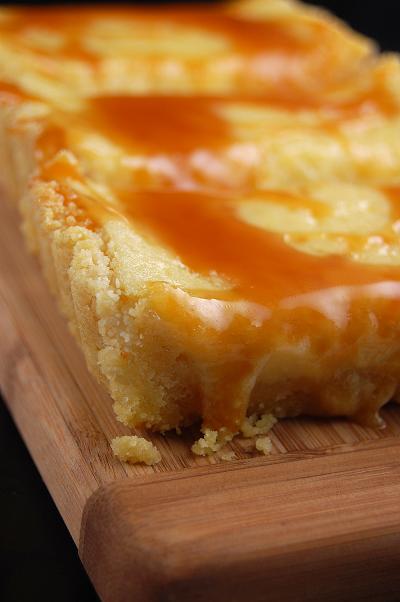 Now, here's the 10 blogs that make me happy:
Fabulously Broke: Always amusing and random. Just how I like things.
Angry Chicken: Because also amusing and random. And if I were to have a non-food blog I would totally want to name it Angry Chicken. Or Bow Legged Swamp Chicken. It's a toss up.
Bittersweet:  Hannah is about the sweetest person there is…and she makes great vegan treats.
Cakespy:  Jessie is not only a talented artist she has a way awesome blog with funny posts. Plus it helps me find local bakeries.
Pages, Pucks and Pantry: What is not to love about a site dedicated to food and hockey. Though you must forgive her for being a Sharks fan. 🙂
Seattle Tall Poppy: If anyone has ever met Traca in person, you instantly love her. She is the best and runs an insightful blog.
Veggie Girl: This is a no brainer if you read my site. You know that I love all things Veggie Girl. Liz is about as awesome as a person is allowed to be!!!
What's for Lunch Honey? Great photos and diverse recipes.
And of course, Cookie Baker Lynn and Feeding My Enthusiasms. I have had the pleasure of getting to meet both of these ladies. And let me tell you…I'm a better person for it!