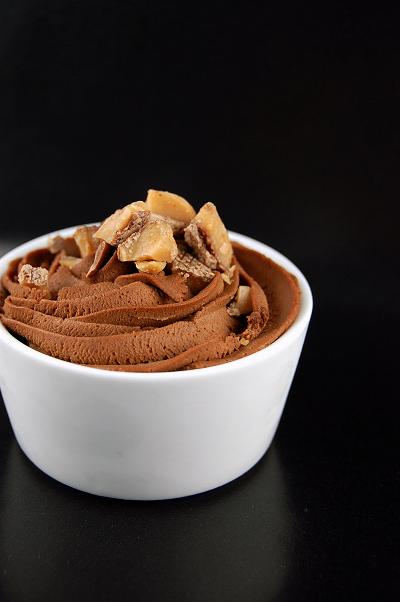 So growing up I listened to a lot of punk music (still do). There was a group called Guttermouth that had a song called Perfect World. The song highlights all the things they would want in a perfect world. Got me thinking about all the things I would want in a perfect world. So here they are, in no particular order.
*The news would have to stop scaring people with stupid stuff. Telling me at 3pm, "you could you die from eating your dinner tonight. Find out at 11pm." Find out at 11? If I am really going to die from my dinner, don't you think you should give me a heads up before 11? In fact, go ahead a interrupt Oprah for me. It wont matter if I don't get to find out some of Oprah's favorite things if I can say, prevent myself from killing me and my family. Just saying.
*Hockey would be just as popular as Football. In fact, more popular. This would actually help men a lot in certain areas of their life. See, I don't know if you watch the NFL, but there are a large amount of commercials for erectile dysfunction. LARGE amounts. It seems almost every other commercial is one. Apparently football watchers can't get it up (yes, I know you are going to send me large amounts of hate mail). 🙂 But watch a hockey game. Especially one being broadcast from Canada. Those commercials are usually for pizza and beer. Hmmm. Pizza and beer? Or non-functioning penis action? You decide.
*Reality shows would have to skip to the good parts. Sure, that would mean that the show would only be 4 minutes, but hey, I'm in charge in my perfect world. I don't need two hours of the Biggest Loser. In fact, just make the whole show be them getting on the scale and weighing in. Then show me what the person who got voted off how they look today. No crying, vomiting, yelling, etc.
*Fake stars like Heidi Montag (btw- why the heck did you mess up your banging body with horrid looking breast?) and other Hills cast members don't get to be popular. I don't need to know where they shop. Or where they are getting coffee. Or that they are "just like me" because they pump their own gas. Oh yeah, we are so alike.
*No kids get to get sick. Ever. Just not fair. And only pain in the ass adults should get to get sick. Of course, I am a pain in the ass adult, so I would probably get stuck getting sick, but I would still enforce that rule.
*I would come out with a new food pyramid. One where bacon is the entire bottom. Swedish Fish, Whoppers, Toffee, and Red Vines become their own special food group, that you are encouraged to eat daily. We can keep fruits and veggies, just not force them on people. And I wont segregate them into starches. French Fries are indeed a vegetable. They are a really awesome vegetable when you fry them in duck fat.
*Whatever my horoscope says, actually has to happen (only the good ones like winning the lottery). Same thing with fortune cookies.
*I get to have all of Jerome Iginla and Danny Briere's hockey skills…but still get to keep my winning good looks. 😉
*And of course, everyone gets to eat dessert whenever they want….even before dinner. Or heck, as dinner.
Case in point, this here Baked Mocha Pudding, topped with Chocolate Mousse. If you are not a coffee fan, just leave the espresso powder out of them.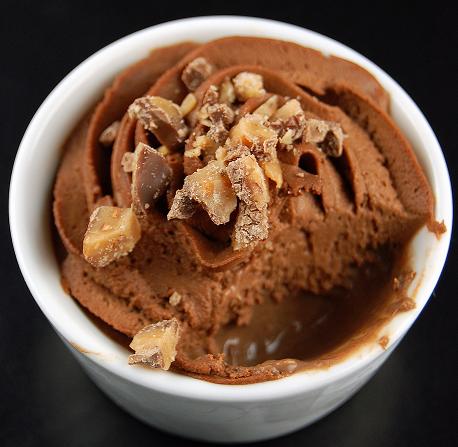 Chocolate Mousse Topped Baked Mocha Pudding
1 recipe chocolate mousse (I used this one)
2 Heath Toffee Bars, crushed
6 ounces semisweet chocolate, finely chopped
1 cup heavy whipping cream
1 cup half and half
1 tsp instant espresso powder
½ tsp vanilla extract
pinch of salt
6 large egg yolks
1/3 cup granulated sugar
For Puddings:
Preheat oven to 300F.
Bring cream, half and half, and espresso powder to a boil. Place chocolate into a heat proof bowl and pour cream mixture over chocolate.
Let chocolate sit for 2 minutes, then whisk until smooth. Let cool for 5 minutes.
In a large bowl, whisk together the egg yolks, vanilla extract, salt, and sugar.
Whisking quickly and constantly, pour the chocolate cream mixture in a slow and steady stream to the egg yolk mixture.
Pour custard through a fine-mesh sieve into a large liquid measuring cup and let sit in fridge for 10 minutes.
Place ramekins (I used 4 ounce ones, will make about 7) into a deep baking pan. Pour custard evenly among the ramekins. Fill the baking pan with water, just until the water reaches the middle of the ramekin, creating a water bath.
Bake for 30-35 minutes. They will still jiggle in the middle (don't we all 🙂 ) but will set more as they cool.
Cool on a wire rack at room temperature for 1 hour. Then move to fridge for at least 4 hours.
To serve, pipe chocolate mousse on top of the baked puddings and top with toffee pieces.