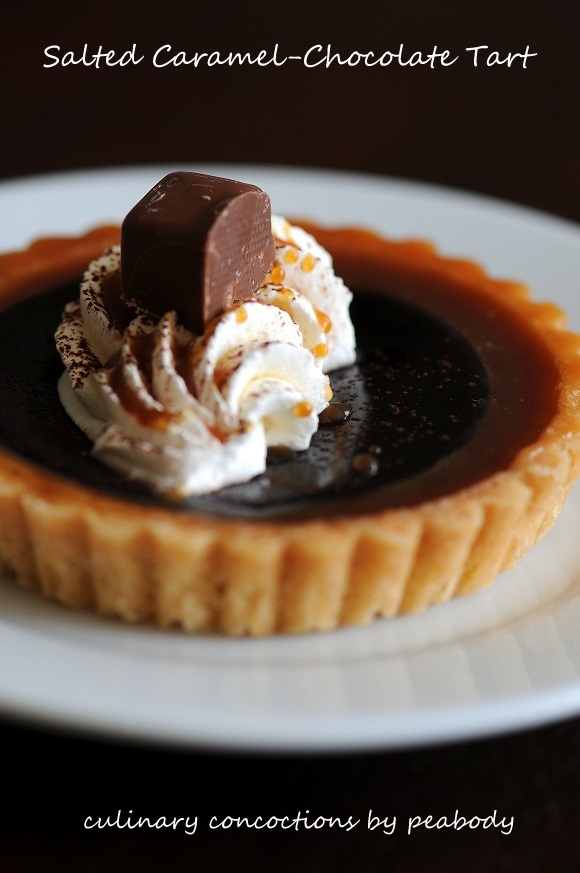 First off congrats to Heather (of Kitchen Concoctions) who is the winner of the tart pans. She has already been contacted and the pans are on their way Heather. Sorry I was behind on that as what I thought was allergies was really a cold. I'll be announcing the winner for the Harry and David giveaway this weekend.
I went to a blogger event awhile back and they had these yummy salted caramel tarts (and since I was giving away tart pans I had tarts on the mind) that looked quite simple to make. I asked who the cater was and looked them up when I got home. I about died when I saw on their website that they charged $9 a tart for the kind I had. Nine dollars? Really. I made 6 of these for less than that. Well that's a lie because I used Fran's Sea Salt Chocolates and those are a bit pricey but I already had them and if I didn't I probably wouldn't have added them.
I actually did a really good job of recreating them. I think theirs had more salt but the look is about the same. Which is amazing unto itself as I usually am not good at the décor thing and people accuse me of having 5 year olds help decorate. 😛 Well maybe not that bad…but close.
Making things at home definitely takes more time but I cringe when I see people paying $4 for a cupcake at one of those little shops. Yeah, I know it's fun while you are out to get a treat but the baker in me knows how much those cupcakes cost! Which might be the reason that there has been more and more reports that the overpriced cupcake shops are on their way out!
We've had good spring weather around here…though in true form we are to get rain for the weekend. But with the sun out that means sundresses and shorts will be coming out. I have several people in my life that I know won't wear either because they think they look fat in them. Wear them. I used to not wear shorts because I have the palest skin. I mean I am so white (year round) that I reflect the sun I don't absorb it. But living in the Phoenix area for all those years quickly ended that because I would rather blind people with my white legs than be hot.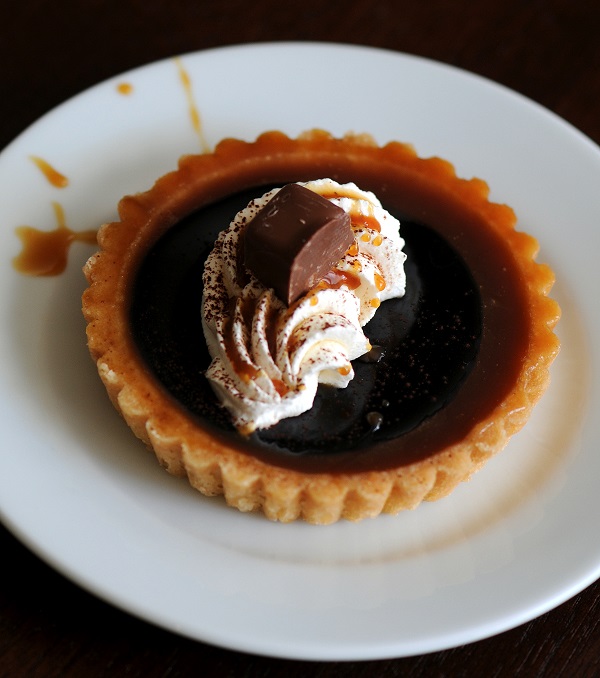 1 recipe pate sucre
1 batch salted caramel sauce
1 ½ cups semi-sweet chocolate chips
½ cup heavy cream
Whipping cream for garnish
Cocoa powder for garnish
Sea Salt Chocolates for garnish
Set out 6 small tart pans. Spray with baking spray.
Divide pate sucre into 6 even pieces and roll out into a circle and place into tart pan. Use your fingers to get the dough into the creases and corners.
Adjust oven rack to center position and preheat the oven to 350°F.
Line the tart shell with foil and fill with weights or beans. Place the tart in the center of the bottom rack of the preheated oven. Bake for 10 minutes, rotating halfway through. Remove the weights and foil, and continue to bake until the bottom is golden brown, about 5-10 additional minutes. Cool the shell completely before removing from the pan or filling.
While tarts shells are baking place chocolate chips and heavy cream in a microwave safe bowl (or over stove top) and heat until chocolate has melted. Using wax paper on a baking sheet or flat plate make circles with the chocolate. Put in the freezer to set up.
When tarts shells are completely cooled fill with salted caramel (you can either make it or do store bought to save time).
Place a chocolate circle on top of the caramel. Top with whipped cream, cocoa powder, and a sea salt caramel candy.