This Semisweet Chocolate Tart with Gingersnap Crust is a silky smooth chocolate filling all inside a spicy gingersnap crust.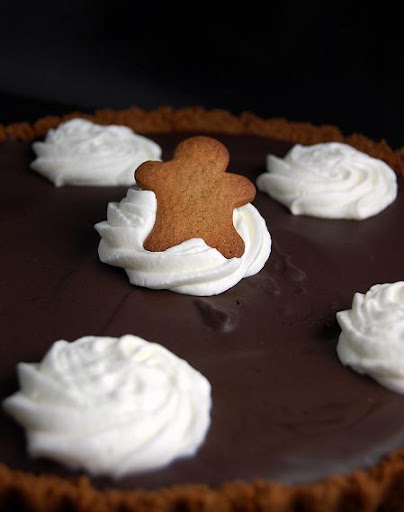 All the Who's down in Whoville are ready for Christmas, but this Who is not!
If I didn't love Christmas so much, I like the Grinch, would want to stop Christmas from coming.
So really, I would just like to postpone it a week or so.
Who's with me?
We really do need more time between Thanksgiving and Christmas.
The Canadians do it right by having their Thanksgiving in October!
That seems to me like a much better idea.
Slacker Peabody is not sending out Christmas cards for the first time in like forever.
I didn't even send one to my parents.
Of course, they are coming here this year, so I can just hand them one. 🙂
The funny thing is, I have the cards.
I just have no time to address them and take them to the post office.
I can't just buy stamps because smart me bought irregular sized cards that don't take regular stamps.
Awesome.
Go me.
This Semisweet Chocolate Tart with Gingersnap Crust was what I brought to one of the holiday potlucks I attended.
It's an adaptation of one I made years ago, but this time I made it with a gingersnap crust to make it more holiday festive.
It's super easy, and can be made days ahead. So that alone makes it a winner…and it's chocolate. 🙂
I hope everyone out in blog land has a wonderful Christmas (for those who celebrate it).
Be safe and eat lots of Christmas cookies. 🙂
P.S. It's a great day to buy my cookbook Holy Sweet!
Want More Gingerbread Recipes?
Chocolate Dipped Gingerbread Shortbread Cookies
Gingerbread House Gingerbread Layer Cake
Gingerbread Cheesecake Cheeseball
Clementine Upside Down Gingerbread Cake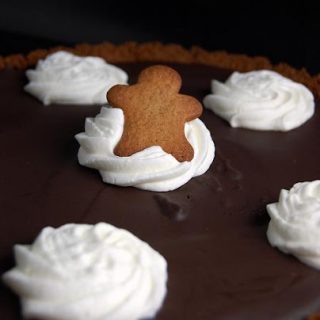 Semisweet Chocolate Tart with Gingersnap Crust
Ingredients
Gingersnap Crust
8 ounces gingersnap cookies (about 32 cookies), coarsely broken
1/4 cup (1/2 stick) unsalted butter, melted
3 TBSP brown sugar
Pinch of salt
Chocolate Filling
8 ounces semisweet chocolate, finely chopped
5 TBSP unsalted butter, cut into 5 pieces
1 tsp vanilla extract
1 large egg yolk, room temperature
1/4 cup boiling water
Instructions
For the Crust:
Preheat oven to 325°F.
Finely grind gingersnap cookies in processor (yielding 1 1/2 to 1 2/3 cups).
Add melted butter, sugar, and salt; process until moistened.
Press crumb mixture firmly onto bottom and up sides of 9-inch-diameter tart pan with removable bottom.
Place pan on rimmed baking sheet.
For the Filling:
Combine chocolate, vanilla, and butter in medium metal bowl.
Place bowl in skillet of barely simmering water set over low heat.
Stir just until chocolate and butter are melted and smooth.
Remove bowl from water.
Place fine strainer over bowl with melted chocolate.
Keep skillet with water set over low heat.
Whisk egg yolk in small metal bowl to blend.
Gradually whisk in 1/4 cup boiling water.
Place bowl in skillet of hot water; stir constantly with heatproof rubber spatula, scraping bottom of bowl to prevent egg from cooking, until instant-read thermometer inserted into egg mixture registers 160°F, about 3 minutes.
Immediately pour egg mixture into strainer set over bowl of chocolate.
Stir just until egg is incorporated into chocolate and mixture is smooth.
Pour chocolate filling into crust; tilt slightly to spread evenly (crust will not be completely filled).
Cover and chill overnight or up to 2 days.
Before serving, let tart soften slightly at room temperature.
Remove pan sides.
Place tart on platter.
Using pastry bag fitted with star tip, pipe gingered whipped cream rosettes around edge of tart.
Makes 10 to 12 servings.