This Gingerbread House Gingerbread Layer Cake is a gingerbread cake with buttercream all decorated with a snow topped gingerbread house.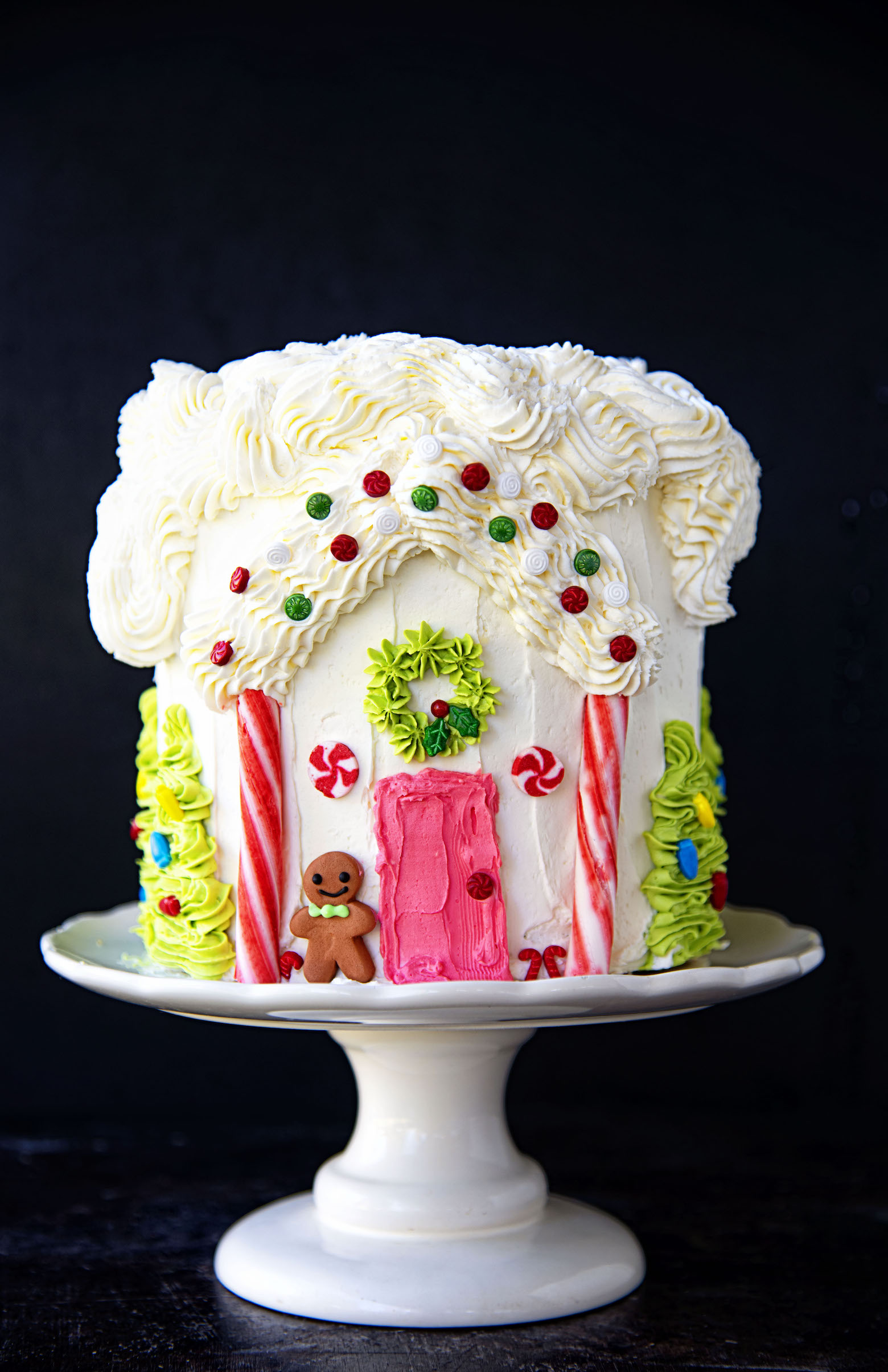 While I consider myself a creative person, I don't consider myself very artistic.
I have an artistic eye but the delivery doesn't match up. 🙂
Some of that is because I don't have steady hands.
And overuse of my hands gives me "claw hand".
Where my hand will actually get stuck like a claw for a little bit.
I have my mom to thank for that.
She has it too.
So rarely do I do elaborately decorated food items.
Though I did try during Grinch week to get a little cute.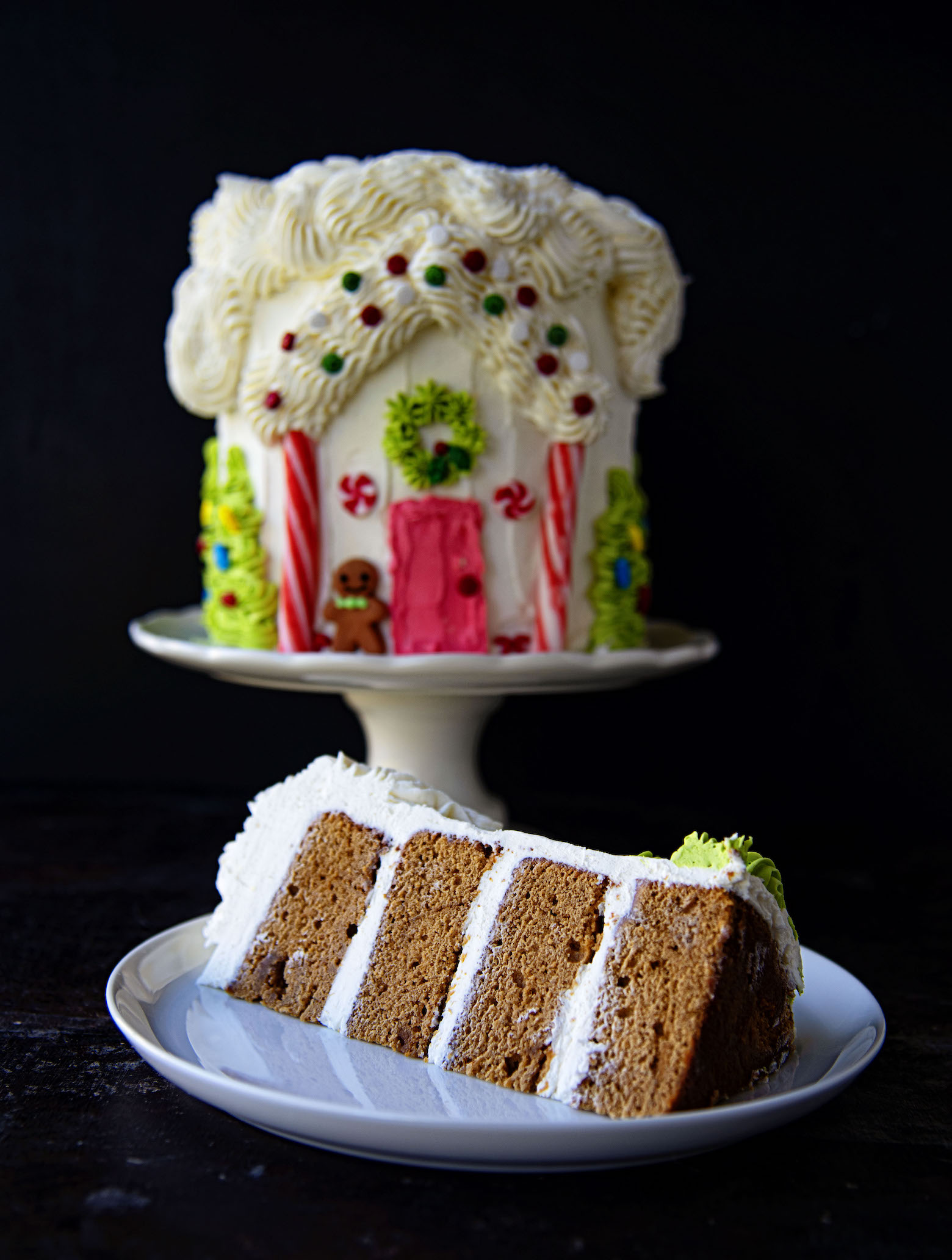 I saw a cake pop up on my Instagram page.
It was so cute and happy.
And it wasn't the typical gingerbread house cake.
I also thought maybe if I tried really hard I might be able to get it to look sort of like the one in the photo.
Because there was just a photo.
Unfortunately I didn't find a website with instructions so I just kind of stared at it and did my best.
The cake maker and I did not have the same sprinkles and what not so I just went for it.
I don't even know what kind of cake was inside but my guess is gingerbread.
So I made mine be gingerbread.
Because that makes sense.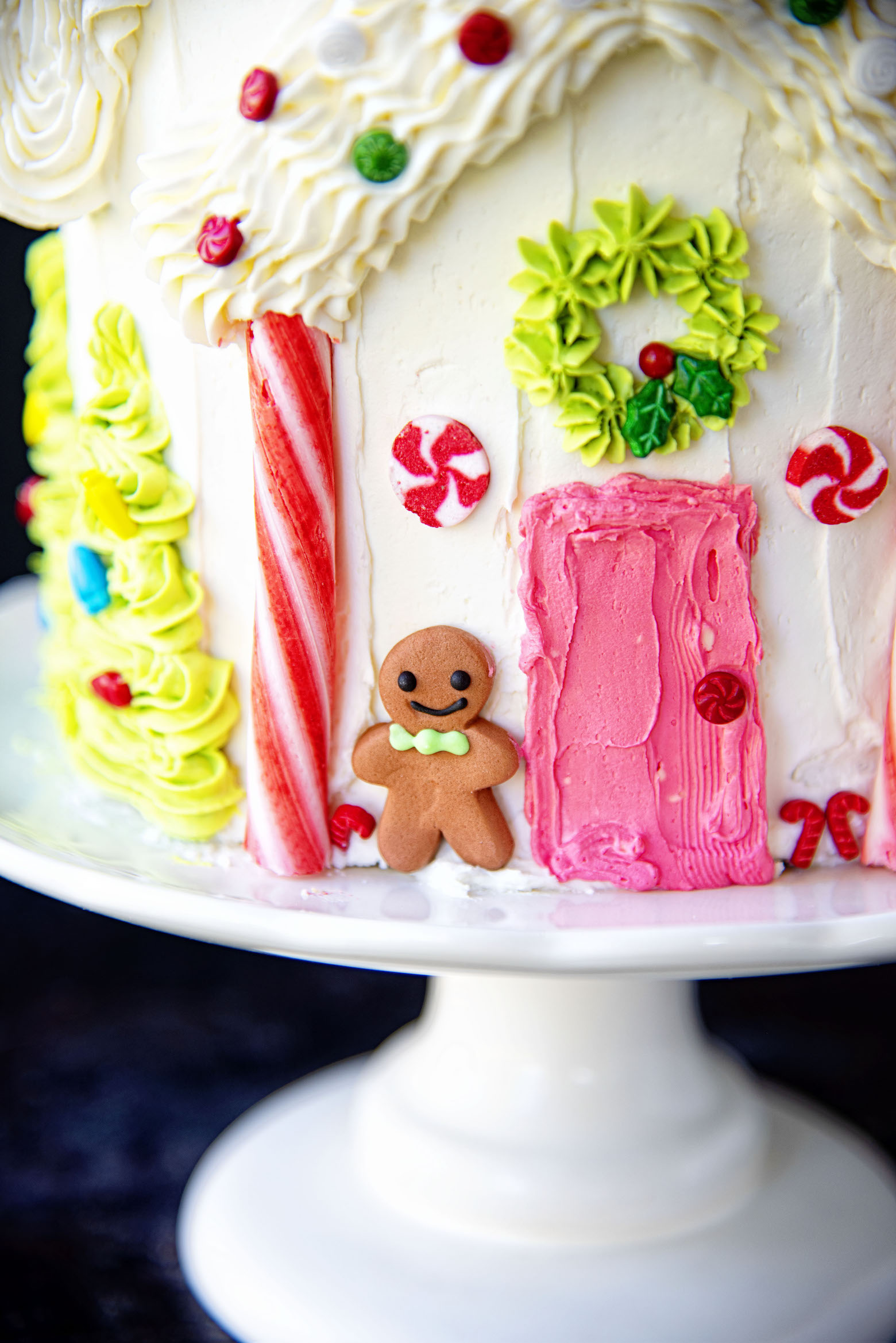 I tried hard not to compare my Gingerbread House Gingerbread Layer Cake too much to her lovely cake.
Since she decorates cakes for a living.
I bake and eat them for a living. 😀
There are many differences.
She used some type of comb thing that I don't own.
Her house uses sprinkles as an outline and used soft peppermint sticks.
Our decor is different and I added a gingerbread man because I love gingerbread men.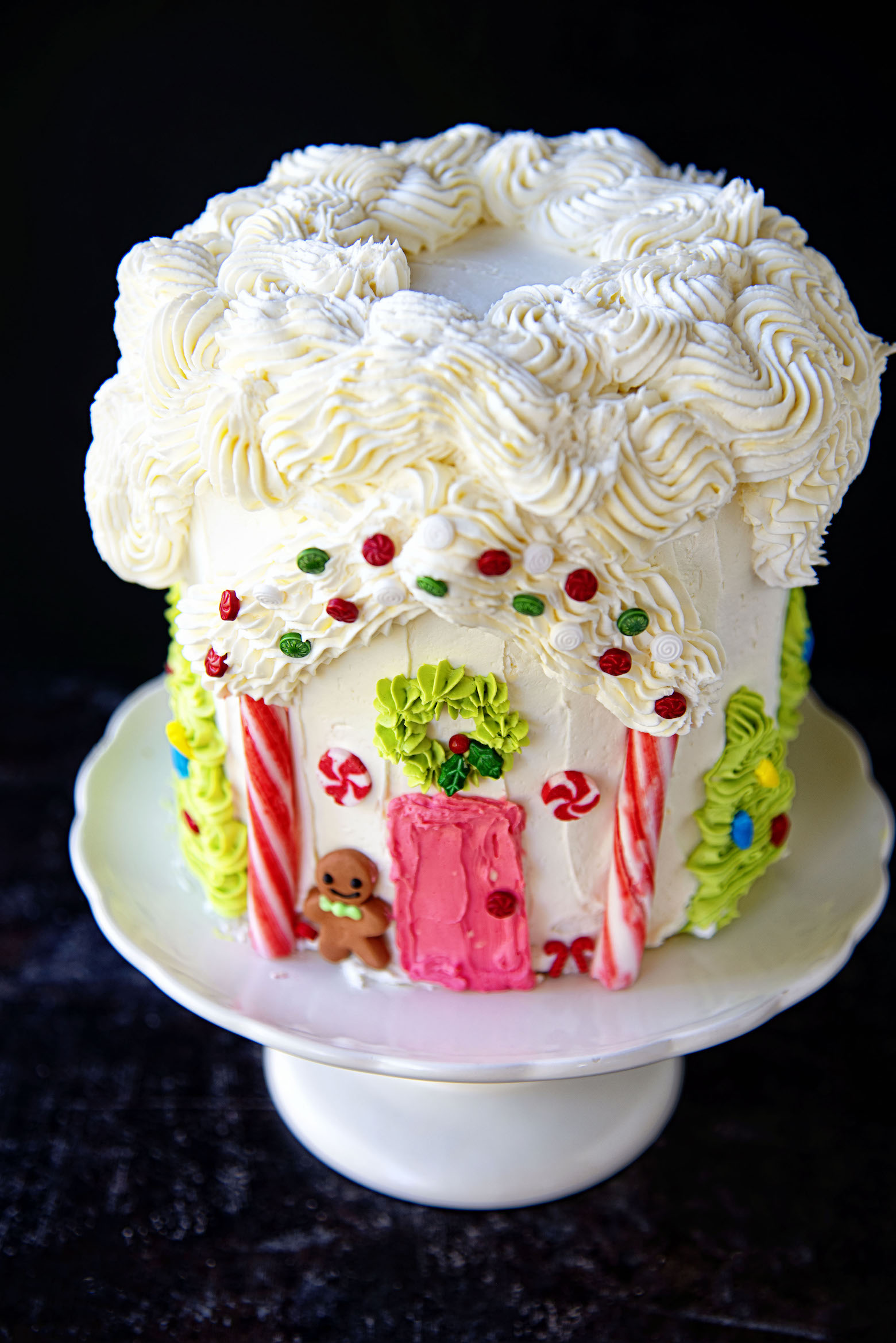 I don't really have directions for you either.
Other than baking the cake itself.
I went with an American buttercream frosting because the gingerbread cake is actually not that sweet.
So it's okay to have the sweet frosting.
The trees and wreath I used a small star tip.
I don't even know what the tip I used for the top (which is supposed to be snow) of the cake and the house roof is called.
It was star like but bigger.
I know…so helpful Peabody.
Just have fun with it like I did.
That's what it is for.
P.S. It's a great day to buy my cookbook Holy Sweet!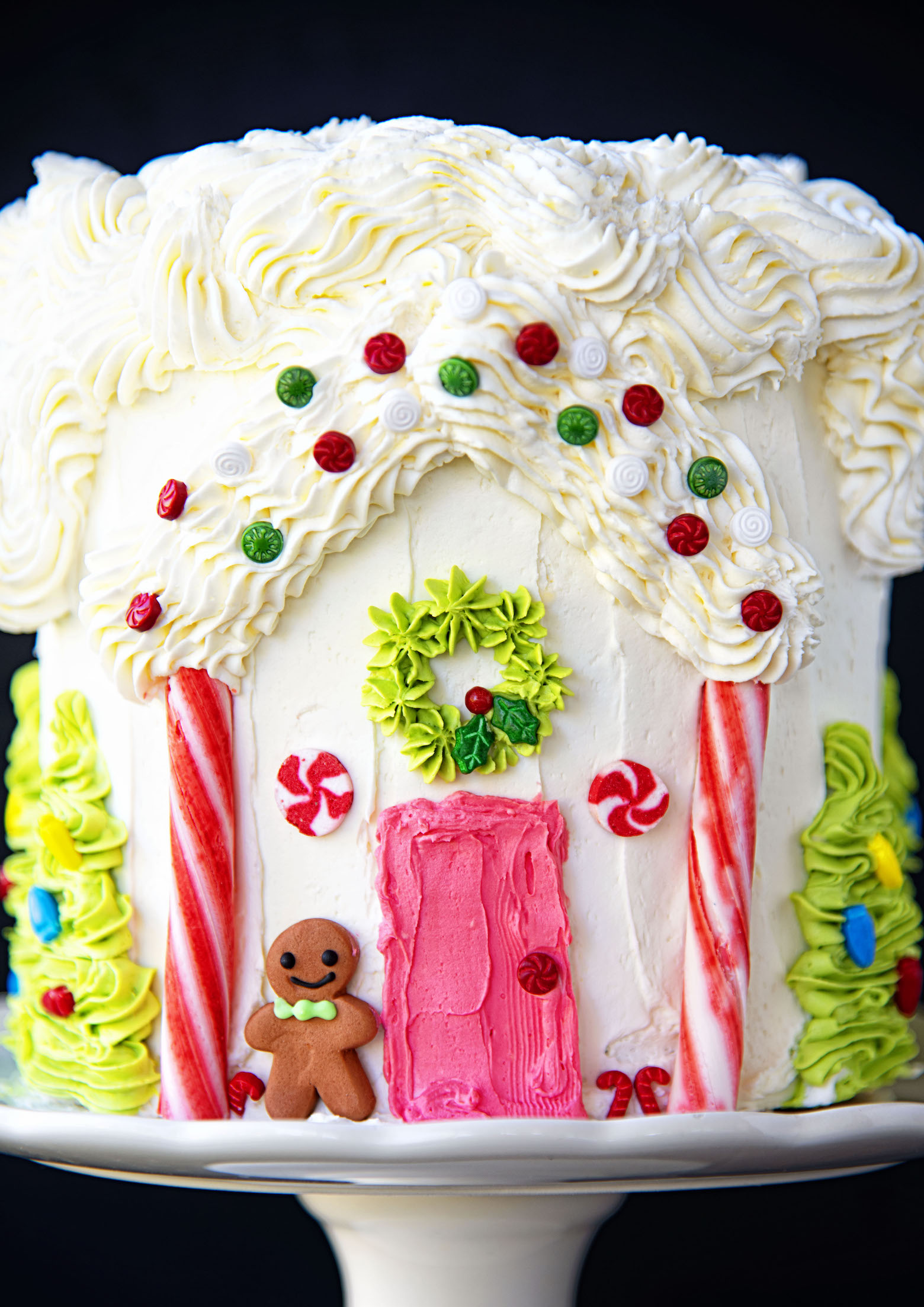 Want More Gingerbread Recipes?
Gingerbread Cheesecake Cheeseball
Clementine Upside Down Gingerbread Cake
Chocolate Gingerbread Layer Cake
Cream Cheese Frosted Gingerbread Sweet Rolls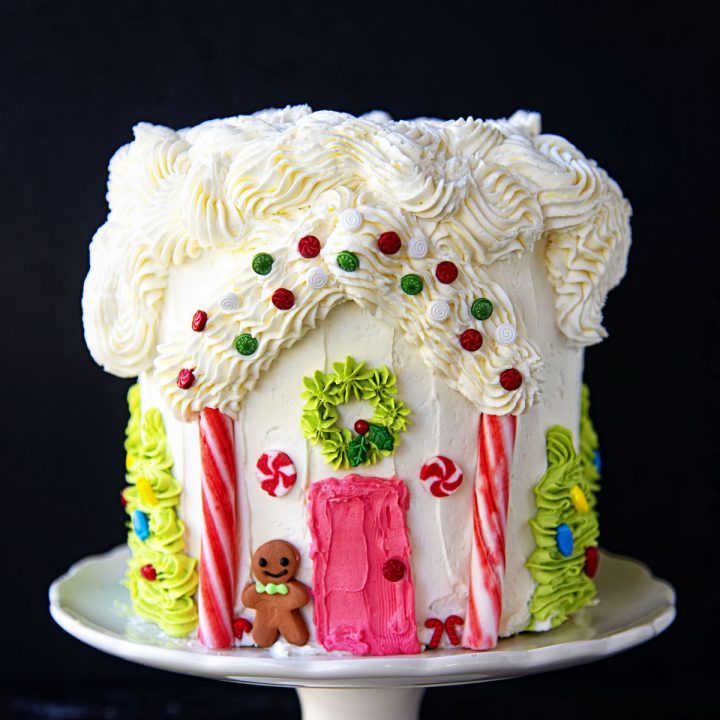 Gingerbread House Gingerbread Layer Cake
Ingredients
For the Cake:
1 cup butter, at room temperature
2¼ cups light brown sugar, firmly packed
3 large eggs
¾ cup unsulphured molasses
3¾ cups all-purpose flour
1 TBSP gingerbread spice
1½ tsp baking powder
¾ tsp salt
½ tsp baking soda
1½ cups hot coffee
For the Frosting:
1 cup unsalted butter, at room temperature
1 cup vegetable shortening
8 cups powdered sugar
1/4 tsp salt
1-3 TBSP whole milk as needed
1 tsp clear vanilla extract (don't want the frosting brown)
For Garnish:
various holiday sprinkles
food coloring for the frosting if using
Instructions
Preheat oven to 350°F.
Line 3 (9-inch) round cake pans or 4 (6-inch) round cake pans with parchment paper; butter and flour edges of pans.
In the bowl of a stand mixer fitted with the paddle attachment, beat butter and brown sugar at medium speed until fluffy, 3 to 4 minutes, stopping to scrape sides of bowl.
Add eggs, one at a time, beating well after each addition.
Stir in molasses.
In a large bowl, whisk together flour, gingerbread spice, baking powder, salt, and baking soda.
With mixer on low speed, gradually add flour mixture to butter mixture alternately with coffee, beginning and ending with flour mixture, beating just until combined after each addition.
Divide batter among prepared pans.
Bake until a wooden pick inserted in center comes out clean, 30 to 33 minutes for the 9-inch. The 6-inch layers take about the same time but start to check at the 28 minute mark.
Let cool in pans for 10 minutes. Remove from pans, and let cool completely on wire racks.
For the Frosting:
Combine the butter, shortening, 2 cups sugar, and vanilla in the bowl of a stand mixer fitted with a paddle attachment.
Start mixing on low speed and add the powdered sugar 1 cup at a time until the sugar is incorporated with the butter/shortening.
Add the white food coloring and mix until fully combined. If not white enough add a few more drops and mix again.
Increase the mixing speed to high and beat until smooth and fluffy, about 2 minutes.
Adjust the consistency with milk as needed.
To assemble:
If you used 6-inch pans like me you will have four layers. If you used the 9-inch you will have three.
Place a layer on a cake plate and spread 1/2 (or 1/3 cup if you made the 6-inch cake) cup frosting on the layer. Spread evenly with an offset spatula.
Place a second layer on top of the first layer. Spread with frosting. If you made 6-inch layers you will have one more layer frosting.
Place the top layer on the cake and frost the sides and top of the cake with a crumb coat.
Set in fridge for 30 minutes to set up.
Finish frosting the cake with buttercream.
Then depending on how you are going to decorate your cake this is the time to color your frosting and place in piping bags. I only used white, pink, and green for mine.