Not so traditional Dulce de Leche- Cashew Thumbprints are rolled in cashews and filled with rich dulce de leche. A fun twist on a classic cookie.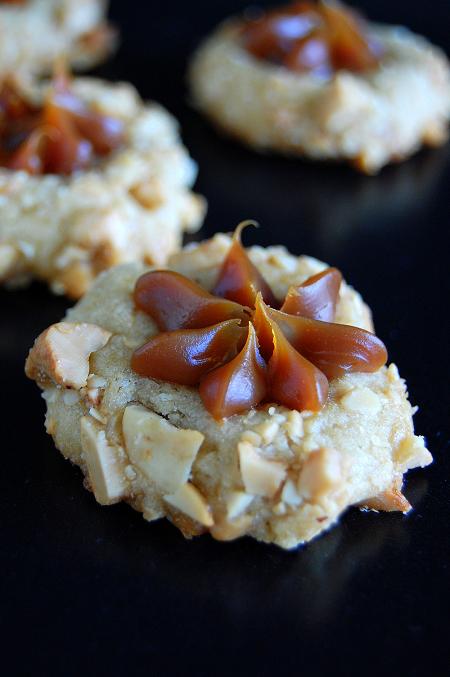 Dear Santa,
Let's face the hard cold facts.
I haven't really been all that nice this year.
And I haven't really been nice most years for that matter.
But, I'm materialistic and still want stuff.
So please, give me some stuff (preferably from Anthropolgie).
If you do, you can have one of these cookies.
Love,
Peabody
P.S. My parents are coming for Christmas this year and it will make them suspicious if you don't leave anything under the tree for me.
I would like for them to be under the illusion that I am nice and not naughty. 🙂
These were this years contribution to the cookie exchange I go to yearly.
Every year I have a little bit of pressure to come up with a great cookie.
I am a food blogger after all.
I also gave some to my physical therapy place.
Yes, that's right kids, I'm back in physical therapy.
Shocking.
These Dulce de Leche- Cashew Thumbprints were a big hit at physical therapy and seemed to be a crowd pleaser at cookie exchange as well.
The original cookies have a caramel center, but again, I pulled the lazy card.
Because honestly they idea of unwrapping all those caramels and melting them was a bit much for me.
They also originally had white chocolate drizzled on them.
I would have done that, had I had white chocolate.
But that involved a trip to the store…so again with the lazy card.
This is definitely a keeper cookie.
Want More Cookie Ideas?
White Chocolate Chip Creamsicle Cookies
Vanilla Bean Caramel Thumbprint Cookies
White Chocolate Dried Pineapple Salted Macadamia Nut Cookie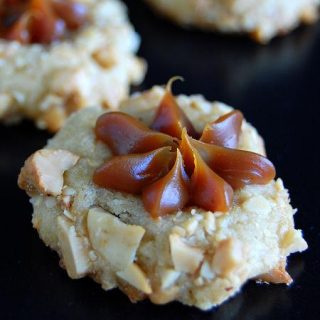 Dulce de Leche- Cashew Thumbprints
Ingredients
½ cup unsalted butter (1 stick)

2/3 cup packed light brown sugar

1 egg

½ tsp vanilla extract

¼ tsp salt

1 1/3 cups all-purpose

1 egg white

1 tsp water

1 ½ cups salted cashews, chopped
1 ½-2 cups dulce de leche (depending on how much you fill)
Instructions
Using a stand mixer with the paddle attachment or a hand mixer, cream the butter and sugar until light and fluffy, about 3 minutes.
Add egg, vanilla extract, and salt to creamed mixture. Beat on low speed until fully combined.
Add in flour, beat on low until fully combined. Wrap dough in plastic wrap and chill in the fridge for 1 hour.
Preheat oven to 350F. Line baking sheets with parchment paper.
Using a fork, beat together egg white and water in a small bowl. Place cashews in a separate bowl.
Remove dough from fridge and shape into 1-inch balls. Dip balls in egg white, allowing excess to drip off. Roll dough balls in cashews to coat.
Transfer cookies to the prepared baking sheets, spacing cookies 2-inches apart. Using a 1-tsp measure, or your thumb, make an indentation in each cookie.
Bake cookies, one sheet at a time, until the edges are set, 12-13 minutes. I like to at this time repress my thumb or tsp measure to make the indentation really big in the cookie when the cookies come out of the oven. Transfer the cookies to a cooling rack.
When cookies are cool, pipe dulce de leche into the indentations.
Leave out for Santa and hope for the best!