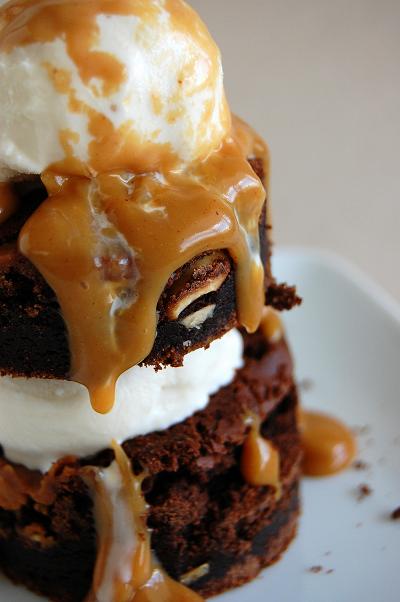 …in the United States and Newfoundland".
Though the official start to the NHL 09/10 season started on Thursday (Flames beat the Canucks 5-3, just saying) in the hearts of a lot of people, myself included, the start of the season is the first Hockey Night In Canada. And folks, would be tonight.
In order to honour our beloved HNIC,  tortured Leafs fan Ivonne (Cream Puffs in Venice), Mary (The Sour Dough), and myself (Peabody…in case you forgot) decided that we would hold a potluck. We are all foodies. And we all love hockey. I mean LOVE hockey. It's nice to have two people how not only share my adoration of food, but hockey. So a potluck just seemed right.
Now granted we live no where near each other but since we are such big fans of hockey we thought we would give it a virtual go. Mary is in charge of appetizers. Ivonne is in charge of the main course. And I, I am in charge of dessert.
Now there are two games, in case you didn't know. One at 7 pm(4pm my time) and 10pm (7pm my time). And if you are wondering, yes, kids get to stay up to watch the late game. It's just what you do. But since you are watching 6 hours of hockey (may seem a lot to you, but not really) you don't want to have to miss out on the game by making some complicated dessert. I figured the best thing to do was to make something that could be made ahead of time for the most part. I chose to make Chocolate-Peanut Butter Peanut Brownies and shape them like little pucks. I know, I'm a nerd. So be it.
They are topped with some store bought ice cream (or homemade…knock yourself out) and some Peanut Butter Dulce de Leche sauce. The sauce can be made ahead of time and reheated, but since it doesn't take any real time to make it, you can make it between games no problem. 😉 Or intermission if you just can't wait for dessert.
As usual, I am hopeful for my two teams, the Flames and the Flyers to go far this year, and for the Flames to win the Stanley Cup. They both have wins under their belts already so that is a good sign. Or so I tell myself.
Feel free to head on over to both Ivonne and Mary's to see what I will be virtually eating tonight as I watch the games. Though I must admit I will be watching the Flyers game instead of the Leaf/Caps game. But I will check in with it. But I will sure as heck be watching the battle of Alberta at 10pm! Go Flames! 
 Hockey Puck Chocolate-Peanut Butter Peanut Brownies with Peanut Butter Dulce de Leche Sauce
Chocolate-Peanut Butter Peanut Brownies
4 oz unsweetened chocolate, chopped finely
¾ cup unsalted butter
1 ½ cups granulated sugar
½ cup brown sugar, lightly packed
½ cup peanut butter (I used Jif)
3 eggs
1 tsp vanilla extract
1 ½ cups all-purpose flour
½ cup unsalted peanuts, coarsely chopped (optional)
Preheat oven to 350F.
Spray a 9-x-13-inch pan with baking spray, or butter and flour it.
Using a double boiler, melt together the unsweetened chocolate and butter. When both are melted, remove from boiler and whisk together to blend chocolate and butter fully. Whisk in brown sugar and peanut butter until fully incorporated. Set aside.
Using a stand mixer (or a large bowl and an electric hand mixer) with the whisk attachment on medium speed, whisk together the eggs and granulated sugar until eggs become pale in color, about 2 minutes.
Add the vanilla and beat for another 30 seconds.
With mixer turned off, pour chocolate/peanut butter mixture into the mixing bowl. Mix together on medium speed until chocolate/peanut butter mixture and egg mixture are fully incorporated.
Remove bowl from mixer. Add flour and stir using a wooden spoon. You could keep it in the mixer, but I find if you do this step by hand you tend not to over mix. You want to make sure the flour is fully incorporated but not over mixed. Fold in chopped peanuts if using.
Pour into prepared 9-x-13-inch pan and bake for 30-35 minutes, or until a wooden skewer or sharp knife comes out with a few fudgy crumbles stuck to it.
Cool on a wire rack. Once cool, flip brownies over onto a cutting board, carefully. Using a round cookie cutter, cut out pucks. Or if you are going to be boring and not make pucks, just cut them into squares.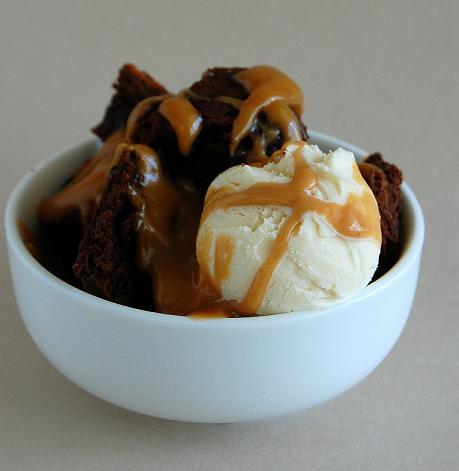 Peanut Butter Dulce de Leche Sauce:
½ cup Dulce de Leche (I bought mine, you can make yours)
1/3 cup peanut butter
¼ -1/3 cup heavy cream (depending on how thick you want your sauce)
In a small saucepan, over medium-low heat, heat together peanut butter, Dulce de Leche, and ¼ cup heavy cream, whisking the whole time until all the ingredients are fully combined and sauce is smooth. If sauce is too thick, add more cream. Heat until warm, but not hot (don't want all the ice cream to melt).
To make Hockey Puck Sundaes:
Place one hockey puck shaped brownie on plate. Add a scoop of vanilla ice cream. Add another brownie puck on top of that. Squish down a little to make a sandwich. Top again with a scoop of ice cream and top with Peanut Butter Dulce de Leche sauce.
Whatever you do, don't throw away the extra bits of brownie. Just throw that in a bowl and cover with sauce and ice cream and eat.