These Key Lime Raspberry Sandwich Cookies are mini key lime butter cookies filled with raspberry jam marshmallow filling.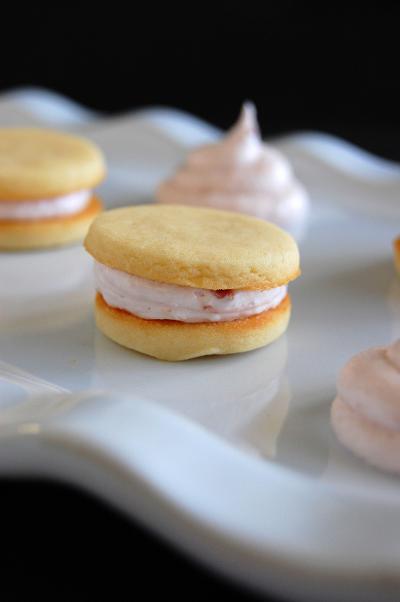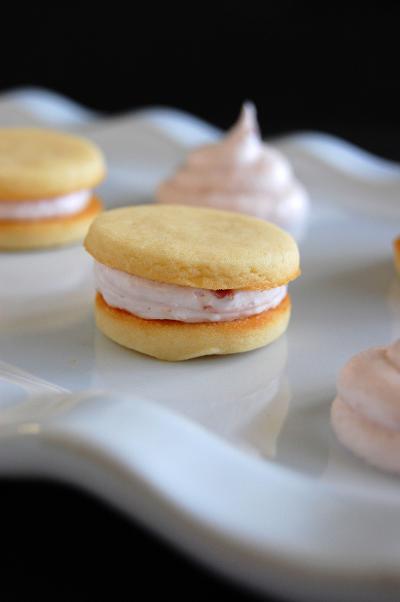 Now we all know I'm married, but if I were single (I'd probably be dating a goalie but that's beside the point) I think the the new way to tell me if a guy was really into me would be his iPod.
Let me explain.
See, I was sitting there looking at my iTunes thinking to myself that if anyone ever saw this, they would think I was crazy.
I have got some serious eclectic stuff on there.
Back in the day when I was a pubescent I really only listened to Punk and Alternative.
Which, for the most part is still true.
I would have never listened to however some of the stuff that is on there now.
Of course, back in the day I just listened to music to well, listen to music.
Now, it seems to have more purpose.
I have a cardio setting, 3 actually.
Songs on there I would not just listen to…but it gets my butt moving, and that is the important thing right?
There is background music mix for when people come over, and while I find Black Flag (Google them if you don't know who they are)soothing, the average person does not.
There is music I have on there for when my parents come so we can listen to music that I can tolerate and they enjoy, like Neil Diamond.
And then there is just the random crap.
I have a lot of random crap.
Sometimes it is because I have that song stuck in my head and can't get it out.
I find if I play it over and over again it eventually leaves my head.
The worst example of this is the Brady Bunch "Time to Change".
Yes, that crap is on my iPod (can't believe I just admitted that to blog world).
So what does this have to do with dating?
I think that if a guy bothers to show you his iPod list…the whole list, that is a good sign that he trusts in your relationship enough to open up and bear his soul.
Well, not his soul, but the weird stuff on his iPod.
Like way down at the bottom of his playlist is Beyonce's Single Ladies or something bad like that. 😉
Yes, my husband has seen my list.
He has gotten stuck hearing some of it as well.
But since his stuff is just as weird, he tends not to say much….I mean Blue Grass covering Metallica…what's up with that? 😛
So these Key Lime Raspberry Sandwich Cookies really have nothing to do with this post.
Which is random, so in a way, it does. Hmmm.
Very philosophical.
I like Key Lime.
And I like Raspberry.
I like Cookies.
There you have the ingenious ideology behind these.
This is a softer dough than some cut outs, since there is rice flour in them.
So you want to make sure that you have a cool surface to work on, and work quickly.
The marshmallow creme frosting is more for whoopie pies, but I thought it was a fun addition to these.
These cookies are versatile as well.
Instead of lime with raspberry filling you could do orange with cherry filling.
Or lemon with blueberry filling.
And so forth…you've got options is my point.
Well, I'm off to listen to Social Distortion, or the Carpenters (don't judge), you just never know.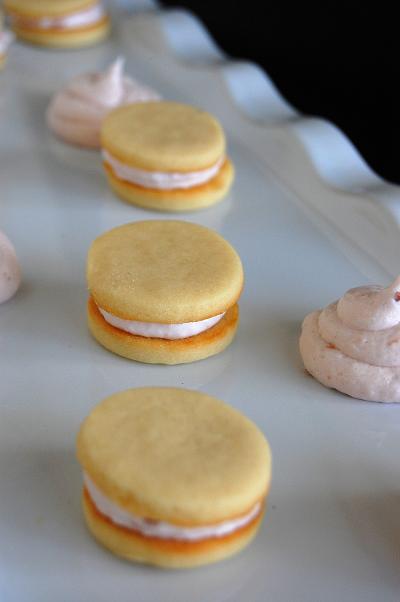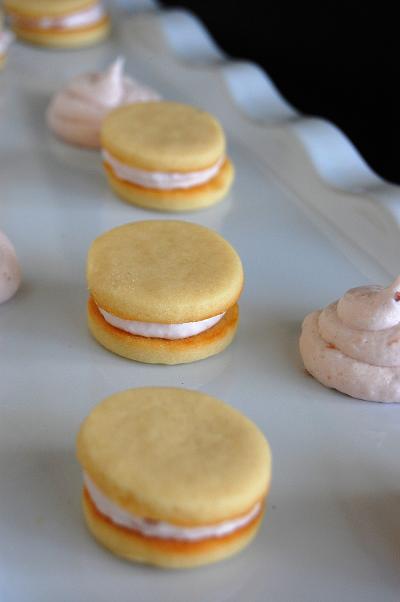 Want More Cookie Recipes?
Roll Out Shortbread Sugar Cookies
White Chocolate Chip Creamsicle Cookies
Vanilla Bean Caramel Thumbprint Cookies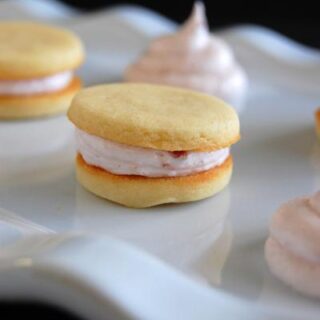 Key Lime Raspberry Sandwich Cookies
Ingredients
For the Key Lime Button Cookies:
1 ¼ cups all-purpose flour
¼ cup rice flour
1 TBSP cornstarch
¼ tsp baking powder
½ cup unsalted butter, at room temperature
½ cup powdered sugar
¼ cup packed light brown sugar
1 egg
3 TBSP key lime juice (fresh if you can get it)
For the Raspberry Jam Marshmallow Filling:
½ cup Marshmallow creme
1/3 cup powdered sugar
3 TBSP raspberry jam
¼ cup shortening (don't use butter, it's just not the same with these)
Instructions
For the Key Lime Button Cookies:
In a medium bowl, sift together the flours, cornstarch, and baking powder. Set aside.
Using a stand mixer with the paddle attachment (or a medium bowl and an electric mixer), cream together the butter and sugars on medium speed, until light and fluffy, about 3 minutes.
Add egg, and key lime juice. Beat on medium speed until fully incorporated.
Turn mixer onto low speed and add about ½ of the flour mixture. Beat until combined. Then add remaining ½ of flour mixture. Again beating until fully combined.
Divide the dough into fourths. Form each fourth into a flat disc and wrap in plastic wrap, forming it into a rectangle as best you can. Stick in fridge and chill for at least 2 hours and up to over night.
Preheat oven to 350F. Place parchment paper down on three baking sheets, or you can use baking spray instead.
Remove from fridge. Do one fourth at a time, leaving the remaining discs in the fridge while you roll the dough out.
Roll dough out to about 1/8 of an inch thick. Using a 1-inch diameter cookie cutter, cut out circles in the dough. Place on prepared pan. Cut until all the dough is gone. Take out another disc from fridge and keep cutting out cookie buttons until there is no dough left.
Bake for 6-7 minutes. Remove from oven. Let sit on cookie sheet for 5 minutes, then remove and place on wire rack to finish cooling.
You get about 40-50 mini cookies. It was hard tell, I ate some of the dough while I was making these.
For the Raspberry Jam Marshmallow Filling:
Using a stand mixer with the whisk attachment (or a medium bowl and an electric mixer), beat together the marshmallow creme, jam and shortening on medium high-speed.
Reduce speed to low and add powdered sugar.
Increase speed as you see powdered sugar getting absorbed into the marshmallow mixture. You just down want to be showered with powdered sugar. 😉
Beat until sugar is fully incorporated and you have a fluffy filling.
To Assemble the cookies:
Try to match up cookie rounds as best you can.
Take one cookie round and pipe (I find piping the easiest when they are this small) or spoon in the marshmallow filling.
Place another cookie on top to sandwich it. Repeat until they are all gone.