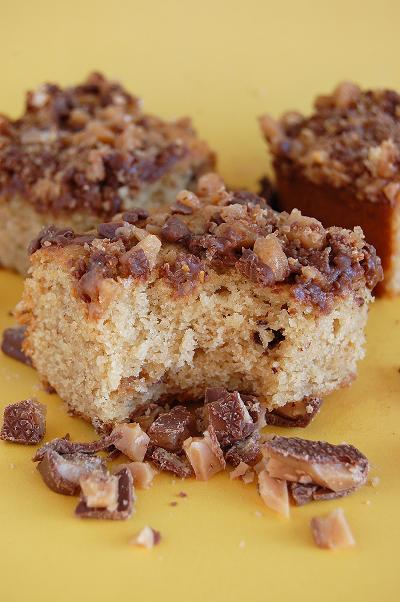 Okay, so I know what you are thinking. Boring. You see this and you are about to just keep on passing by.
But before you go, let me just say that this was so tasty that I actually threw a bunch of it out….to save myself from eating the whole pan.
So ignore the crappy lighting and the fact that there is nothing really drool-worthy about them (other than the taste) and give them a chance. Unless you don't like toffee, then these probably aren't for you.
I made these because I was really looking for an excuse to sit around and eat the extra toffee pieces…if we are being honest. 😉 Lucky for me this cake used up most of the bag (if you are in the states Heath makes milk chocolate covered toffee pieces, which is what I used). So I had portion control. I felt proud of myself. That was until I ate a piece of the cake. Then another. And so on, you see where this is going.
It got to the point where into the composting bin it went. And not just that, it got covered with Tabasco sauce, just in case I felt the need to fish it out of there. Gross, I know, but it's just touching other food, so technically, it wouldn't be that bad if I went and fished it out. I know, I know, you think I a little less of me. I'll survive. 🙂
And just one last quick note to the person who emailed me asking if I would give up using Culinary Concoctions as my food blog name so you can use it. Um. No. I'm sure there are other Culinary Concoctions blogs out there. But there is only one Culinary Concoctions by Peabody. 😉 So unless your name is Peabody, you are probably safe.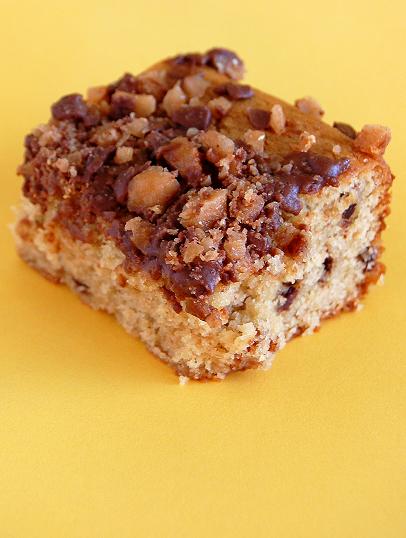 Brown Sugar Toffee Snack Cake
4 ounces unsalted butter, at room temperature
1 cup dark brown sugar, packed
1 egg
1 tsp vanilla extract
1 ¼ cup self rising flour
¼ cup sour cream
¼ cup buttermilk
1 ½ cups milk chocolate covered toffee pieces, divided
Preheat oven to 350F.
Spray a 8-x-8-inch pan with baking spray, or butter and flour it. Set aside.
Using a stand mixer, cream together the butter and brown sugar on medium speed until light and fluffy, about 3 minutes.
Add the egg and vanilla extract and beat until incorporated.
In a small bowl whisk together the buttermilk and sour cream.
Turn mixer speed to low. Starting with the flour alternate, 1/3 flour,  ½ buttermilk mixture, 1/3 flour, remaining ½ buttermilk mixture, remaining 1/3 flour.
Fold in ½ cup milk chocolate covered toffee pieces.
Pour into prepared pan and bake for 25-30 minutes. Insert a knife or wooden skewer to test for doneness.
Remove from oven. Sprinkle the remaining 1 cup chocolate covered toffee pieces on top. The chocolate should melt, that's okay, you want that.
Best if eaten the day of, as the toffee will get a little sticky. Store in an air tight container for up to 3 days.