This Pumpkin Caramel Cheesecake Turtle Bread is pumpkin bread with a cheesecake filling topped with chocolate, caramel, and pecans.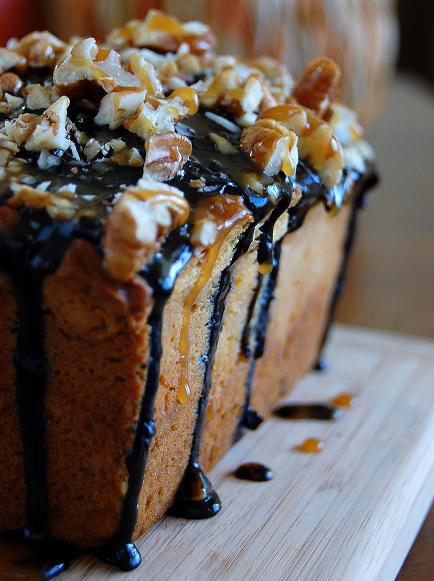 So it's football time (FYI, just October 1st starts the REAL sport of hockey 😛 ).
A couple of years ago my friend E's husband was looking for one last spot in his college football pool (psa: gambling is wrong, don't do it 😉 ).
She sent around an email asking if any of our husbands would want to do it.
I said that mine did not, but that I would want to do it.
She said sure.
So off the season went.
Now I do know somethings about college football, but truth be told, if I am not sure about the teams, I pull a total chick move and base my pick on their mascot.
Sometimes I do this even when I know the teams.
Let's take Seattle's own Washington Huskies vs the Oregon Ducks.
You are probably saying no brainer and would pick the Huskies.
I pick the Ducks.
If you are saying why surely a dog could take a duck.
If you are asking why, you clearly have never been attacked by a duck.
And I have.
Duck wins.
So in using this fool proof system, I won that year.
When I met up with them to claim my prize, they were in shock that a girl showed up.
Apparently, they thought Peabody was a man, and E hadn't bothered to tell them otherwise.
Well, those sore losers gave me my prize money, but then also told me that they wouldn't be having me back next year.
Well, E must have had a come to Jesus talk with her husband as the next year miraculously I was invited back.
I won that year too. 😛
I'm doing well so far this year.
I was the only one in the group this weekend to choose the Huskies over the Trojans.
Duh, everyone knows a dog can total beat a condom. 😛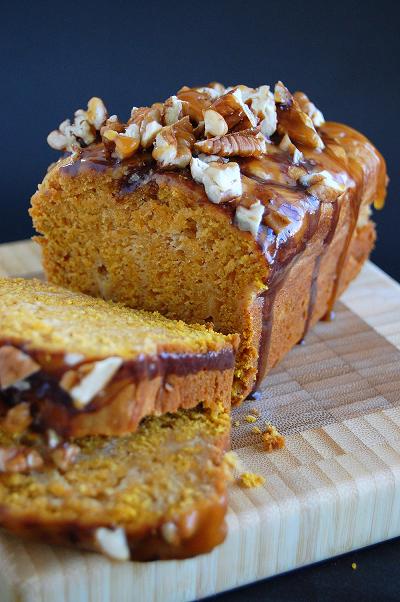 But really what is it about guys being beat by a girl?
They are already starting in about the fact that I can't possibly win 3 years in a row.
Why not?
Threepeat baby!
And though I participate in these pools, I don't really care about the games.
So when they are on, I am usually off looking for an excuse to do something else. Bake.
I chose to update a bread I made a while back that was pretty popular, a pumpkin spice bread with a maple cheesecake layer.
This time I tried to make it even more decadent.
Pumpkin Caramel Cheesecake Turtle Bread.
Pumpkin bread with a layer of caramel cheesecake topped with chocolate glaze, caramel sauce, and pecans.
Yeah, I know, yum.
This is a pretty easy recipe to make.
I choose to make mine in mini loaves so I can freeze them.
If you go that route, I would not glaze them until after you unfreeze them.
And speaking of glazing them, if you do go and put caramel sauce on them, you are going to want to eat it that day.
Hey, they are mini loaves, that's not that hard to do.
Heck, that's breakfast at my house. 🙂
And last but not least, it's a great day to order my cookbook.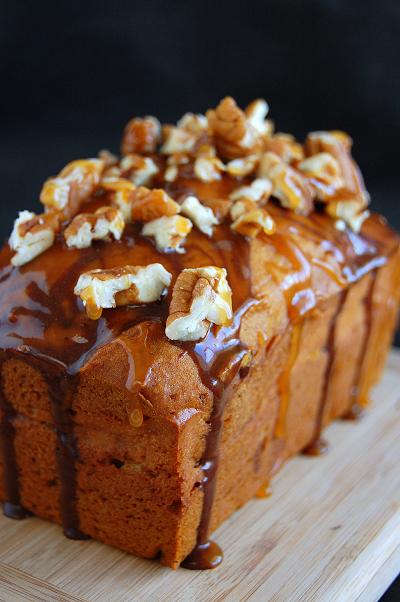 Want More Pumpkin Recipes?
Chocolate Cinnamon Frosted Pumpkin Cupcakes
Mini Pumpkin Toffee Bundt Cake
Pumpkin Spice Latte Russian Tea Cake Cookies
Salted Caramel Frosted Pumpkin Cupcakes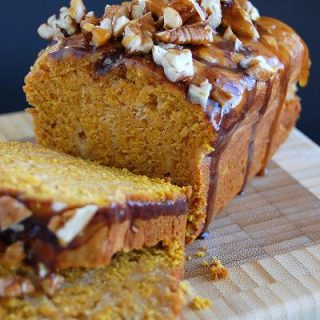 Pumpkin Caramel Cheesecake Turtle Bread
Ingredients
For the Pumpkin Bread:
2 cups all-purpose flour
1 tsp baking soda
½ tsp baking powder
pinch of salt
1 cup pumpkin puree(plain, not the already made pumpkin pie kind)
1 tsp vanilla extract
½ cup canola oil
2 large eggs
¾ cup granulated sugar
¾ cup light brown sugar, loosely packed
For the Caramel Cheesecake Filling:
8 oz cream cheese, at room temperature
¼ cup brown sugar, tightly packed
2 TBSP Lyle's Golden Syrup
2 TBSP Caramel Sauce (store bought or homemade)
1 TBSP all-purpose flour
1 large egg
For the Chocolate Glaze:
1 cup powdered sugar, sifted
¼ cup dark unsweetened cocoa powder, sifted
2-4 TBSP milk (depending on how thick you want your glaze)
Caramel Sauce (store bought or homemade)
1 cup pecans, roughly chopped
Instructions
For the Pumpkin Bread:
Preheat oven to 325F.
Lightly grease and flour three mini loaf pans (3 ½ -x- 5 inch).
For the Caramel Cheesecake Layer:
Using a stand mixer (or a medium bowl and electric beaters) with the paddle attachment, beat together the cream cheese, sugar, syrup and caramel sauce for about 3 minutes. Scrape down the sides of the bowl.
Add egg and beat for another minute.
Scrape down the sides and bottom of bowl and add flour.
Beat flour into mixture until fully incorporated. If using stand mixer, transfer cheesecake filling to a separate bowl. Set aside. If using the stand mixer, clean and dry the bowl to use again.
In another bowl, sift together flour, baking soda, baking powder, and salt; set aside.
Using a stand mixer (or a medium bowl and electric beaters) with the paddle attachment, place pumpkin puree, vegetable oil, eggs, vanilla, and sugars into the bowl and beat for about 1 minute.Add flour mixture into the pumpkin mixture and mix just until combined. This is a quick bread so you don't want to over mix.
Pour half of the pumpkin bread batter evenly into the three prepared loaf pans (I find it best to use an ice cream scoop. I like to use 2 scoops for the bottom). Spread the batter out evenly.
Spoon cheesecake mixture on top of pumpkin batter layer, a little less than 2/3 of a cup.
Scoop the remaining batter on top of the cheesecake layer, again about 2 ice cream scoops worth.
If you don't want to bother with the layering you can just spoon some pumpkin batter, then cheesecake, then pumpkin batter again and use a knife to make swirls in the bread. Tastes just as good. 😉
Bake for 50 to 60 minutes, or until a wooden skewer inserted into center of the loaf comes out clean.
Cool bread in pans for 10 minutes.
Remove bread from pans and place on a wire rack to cool completely.
Let breads cool completely before glazing.
For the Chocolate Glaze:
Using a small bowl, whisk together the powdered sugar, cocoa powder and 2 TBSP of milk until smooth and glossy.
If you want a thinner glaze add more milk, 1 TBSP at a time.
Pour chocolate glaze over breads, about 1/3 cup each. Sprinkle pecans on top of the glaze. Followed by extra caramel sauce if desired (but really, why wouldn't you want it 😛 ).