This Honey Pumpkin Meringue Tart is a more modern take on the classic pumpkin pie. Elevate your dessert table with these tarts.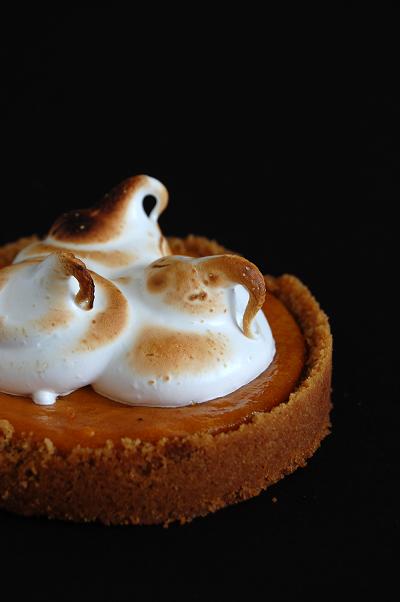 Planes, Trains and Automobiles was one of John Hughes non-teenage based movies.
Two men stuck together trying to get home for the Thanksgiving Day holiday.
Because I am extra lazy today….here is the plot from Wikipedia.
"Steve Martin plays the tightly wound Neal Page, a bundle-of-nerves advertising executive.
John Candy portrays the innocent and well-meaning, but accident-prone and somewhat feckless, Del Griffith (Director of Sales, American Light and Fixture, Shower Curtain Ring Division), a shower curtain ring salesman who seems to live in a world governed by a different set of rules from those governing Neal Page's marketing life.
The movie follows the story of Neal Page as he tries to return to his family for Thanksgiving in Chicago after being on a business trip in New York.
The journey is doomed from the outset, with Del Griffith interfering by inadvertently snatching the taxi cab that Page had hailed for himself. The two inevitably pair up later and begin an absurdly error-prone adventure to help Page get back to his home. Their flight from JFK Airport to O'Hare is diverted to Wichita due to a blizzard in Chicago, which ends up dissipating only a few hours after touchdown in Kansas. When every mode of transport (including a train and a rental car) fails them, what should have been a 1 hour and 45 minute New York-to-Chicago flight turns into a three-day adventure.
Neal frequently blows up at Del, blaming him for much of their misfortunes. Del in turn regards Neal as pretentious and uptight, while Del is less afraid to be himself. After much heated argument between the two men, a bond between them forms, and Neal finally manages to overcome his self-centeredness and both men pull together to finally make their way home.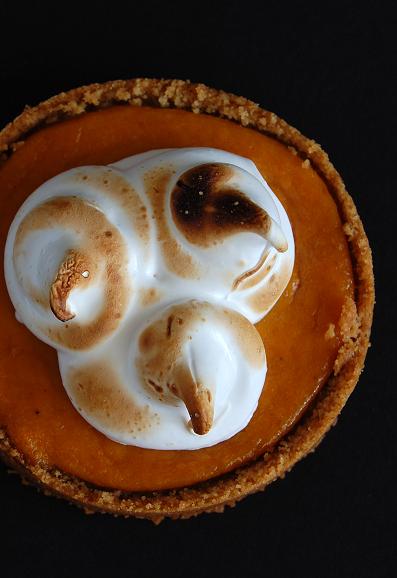 Under the assumption that Del has a wife and family of his own (he frequently mentions his wife Marie and puts a framed picture of her on his various motel nightstands), Neal is taken aback when he later pieces together things Del said to realize that Del is alone. He goes back to the train station where he had left Del and sees Del sitting alone, inside an empty station, after they finally make it back to Chicago. Del tells Neal that Marie actually died eight years ago and that he's been homeless ever since. The bond between the two men strengthens further when Neal invites him into his home for Thanksgiving."
It's a very funny movie and sweet at the same time…well, at the end.
My favorite moment is when they are driving their car that has been burnt to a crisp (one of the many mishaps along the way).

They get pulled over and the officer asks them if they "feel this car is safe for highway travel?"
They reply yes.
The officer disagreed.
My parents used to give me crap about my one car.
It had been hit several times by various people, the last was when a semi truck back up over the front of it.
But it still drove.
However, my parents always joked and used that line on me. 🙂
Since the whole idea of the movie was to get back to Chicago in time for Thanksgiving dinner, I thought making a more Fall/Thanksgiving dessert was in order.
I didn't want to do the traditional pumpkin pie, so there are no pumpkin pie spices in this. Just honey.
Which that flavor comes through nicely in this Honey Pumpkin Meringue Tart.
I really, really LOVED this.
The flavors were so yummy.
It made me want Fall to be here even more.
It's a great day to buy my cookbook!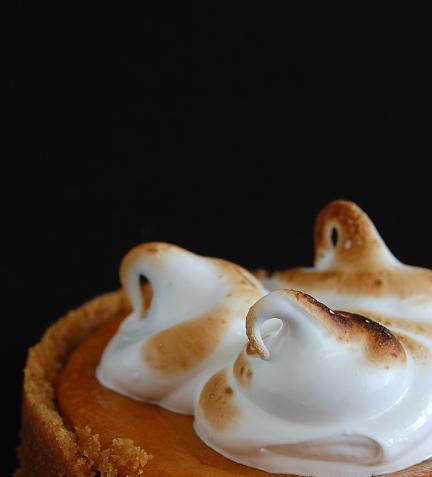 Want More Pumpkin Recipes?
Butter Toffee Pecan Crumb Pumpkin Pie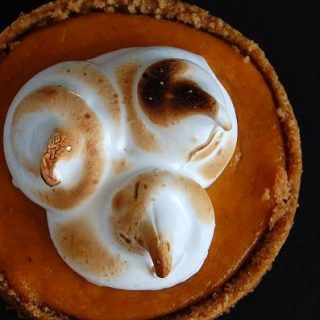 Honey Pumpkin Meringue Tart
Ingredients
Brown Butter Graham Cracker Crust:
1 ¾ cups crushed graham cracker crumbs
1/3 cup powdered sugar
7-8 TBSP brown butter
1/8 tsp. saltHoney-Pumpkin Mixture:
2 cups canned pumpkin (make sure it is not pumpkin pie mixture)
3 ounces brown butter
1 TBSP vanilla extract
1 ¼ cups heavy whipping cream
14 ounces (1 can) sweetened condensed milk
1/3 cup honey
5 eggs
dash of salt
Meringue:
5 egg whites, at room temperature
1 ½ cups sugar
Instructions
For the Crust:
In a large bowl add the graham cracker crumbs, powdered sugar, and salt.
Add about 7 TBSP melted butter.
Mix until combined.
If it seems like it needs more butter add the remaining TBSP (mine took the full 8 TBSP).
Pour contents into a tart or pie pan and press to form a shell.
Bake crust for 15 minutes at 325F.
For the Honey Pumpkin Tart:
Using a mixer or food processor mix together the pumpkin, butter, vanilla extract, whipping cream, honey, salt, and condensed milk.
Mix until completely incorporated.
Add eggs one at a time.
Scrape down bowl after each addition.
Pour pumpkin mixture to just before the top of the tart shell.
Bake at 325F for 12 minutes.
Rotate pan.
Bake another 10-12 minutes.
You want it to be set but not brown on top.
Remove from oven and place on a wire rack to cool.
Let tarts cool completely.
You can refrigerate them at this point but don't put the meringue on until you are about to serve.
For the Meringue:
Set a large, perfectly clean metal bowl over a pot of simmering water.
Pour in the egg white and sugar. Heat the egg whites and sugar while whisking constantly until the sugar melts and there are no visible grains in the meringue.
Take a little meringue mixture and rub it between your fingers to make sure all sugar grains have melted.
Remove the meringue from over the simmering water and whip it with a mixer fitted with a whisk attachment on low speed for 5 minutes; increase the speed to high and beat 5 minutes longer, until the meringue is stiff and shiny.
Top tarts with spoonfuls (or pipe) meringue onto the baked tart.
Caramelize with a blow torch and serve immediately.