Pumpkin Creme Brûlée Tartlets with Chocolate Ginger Crust: Pumpkin Creme Brûlée baked inside a spicy Chocolate Ginger Tart all topped with superfine sugar and torched. A fun alternative for T-day.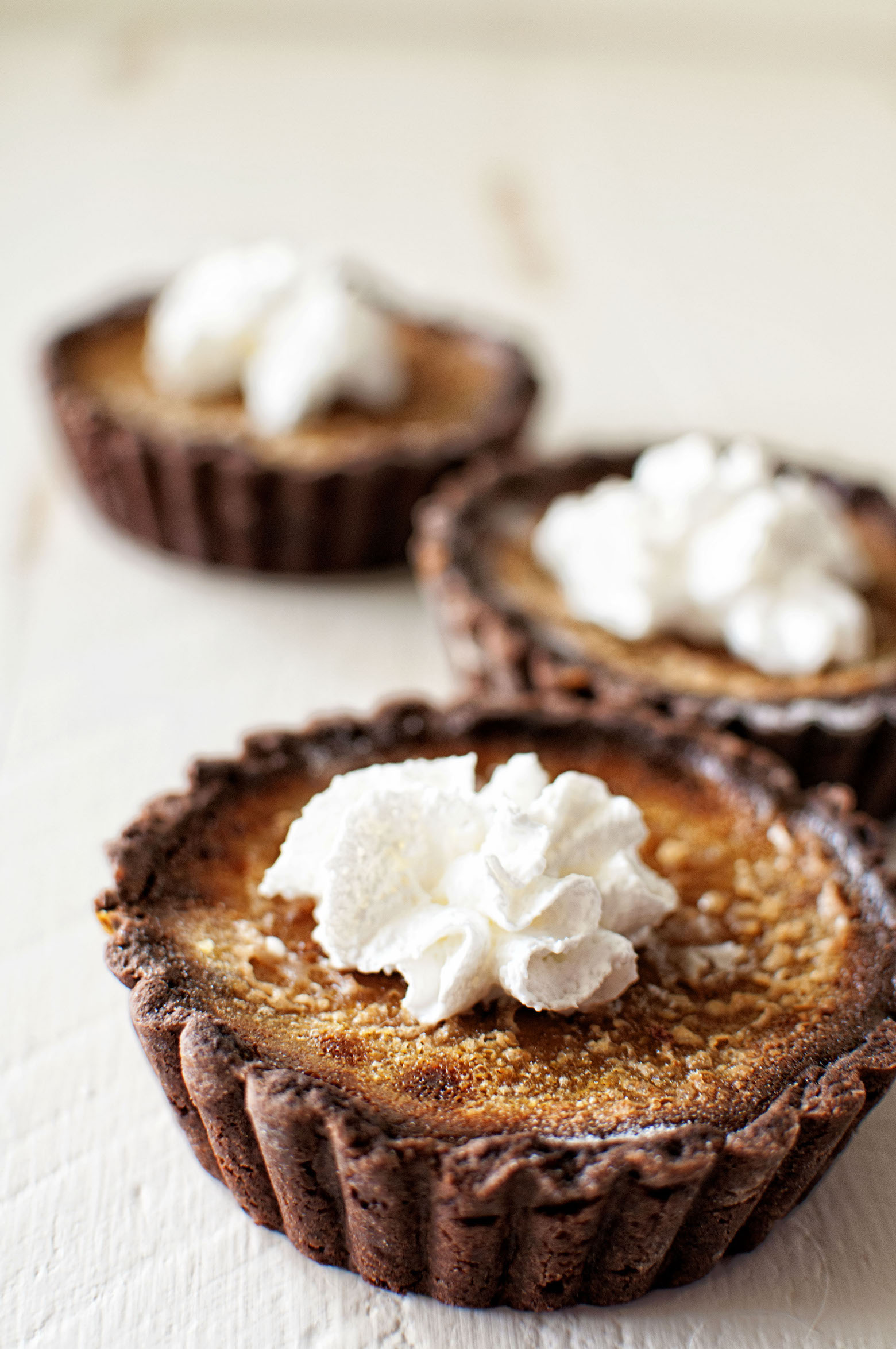 It's Thanksgiving tomorrow. And in typical fashion the only thing I have done is the dessert. 🙂
I haven't even looked for a turkey. Last year we had to get a breast only and I have a feeling it will be the same again this year.
Or who knows maybe it will be smoked brisket this year. Or if we get too lazy maybe even Chinese food.
But again. at least we have dessert. 🙂
Most Canadians tend to actually celebrate today but today we wanted to go to the pumpkin patch.
It's the one year anniversary of our Holly's death. She had only gone to the pumpkin patch twice but both times she loved it.
The pumpkin patch was on her bucket list last year and it ended up being her last hurrah so to speak.
So we thought it fitting to go to the patch and remember the fun times with her instead of dwelling on her being gone.
We had a fun time and really appreciate that the patch allows and encourages people to bring their dogs.
It's funny because I live two minutes from a pumpkin patch and another 5-10 minutes away from about 8 more. But we drive 30 minutes north to go to this patch just because they allow dogs.
The dogs mostly just tromp around and smell all the cool smells they have never smelled before.
Then they go home and sleep for the rest of the day. Being a dog is exhausting.
On to the food.
These tartlets taste great but don't look nearly as pretty as I wanted.
Turns out that my culinary torch is in one of the boxes we haven't unpacked yet. At least I hope it is or else I am having to buy a new one.
Because I could not find the torch I had to put it under the broiler which does not burn the sugar evenly like a torch does and it also cooked the tartlets more. So I really suggest you get a torch.
These are a fun alternative to pumpkin pie and if you are only serving 6 people or less for Thanksgiving this is a great dessert.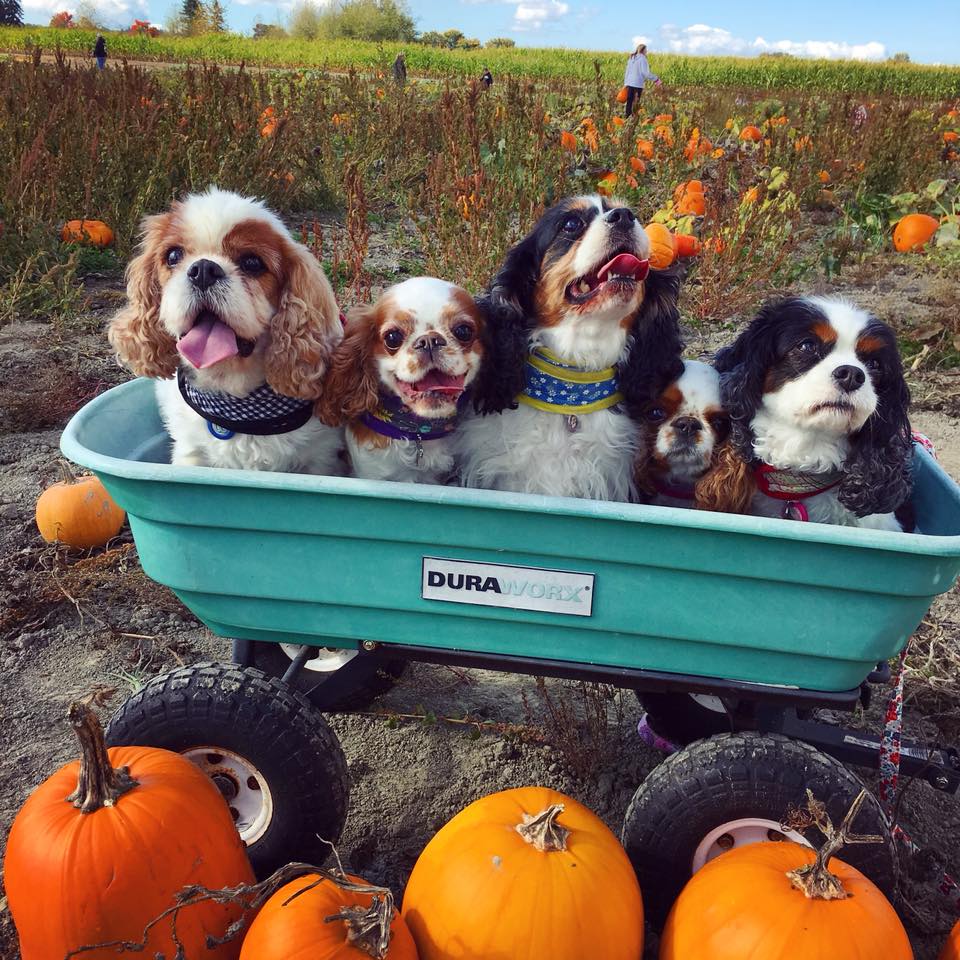 Pumpkin Creme Brûlée Tartlets with Chocolate Ginger Crust 
For the Dough:
1 1/4 cup all-purpose flour
1 1/4 cup powdered sugar
1/4 cup unsweetened cocoa powder
1/2 tsp. ground ginger
1/2 tsp. salt
8 TBSP unsalted butter, cold
2 egg yolks
2 TBSP water
For the Filling:
1/2 cup granulated sugar
1 tsp. pumpkin pie spice
1/8 tsp. salt
5 egg yolks
1 1/2 cups heavy cream
1 cup pumpkin puree
For the topping:
9 tsp. superfine sugar
For the Dough:
Place flour, powdered sugar, cocoa powder, ginger, and salt into a food processor.
Add butter and pulse until mix is pea size.
Add the eggs and water and pulse until dough forms around the blade.
Shape dough into a disc, wrap in plastic wrap, and chill for at least 30 minutes up to 12 hours
Divide dough into 6 equal pieces.
Roll out dough out on a floured surface to 1/8 inch thick (do your best).
Press dough into 10cm quiche pans and trim.
Freeze shells for 15 minutes.
Preheat oven to 325F.
Line each shell with parchment paper and place pie weights or dried beans in each.
Bake shells on a baking sheet for 15 minutes.
Remove parchment and weights and place shells back into oven for another 12 minutes.
Cool completely while you make filling.
For the Filling:
In a small bowl combine the granulated sugar, spice, and salt. Set aside.
In a medium bowl, whisk egg yolks.
Add 1/2 the sugar mixture to the egg yolks and whisk until combined.
In a small saucepan, add the pumpkin, heavy cream, and remaining sugar mixture.
Heat over medium-low until mixture starts to boil.
Remove from heat and slowly drizzle cream mixture into yolk mixture.
Strain.
Divide custard among the 6 prepared shells.
Bake 25 minutes until the centers are barely set.
Let cool to room temperature. 
Cover surface of tartlets with plastic wrap and refrigerate for 4 hours.
For the top:
Spread 1 1/2 tsp. of superfine sugar evenly on top of chilled tartlets.
Use a torch and caramelize top. If you are like me and recently moved and cannot find your torch you can use the broiler. It will crisp your tart dough more if you do this.
Serve with whipped cream.