These Gingerbread Pumpkin Bars have a gingerbread cookie base, with pumpkin cream cheese filling, topped with gingerbread crumb and icing.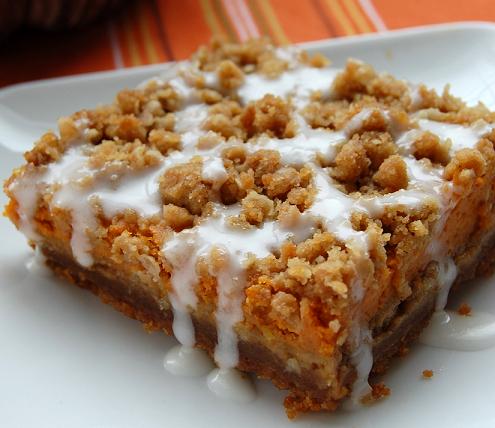 First off let me just say how sorry I am that I haven't really been able to get around and read other people's blogs.
I have been decent about getting stuff up of my own, but bad about getting to others.
Sorry to say it will probably be that way for a couple more weeks.
I also seem to be missing all sorts of blogging events…sigh. 🙁
One of the ones I missed that I thought was neat was to make a recipe that came from someone else's blog.
There could have been a ton that I chose but the other day I was on Culinary in the Desert and found Gingerbread Pumpkin Bars.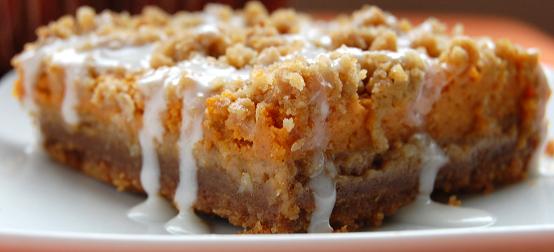 Boy did those sound like something I needed.
And once you make them. you will realize you needed them too.
The bars come with a glaze but I made most of mine without it and like them both ways.
I really loved the gingerbread base that is used in these bars.
It was really buttery, but considering the fact that the recipe came from Land O' Lakes butter, I guess I should not be surprised.
When I make these again I will probably toss in a little candied ginger into the base for a little kick.
These bars are a great way to welcome the Fall season in to your home.
Hope you all have a great week, I am off to pack more boxes!!!
P.S. It's a great day to buy my cookbook.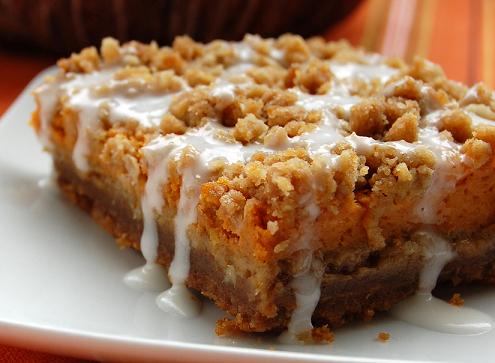 Want More Pumpkin Recipes? Try these:
Brown Butter Pumpkin Pie Layer Cake
Salted Caramel Frosted Pumpkin Cupcakes
Apple Cider Whiskey Glazed Pumpkin Pull Apart Bread
Gingerbread Pumpkin Bars
Ingredients
For the Base:
2 1/4 cups all-purpose flour
1 1/2 teaspoons baking soda
1/2 teaspoon salt
1/2 teaspoon cinnamon
1/4 teaspoon ground ginger
1/4 teaspoon fresh grated nutmeg
1/8 teaspoon ground cloves
16 tablespoons unsalted butter, softened
1 1/2 cups granulated sugar
1/4 cup molasses
1/3 cup rolled quick oats
For the Filling:
6 ounces cream cheese, softened
1 3/4 cups mashed pumpkin
1/2 cup granulated sugar
1 teaspoon vanilla
1/2 teaspoon cinnamon
1/4 teaspoon ground ginger
1/4 teaspoon fresh grated nutmeg
1/8 teaspoon ground cloves
2 large eggs
For the Glaze:
1 cup powdered sugar
1 tablespoon butter, softened
1/4 teaspoon vanilla
1 to 2 tablespoons milk
Instructions
Preheat oven to 350
To make the base:
In a medium bowl, whisk together flour, baking soda, salt, cinnamon, ginger, nutmeg and cloves.
In a large mixing bowl, beat together butter, sugar and molasses until creamy.
Add dry ingredients and mix just until combined.
Reserve 3/4 cup of this mixture and place in a small bowl.
Scoop the remaining mixture into a 10″ x 15″ baking pan lightly coated with nonstick spray.
Add the oats to the reserved mixture and mix until combined – set aside.
To make the filling:
In a large mixing bowl, beat cream cheese until smooth.
Add pumpkin, sugar, vanilla, cinnamon, ginger, nutmeg and cloves – mix until well combined.
Add the eggs, one at a time, mixing just until combined.
Scoop the mixture over the uncooked base and use an offset spatula to evenly spread the mixture over the top.
Crumble reserved oat mixture over filling.
Bake until the topping is a golden brown, about 25-30 minutes.
Remove and place on a wire rack to cool completely.
To make the Glaze:
In a small bowl, mix together powdered sugar, butter, and vanilla.
Mix in just enough milk until the mixture will easily flow from a spoon – drizzle over cooled bars.