This Pumpkin Cookie Butter Pie is a traditional pumpkin pie with a swirl of cookie butter all throughout it for a little something extra.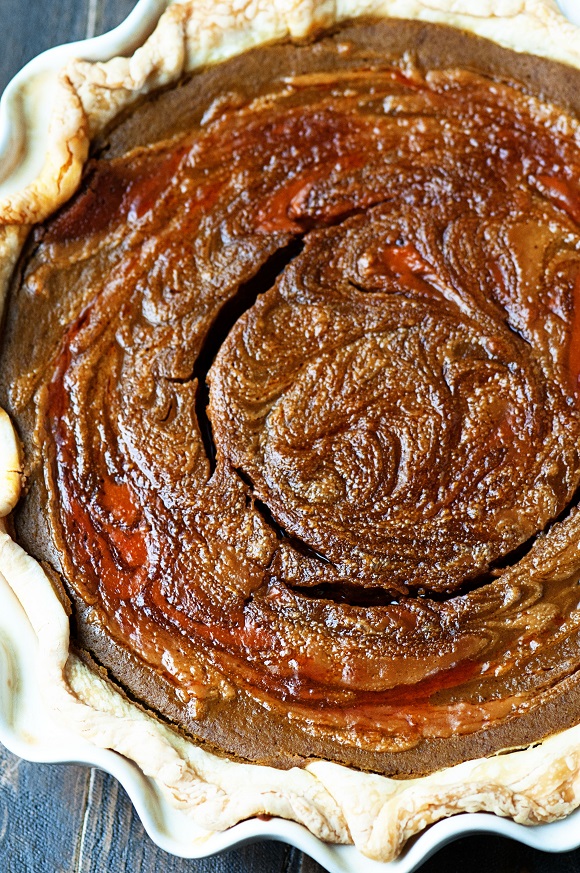 The hubs loves his deep fryer so when Kita (Girl Carnivore) said hey, any interest in trying out the Char-broil The Big Easy Oil-less Turkey Fryer , I immediately said yes.
He really became fascinated when I told him no oil, that it was all infrared.
We both were curious to see if it would really "fry" our turkey.
Oh, yeah, we chose to do a turkey (we didn't have to there are lots of other things you can do with it).
Number one, because believe it or not I've never cooked a turkey!
My ex-husband was not big on them and we went to The Herbfarm every year for dinner.
Before that as a single person I wasn't making a full on T-day meal, and now we go to my parents every year.
I've made just about every side and dessert, but never the turkey.
Second, we wanted to try it out for my parents.
My mom and dad come this year for Christmas.
My mother drags her turkey roaster with her in the car.
I wanted her not to have to do this.
Third, the dogs.
Yes, the dogs.
They like turkey.
So we went simple.
Hubs just rubbed a little peanut oil (you could do olive oil…it's just what we had) on the outside of the bird and some salt and pepper.
That was it.
So what did we think?
First off super easy to put together.
We forced the teen to put it together.
Easy, peasy.
Look at how cruel we are forcing him to work for free. 😀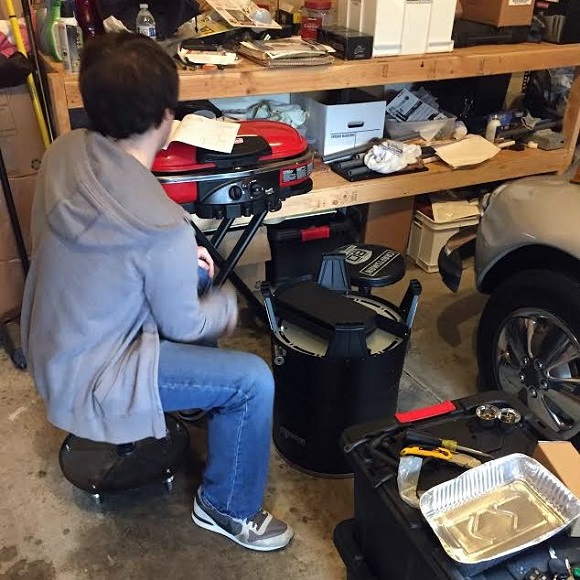 Second, it fries up in hardly any time! It will hold up to a 16 pound turkey, and we ended up getting a 15.7 pound turkey so we were almost at max.
Ours took 2 hours and 45 minutes to make.
No getting up early, we put ours in at 11am!
And as you can see it came out beautiful!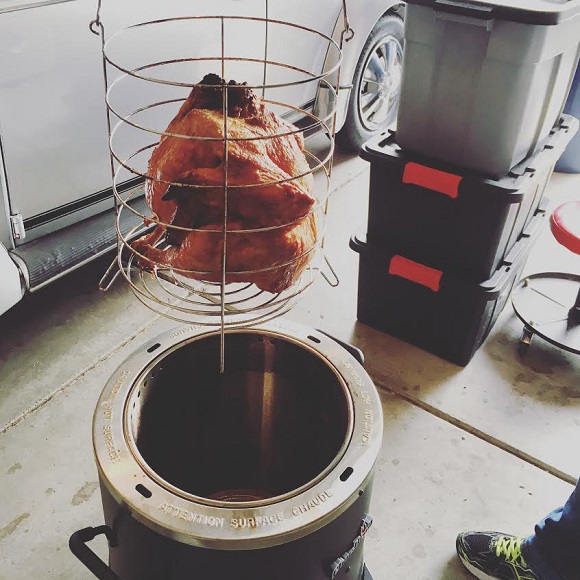 As you can see below it really does make for a crispy skin and also clearly our turkey played basketball before meeting his fate #legsfordays. 🙂
It was super moist and juicy.
That was with no brining, not stuffing it with anything, just plain!
So I told my mom no worries about dragging the roaster this time that we will cook the turkey this year.
She was pretty happy about that.
Of course, when I posted about it on FB the number one question is how easy was it to clean?
Beyond easy.
We emptied the tray (which had an aluminum tray that caught all the drippings for gravy).
You continue to let it burn for about 15 minutes, and then turn it off.
If there are any bits (we didn't have any) you can use a grill brush after it cools.
We cleaned the cooking grates which took like a minute.
So yeah, we are in love with this.
So much so that hubby wants the Big Easy Smoker.
And I went out and bought him the attachments for it that you can make ribs and kabobs with.
We want to try a Prime Rib with it for NYE.
If you want learn more about The Big Easy Turkey Deep Fryer you can watch this little You Tube video.

Since Char-Broil had quite a few of us bloggers all trying this out they decided our recipe didn't have to be for turkey but something we would have at Thanksgiving.
So pie.
Not just any pie.
Pumpkin Cookie Butter Pie.
Pumpkin Pie that has a Cookie Butter Swirl.
It's so good.
This is an easy pie to make.
I included the nice photo of the pie fresh out of the oven because mine did split after it was in the fridge for quite some time…which I had to do because it was sooo dark I wanted to wait for light .
Never got it the light…thanks PNW.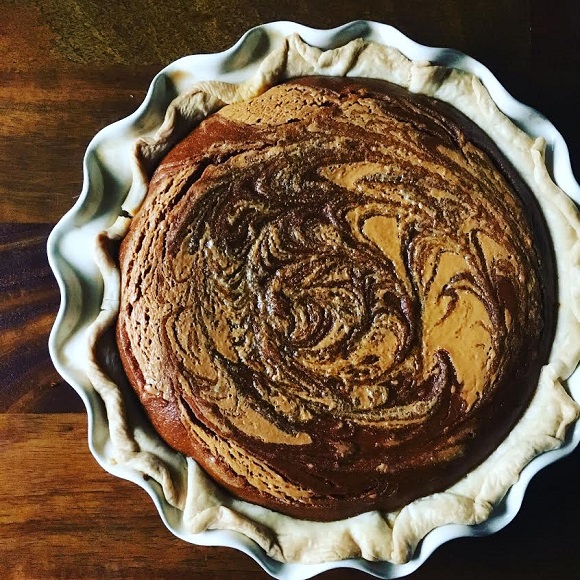 Char-Broil did send me a Char-Broil The Big Easy TRU-Infrared Oil-less Turkey Fryer and gave me a gift card to cover expenses of making the turkey and pie.
The opinions, bad grammar, and overuse of smiley faces are all mine.
Thanks for supporting companies that support me.
P.S. It's a great day to buy my cookbook.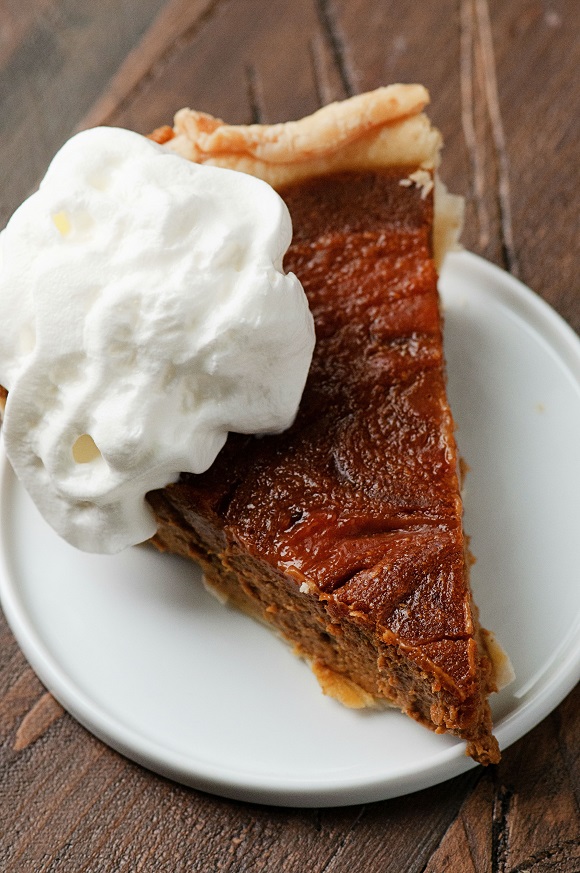 Want More Pumpkin Recipes?
Pumpkin Creme Brûlée Tartlets with Chocolate Ginger Crust
White Chocolate-Pumpkin Topped Blondies
Pumpkin Pecan Pie Gingerbread Bars
Brown Butter Pumpkin Pie Layer Cake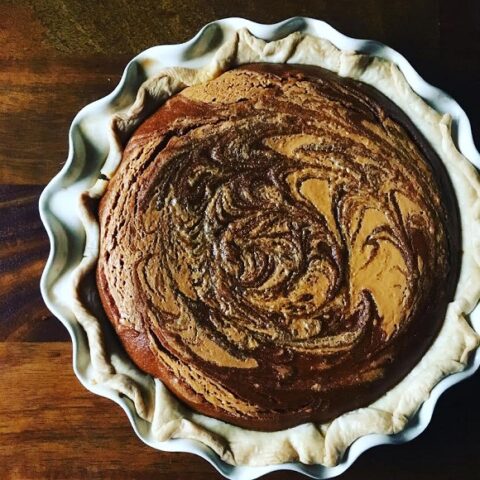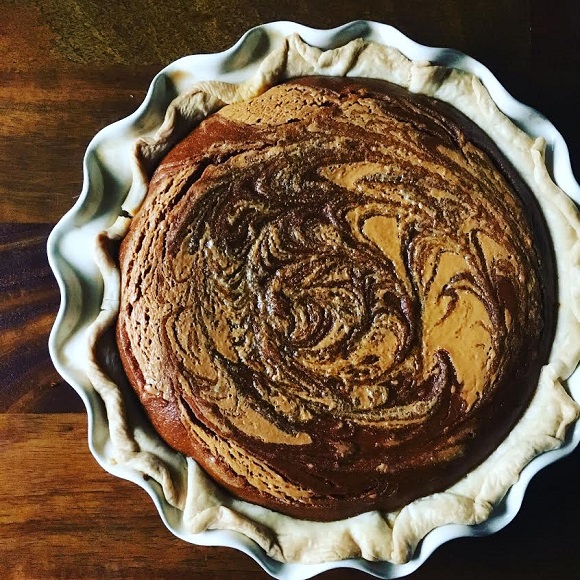 Pumpkin Cookie Butter Pie
Ingredients
1 refrigerated pie crust
3/4 cup granulated sugar
1 teaspoon ground cinnamon
1/2 teaspoon salt
1/2 teaspoon ground ginger
1/4 teaspoon ground cloves
2 large eggs
1 can (15 oz.) 100% Pure Pumpkin
1 can (12 fl. oz.) Evaporated Milk
1/2 cup Cookie Butter, warmed so that it's a little runny
Instructions
Preheat oven to 425F.
Mix sugar, cinnamon, salt, ginger and cloves in small bowl.
Beat eggs in large bowl.Stir in pumpkin and sugar-spice mixture.
Gradually whisk in evaporated milk.
Pour into pie shell.
Drop spoonfuls of warmed Pumpkin Cookie Butter onto pie, swirling gently with a knife. Do not swirl too much, just lightly.
Bake in preheated 425° F oven for 15 minutes.
Reduce temperature to 350° F;
Bake for 40 to 50 minutes or until knife inserted near center comes out clean.
Cool on wire rack for 2 hours.
Serve immediately or refrigerate.