This Chocolate Hazelnut Cheesecake has a hazelnut cookie crust, vanilla and chocolate hazelnut layers, and is covered in a chocolate glaze.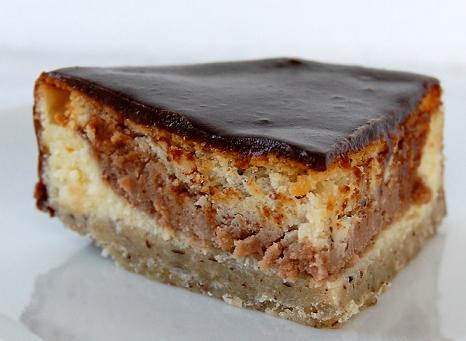 As we all know, I am not a graceful person.
And yet I still for some reason think I am.
I watch shows like Dancing with the Stars and think, I want to do that.
Assuming somehow I will magically obtain grace and rhythm.
Right before my ankle injury two years ago I was all set to take Latin dance classes at a dance studio. Bad ankle and dancing did not mix and so that never happened.
A while back my gym started offering Zumba class.
It's a Latin dance based cardio class.
I thought, what the heck.
If ever there was a weekly reminder that I am a white chic with absolutely no rhythm, this is my class.
But I love it so.
I'm too busy being lost to realize that an hour has gone by and I have burned 700 plus calories to boot.
The class has a range of people in it, all shapes and sizes.
It is fairly low impact so us fatties and the elderly can do it to…just go at your own pace.
Most of us don't really look like we know what we are doing.
I mean, sure, you learn the routine and you can do the routine, but we don't really look like dancers.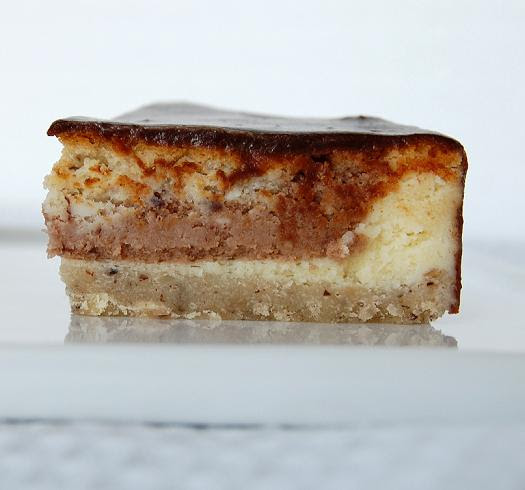 And then there is her.
I stand there in my oversized t-shirt, baggy pants, ankle brace, sweaty hair matted to the side of my beet red face clumsily waving my arms usually in the opposite direction that the rest of the class is going.
She is in some matching outfit.
No hair is out of place.
I'm not sure she is sweating.
And she glides.
Glides with such grace.
When I look back at her she always gives me that half smirk, half smile and I give her a thumbs up.
Usually…though really, I have a different finger in mind for her.
She is just lucky I am too busy keeping up with the class to plot any sort of accident to happen to her. 😉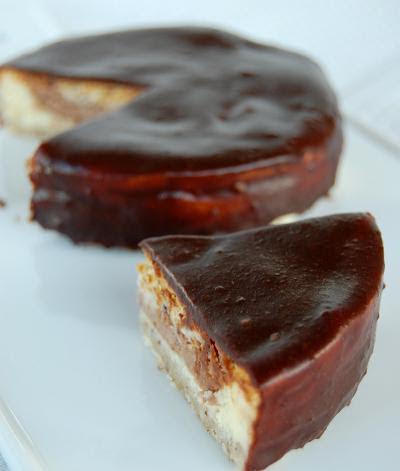 I have learned the key to looking decent in the class though. I stand next to the 60 plus year old man.
My hip shaking isn't that bad next to him.
Though what is hard is to hold in my laughter when Beyonce's Single Girls song comes on.
Watching him actually put his hands up to "all the single ladies put your hands up" or attempting to swirl his hips to "if you liked it then you should have put a ring on it."
But you know what, good for him. I hope when I am his age I can still look just as un-graceful as I do now in cardio dance class.
The good news is that since it burns so many calories that I can come home and eat a HUGE piece of this Chocolate Hazelnut Cheesecake.
It's a great day to buy my cookbook Holy Sweet!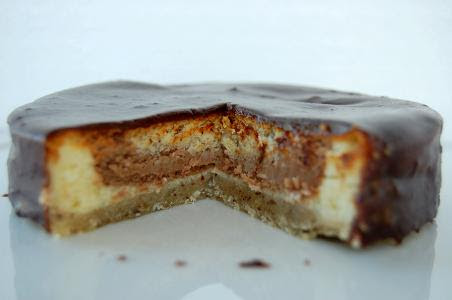 Want more Cheesecake Recipes?
Fireball Sour Cream Topped Brown Sugar Cheesecake
Savory Everything Bagel Cheesecake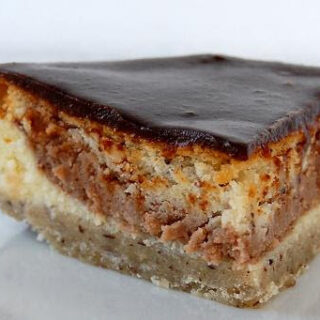 Chocolate Hazelnut Cheesecake
Ingredients
For the Hazelnut Cookie Crust:
12 oz unsalted butter, at room temperature
1 ¾ cups powdered sugar
1 egg
2 cups all-purpose flour
1 cup cornstarch
2 cups hazelnut flour
For the Cheesecake Filling:
2 ½ pounds cream cheese, at room temperature
2 ½ cups granulated sugar
2 TBSP all-purpose flour
1/3 cup hazelnut flour
5 eggs
1 tsp vanilla extract
2 tsp Frangelico
¼ cup Nutella
2 TBSP unsweetened cocoa powder
For the Chocolate Glaze:
6 ounces bittersweet chocolate, finely chopped
2/3 cup heavy whipping cream
1 tsp vanilla extract
Instructions
For the Hazelnut Cookie Crust:
Cream the butter with the sugar until light.
Add in the egg and mix well.
Mix together the flour and cornstarch.
Add this to the creamed mixture and blend.
Mix in the nuts thoroughly.Form the dough into a bowl and wrap in plastic.
Chill for about 4 hours.
Preheat oven to 350F.
Using a 10-inch springform pan or four 4-inch diameter mini springform pans, press the dough down, looking for about 1/4-inch thickness.
You will have leftover dough! Much. Make linzer cookies with it.
Poke holes using a fork to prevent the dough from forming bubbles.
Bake for 15 minutes.
Set aside and let cool. It will not be baked all the way through.
For the Cheesecake Filling:
Cream the cheese and sugar until soft, about 3 minutes.
Add in eggs one at a time, scraping down after each addition.
Add all-purpose flour and hazelnut flour and mix well.
Stir in the vanilla and Frangelico.
Take out 1/3 of the batter.
Add the Nutella and unsweetened cocoa powder.
Mix until fully incorporated.
Pour 1/3 of the original batter into the prepared pan with crust.
Then pour the Nutella batter on top of that.
Followed by the remaining 1/3 of the original batter.
Bake at 325F in a water bath for 1 ½ to 2 hours.
Remove from oven.
Remove from water bath.
Let sit at room temperature for at least 30 minutes.
Refrigerate for at least 5 hours or even better, overnight.
Glaze cheesecake if desired (if not, can be served then).
Place back in refrigerator for another hour, then serve.
For the Chocolate Glaze:
Place chopped chocolate in a medium bowl.In a small saucepan, bring the cream to a boil.
Remove pan from heat and add the chopped chocolate.
Let stand for 1 minute then gently stir until chocolate is melted and the glaze is smooth.
Gently stir in the vanilla.
Transfer glaze to a small bowl and cover the surface of the glaze with plastic wrap and let cool for 5 minutes at room temperature before using.
To glaze the cake:
Place the chilled cake, still on the cake round, on a wire rack set over a baking sheet.
Slowly pour the hot glaze onto the center of the cake.
Smooth the glaze over the top and sides, letting the excess drip onto the baking sheet.