These Turtle Brownie Double Chocolate Mousse Bites have chocolate chip pecan brownie base with chocolate mousse and caramel sauce.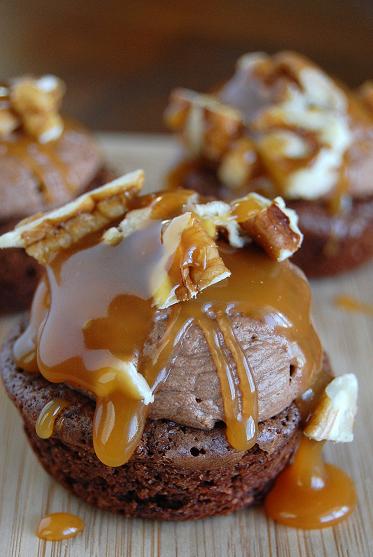 Oh sure this is old topic but how can I not blog about it?
What you ask?
Fat people on a plane.
Much better than snakes on a plane but causing way more controversy.
United Airlines has jumped onto the obese people must buy two seats bandwagon.
Their criteria?
Passengers too large to fit comfortably in a coach seat may be required to buy a second ticket or upgrade to business class, where seats are larger??  (if United's flight attendants can't find two open seats for them). Now here is my problem.
Too large to fit comfortably in a coach seat.?
Um, those seats weren't comfortable when I was a size 6.
I didn't fit comfortably into them then, so does that mean I should buy an extra ticket?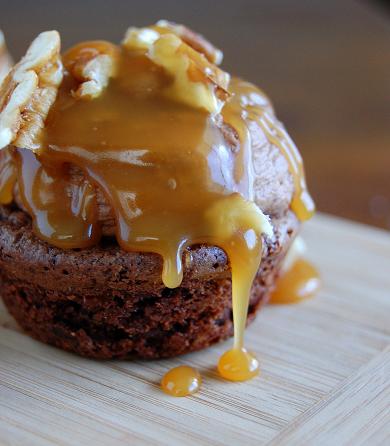 Now I get it.
No one likes the person next to them spilling over.
But perhaps if the airlines had not gotten so greedy and tried to pack us in like sardines that the spillage factor might be a little less.
And I think that in a time when people are choosing not to travel, the perfect strategy is to charge people more and tell them that they are fat.
What a fantastic marketing idea.
Why didn't I think of that?
So from now on I will call you all fat and charge you a dollar for every word you read on my blog. 😛
And to further fatten my ass so that I will have to pay for two seats, I present the Turtle Brownie Double Chocolate Mousse Bites.
Proven to pack on the pounds and way tastier than the snack pack of 3 pretzels, two peanuts and an unidentified cracker shaped thing, that you get in place of a meal now a days.
Last but not least…it's a great time to order my cookbook.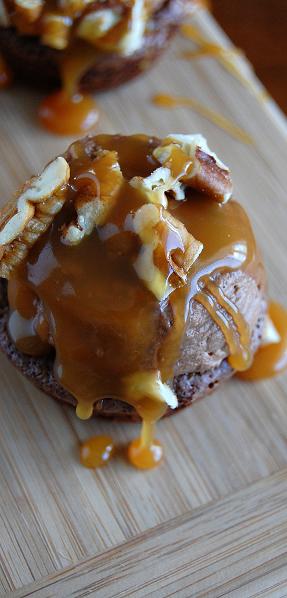 Want More Brownie Recipes?
Marshmallow Crunch Brownie Bars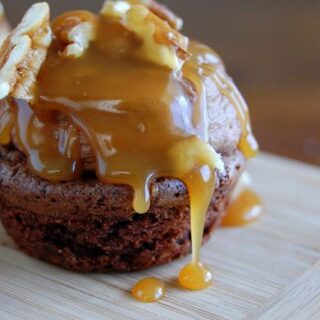 Turtle Brownie Double Chocolate Mousse Bites
Ingredients
What is Needed:
Chocolate Chip Pecan Brownie Bites (recipe follows)
Double Chocolate Mousse (recipe follows)
Store bought caramel sauce (or make your own) for drizzling
1 cup chopped pecans for garnish
For the Chocolate Chip Pecan Mini Brownie Bites:
4 ounces unsweetened chocolate, finely chopped
4 ounces bittersweet chocolate, finely chopped
8 ounces unsalted butter
5 eggs
2 cups granulated sugar
1 cup light brown sugar, firmly packed
1 vanilla bean, seeds scraped, pod discarded
1 2/3 cup flour
1 tsp salt
¾ cup semisweet chocolate chips
¾ cup pecans, toasted, chopped
For the Double Chocolate Mousse:
2 cups chilled heavy cream
4 large egg yolks
3 TBSP sugar
1 tsp vanilla
4 oz fine-quality bittersweet chocolate (not unsweetened), finely chopped
4 oz fine-quality semisweet chocolate, finely chopped
Instructions
For the Brownie Bites:
Preheat oven to 325F.
Grease 2 mini muffin pans.In a double boiler, melt together butter and chocolate.
When completely melted, whisk to combine and set aside to cool.
Using a stand mixer with the paddle attachment, mix together the eggs, sugars, and vanilla bean.
Mix until a pale yellow color forms, about 5 minutes.Add in cooled chocolate mixture and beat for 2 minutes.
With the mixer on low, add flour and salt and mix just until incorporated.
Fold in the chocolate chips and nuts.Using a mini muffin scoop, scoop batter into prepared pans.
Bake for 16-20 minutes depending on how gooey you like your brownie.
For the Double Chocolate Mousse:
Heat ¾ cup cream in a 1-quart heavy saucepan until hot.
Whisk together yolks, sugar, and a pinch of salt in a metal bowl until combined well, then add hot cream in a slow stream, whisking until combined.
Transfer mixture to saucepan and cook over moderately low heat, stirring constantly, until it registers 160°F on thermometer.
Pour custard through a fine-mesh sieve into a bowl and stir in vanilla.
Melt chocolates in a double boiler or a metal bowl set over a pan of simmering water (or in a glass bowl in a microwave at 50 percent power 3 to 5 minutes), stirring frequently.
Whisk custard into chocolate until smooth, then cool.
Beat remaining 1 1/4 cups cream in a bowl with an electric mixer until it just holds stiff peaks.
Whisk one fourth of cream into chocolate custard to lighten, then fold in remaining cream gently but thoroughly.
Spoon mousse into 8 (6-ounce) stemmed glasses or ramekins and chill, covered, at least 6 hours.
Let stand at room temperature about 20 minutes before serving.
To Assemble:
Pipe mousse on top of the brownie bite.
Add pecans and drizzle with caramel sauce.
Repeat until all brownie bites have mousse, pecans, and caramel on them.