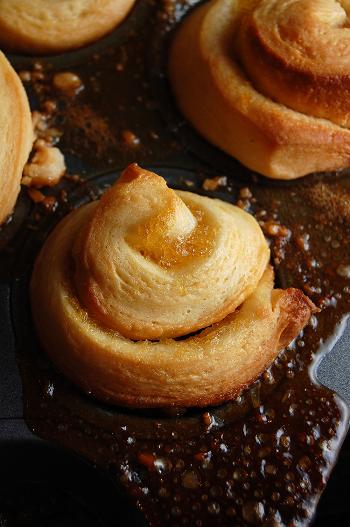 I came back from hiatus only to take another one. This one wasn't planned though. Working more and therefore having little time for blogging. Have lots of things made just no time to post. Today is no exception but it was killing me to not have something up. So here is something.
Insert witty and sarcastic paragraph here.
Hope everyone has a nice weekend.
Pineapple-Macadamia Nut Sticky Buns
½ recipe brioche (I used this recipe here)
For the Topping:
¼ pound unsalted butter, at room temperature
1 cup packed light brown sugar
3 TBSP pineapple juice
¼ cup honey
2 TBSP granulated sugar
½ cup Macadamia nuts, finely chopped
For the Filling:
1 cup pineapple Jam
To make the topping:
In a bowl of a standing mixer fitted with a paddle attachment or with a hand mixer, combine the butter, brown sugar, honey, pineapple juice, and sugar on a medium speed until smooth. If using nuts, divide nuts evenly among the cups and sprinkle the topping over them. Place 1 heaped TBSP of topping in the bottom of each muffin cup.
Filling and Buns:
Turn dough out onto a lightly floured work surface. Using a rolling pin, roll it into a rectangle approximately 12-x-16-inches. Using a knife, spread out pineapple jam, leaving a 1-inch martin at the top edge. Starting from the long side closest to you, roll up the dough like a jellyroll. If making smaller buns, you will want to make two smaller rectangles and roll very tightly. Transfer the log to a baking sheet, cover with plastic wrap and freeze for 10 minutes. This will make cutting the buns clean and even.
Using a bench scraper or chef's knife, cute th log crosswise into 12 pieces, or about 28 for the minis. Place a bun in each muffin cup, cut side up, or arrange them 1 inch apart in a cake pan.
Cover the dough with plastic wrap and let rise for 1 1/2-2 hours or until the buns have doubled in size.
Toward the end of the proofing, preheat the oven to 400F. Adjust the rack to the center of the oven, with the baking sheet on the lower rack to catch drips.
Bake 10 minutes. Turn down the heat to 350F and bake for 15-20 minutes more (the minis take about 10), or until the crust is golden and the topping is bubbly.
Immediately invert them onto a serving platter. If they are not removed immediately, the toping will harden, making them impossible to remove nicely.
Adapted from The Secrets of Baking by Sherry Yard