These No Bake Milky Way Tarts have a Midnight Milky Way candy bar ganache bottom with a Milky Way whipped cream topping.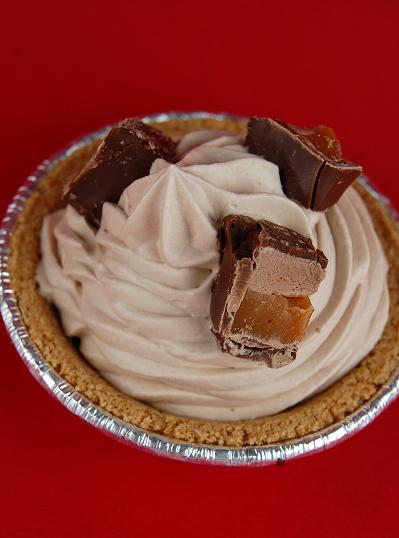 …they said bitch.
I am not sure what it is about watching the Dog Shows but every time they say the word bitch I giggle like a little 12 year girl.
Now I don't giggle at things like 'Skipper is a two year old bitch".
I can hold it together for those kinds of things.
But last night while watching the dog show on TV (I love the Pomeranian, King Charles Spaniels and the Bernese Mountain Dogs) I lost all control and giggled uncontrollably for many a minute.
I mean how can you not laugh at "I had that bitch in the ring before".
I don't know why it threw me but it did.
And while we are on the subject of dog shows, why do the women who show the dogs wear suits from the 1980's.
Do I need to buy them a calendar to let them know what year it is?
I realize you don't want to show up the dog and all, but ugh, some of those outfits make them look like dogs…and not the good kind.
Bow-wow ladies.
You are not at home cleaning the house in your bleached stained green sweatpants, you are after all on TV. Of course, me saying all this probably makes me a bitch, eh? 😀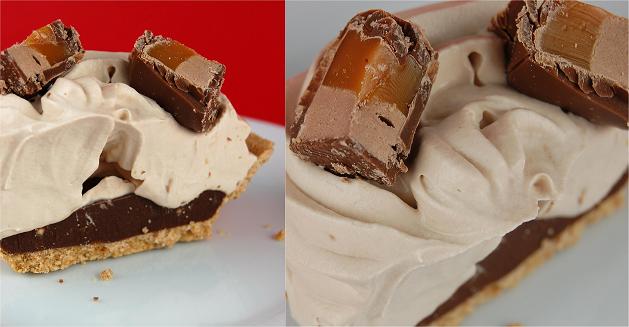 Since I was enthralled with the dog show I decided to go with a no bake treat.
That's right, no bake.
No Bake Milky Way Tarts to be exact.
When a reader mentioned she had seen something similar to my peanut butter sandwich cookies in a magazine, I had too.
I just couldn't remember which one.
I went looking.
It was on of those special for the holiday ones.
In it were these yummy looking no bake Milky Way Tarts.
Very easy to make and super yummy.
What's not to like about melted down candy bars!
The only drawback is that you have to eat them within 4 hours of making them…which I didn't find to be an issue. 😉
P.S. It's a great day to buy my cookbook Holy Sweet!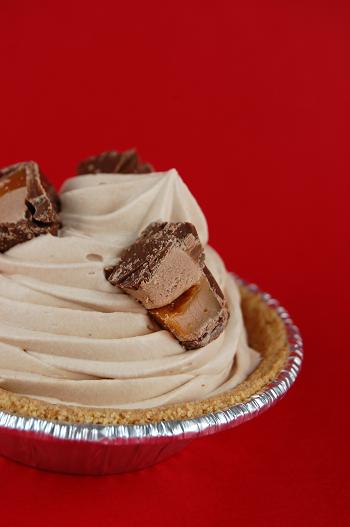 Want More Candy Bar Based Recipes?
Peanut Butter Cup Cheesecake Bars
Cookie Butter Kit Kat Cookie Pie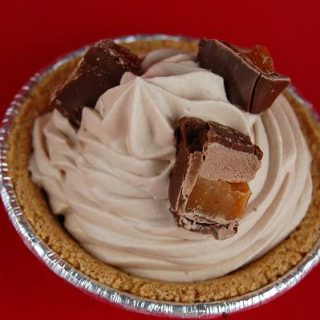 No Bake Milky Way Tarts
Ingredients
1 package (4 ounces) min i graham cracker pie crust
Midnight Milky Way Layer:
2 Midnight Milky Way bars (1.76 oz each), cut into small pieces
¼ cup semisweet chocolate chips
2 TBSP heavy whipping cream
1 TBSP unsalted butter
Milky Way Mousse
1 Milky Way bar (2.05 oz), cut into small pieces
1 cup plus 1 ½ TBSP heavy whipping cream
Garnish: Cut up Milky Way pieces
Instructions
Place crust on a rimmed tray.
For the Midnight layer:
Put ingredients in a small heavy saucepan over low heat.
Stir with a whisk until candy bars, chips cream, and butter melt and mixture is smooth. This takes a while, about 10-13 minutes.
Pour into crusts, cover, and refrigerate 1 hour or until firm, or up to two days.
Put the regular Milky Way bar and 1 ½ TBSP cream in a small saucepan over low heat.
Stir with a whisk until candy melts and mixture is smooth.
Refrigerate 15 minutes to cool.Add remaining 1 cup heavy whipping cream into the bowl of an stand mixer.
Using the whisk attachment, whisk cream on high until stiff peaks form.
Add the cooled Milky Way mixture into the chipped cream.
Whip for 30 seconds.Spoon into piping bag( (I used a large star tip).
Pipe in a spiral on top of Midnight layer.
Serve immediately or refrigerate up to 4 hours.
Right before serving garnish with extra candy pieces.