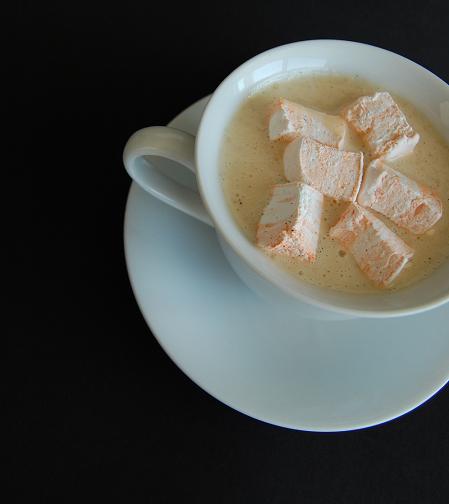 Odd week.
Started off Monday with my husband coming home and telling me that they disbanded his group at work and starting Tuesday he would be in a new group. Good news, he still has a job. Bad new, whoa, out of left field.
Moving on, thanks to all of those who checked out my kitchen over at Use Real Butter. Yes, I know I am spoiled and have a big kitchen. Realize that I had small apartment kitchens all my life, so I earned it. 😉 Also, many people said they were bummed that the picture of me was not of me in my hockey gear. So here you go (see below). There is me at April Ice, a tournament held in Calgary, Alberta, back in 2004. I was still living in Phoenix at the time (notice the logo).
Starting tomorrow my parents arrive so I will be MIA some more. Sorry.
Spring tried to come around these parts. We had unseasonable warm weather and it made everyone happy but me. So to bring the cold weather back (there is even rumors of snow on Monday) I made some cocoa and marshmallows with a twist.
I love, loved these marshmallows. They had just enough hint of orange to make them extra special. I made the marshmallows first and knew that I didn't want them to go with regular hot chocolate. So Out came the vanilla beans and white chocolate. This is a thick drinking chocolate again. The two of them made quite a combo!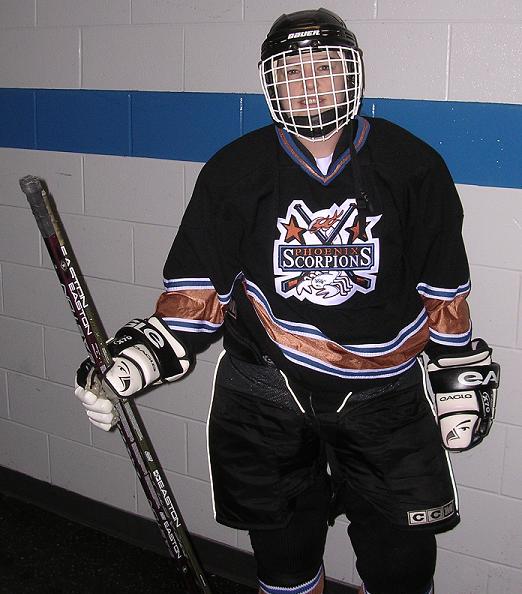 Vanilla Bean White Chocolate Cocoa with Orange N' Cream Marshmallows
1 batch Orange N' Cream Marshmallows (recipe follows)
1 batch Vanilla Bean White Chocolate Cocoa (recipe follows)
Shaved white chocolate for garnish (optional)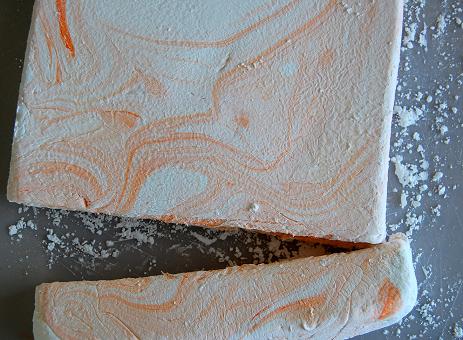 Vanilla Bean White Chocolate Cocoa
8 ounces good white chocolate, finely chopped
2 ½  cups whole milk
1 ½ cups heavy whipping cream
2 vanilla beans, split, seeds removed, pod discarded
¼ cup granulated sugar
Place chopped white chocolate in a large bowl. Set aside.
Heat the milk, cream and vanilla beans in a heavy medium sauce pan over medium low heat for about five minutes. Whisk to ensure that the vanilla beans disperse.
Turn up the heat and whisk in sugar. Bring just to a boil and quickly remove off of heat.
Pour milk mixture over white chocolate. Let stand for 2 minutes, then whisk vigorously until the chocolate has melted completely.
Divide among 4 of your favorite coffee mugs and garnish with Orange N' Cream Marshmallows.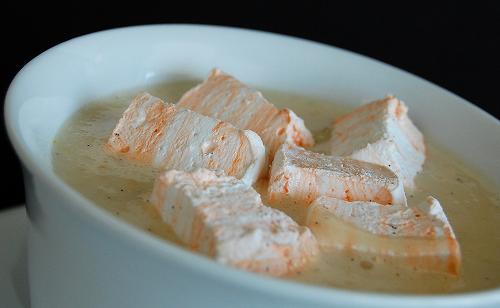 Orange N' Cream Marshmallows
3 packages unflavored gelatin
1 cup ice cold water, divided
12 ounces granulated sugar
1 cup light corn syrup
¼  tsp kosher salt
1 vanilla bean, split, seeds scraped, pod discarded
¼ tsp orange extract
¼  cup confectioners' sugar
¼  cup cornstarch
Nonstick spray
Directions
Place the gelatin into the bowl of a stand mixer along with ½  cup of the water. Have the whisk attachment standing by.
In a small saucepan combine the remaining ½  cup water, granulated sugar, corn syrup and salt. Place over medium high heat, cover and allow to cook for 3 to 4 minutes. Uncover, clip a candy thermometer onto the side of the pan and continue to cook until the mixture reaches 240 degrees F, approximately 7 to 8 minutes. Once the mixture reaches this temperature, immediately remove from the heat.
Turn the mixer on low speed and, while running, slowly pour the sugar syrup down the side of the bowl into the gelatin mixture. Once you have added all of the syrup, increase the speed to high. Continue to whip until the mixture becomes very thick and is lukewarm, approximately 12 to 15 minutes. Add the vanilla beans and orange extract during the last minute of whipping. While the mixture is whipping prepare the pans as follows. If you would like to add some orange food coloring (I like to use the gel kind for marshmallows), just fold some in gently so as not to make them all orange (you want some swirl)…of course you can make them all orange if you want.
Combine the confectioners' sugar and cornstarch in a small bowl. Lightly spray a 13 by 9-inch metal baking pan with nonstick cooking spray. Add the sugar and cornstarch mixture and move around to completely coat the bottom and sides of the pan. Return the remaining mixture to the bowl for later use.
When ready, pour the mixture into the prepared pan, using a lightly oiled spatula for spreading evenly into the pan. Dust the top with enough of the remaining sugar and cornstarch mixture to lightly cover. Reserve the rest for later. Allow the marshmallows to sit uncovered for at least 4 hours and up to overnight.
Turn the marshmallows out onto a cutting board and cut into 1-inch squares using a pizza wheel dusted with the confectioners' sugar mixture. Once cut, lightly dust all sides of each marshmallow with the remaining mixture, using additional if necessary. Store in an airtight container for up to 3 weeks.
Adapted from Alton Brown @ Foodnetwork.com