These Honey Peanut Butter Crunch Cupcakes are honey cupcakes with honey buttercream with peanut brittle crunch on top.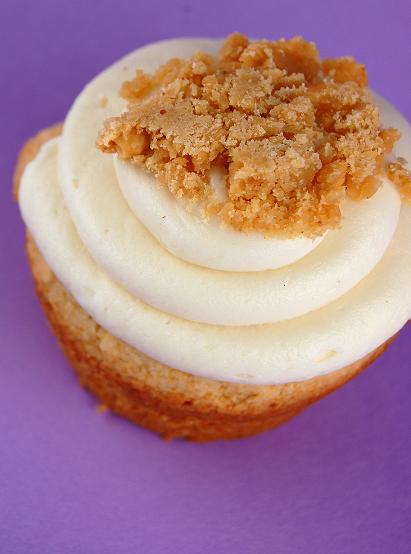 By the way, if you are interested in seeing and hearing about my kitchen, then catch my tour over at Jen's blog, Use Real Butter (it's up now).
Be sure to check out all of the kitchens she has been featuring, it's been fun to look at all the different styles of kitchens.
So I'm weird.
I think that has been established. I am needle and dentist phobic.
Also, been established.
My third phobia is spiders.
However, I understand that they play a valuable roll in the food chain by eating other bugs.
BUT I don't like them in my house.
So once a month I stand in what I think is the middle of my house and verbally warn any spiders in my house that they are welcome to stay but can not come and out and be seen.
If seen, I will send the husband to kill you (one of my main reasons for getting married, full time bug killer 😉 ).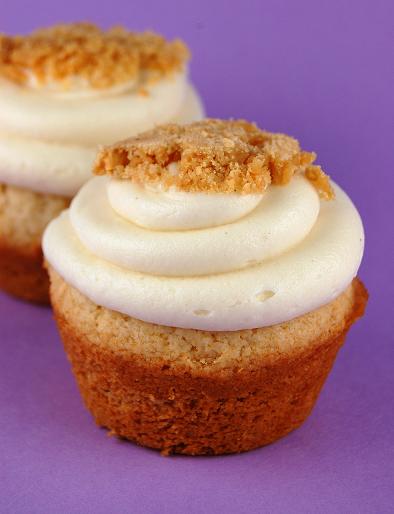 I do this for bees as well.
But I yell at them outside.
They don't listen as well as the spiders.
I see them all the time.
And I never kill them because I am usually running from them.
Because of course, I have a bee allergy.
But like spiders, bees play an important role and so I tolerate them.
They do at least make honey, which is more than what I can say about the spiders.
Last week, Jessie over at Cakespy had a post about these yummy cupcakes from one of our local shops, Cupcake Royale.
They were Honey Peanut Brittle Cupcakes.
I soooo wanted one.
But that would be a 45 minute drive and involve me spending large amounts of money.
So I figured, why not make my own.
You don't have to use the peanut butter crunch topping.
I found it at the store when looking for peanut brittle (which this time a year is hard to find and I am too busy to make my own).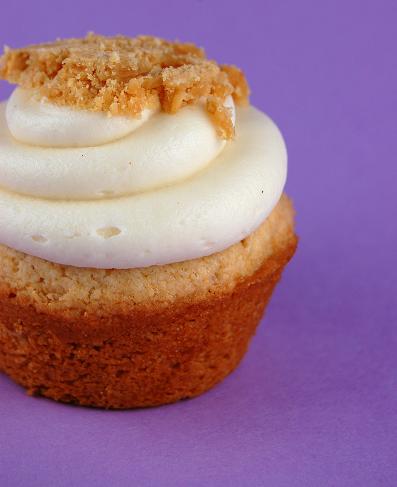 It's like a Butterfinger without chocolate, though they make a chocolate covered kind as well.
I think that it adds a little depth to the cupcake.
And I will say that if you are a honey lover, these are super yummy.
I could not get enough of them.
I ate them all day long, finally throwing out (the horror, I know) the rest to save me from going up a pant size.
P.S. It's a great day to buy my cookbook Holy Sweet!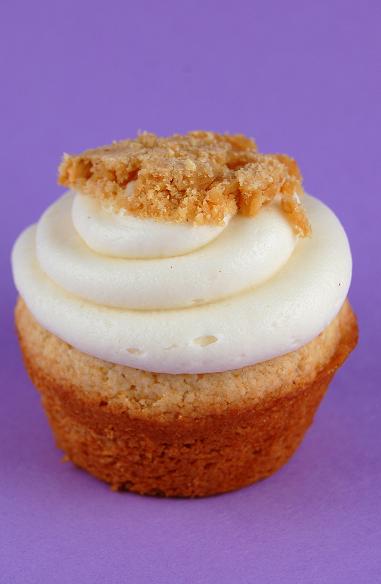 Want more Cupcake recipes?
Strawberry Lemonade Glazed Cupcakes
Key Lime Toasted Coconut Cupcakes
Chocolate Glazed Rocky Road Cupcakes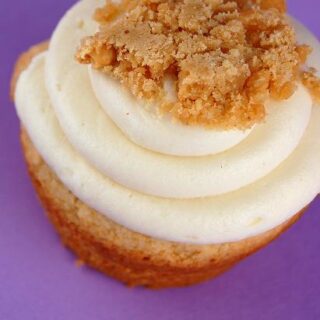 Honey Peanut Butter Crunch Cupcakes
Ingredients
For the Honey Cupcakes:
½ cup unsalted butter, at room temperature
¾ cup granulated sugar
1/3 cup creamed honey
¾ cup whole milk
1 tsp vanilla extract
1 egg
2 cups self rising flour
For the Honey Buttercream Frosting:
1 cup unsalted butter, at room temperature
1/3 cup honey plus 2 TBSP
4-5 cups powdered sugar
milk as needed for thinning out frosting
peanut brittle or crushed butterfinger as garnish
Instructions
For the Honey Cupcakes:
Preheat oven to 350F.
In a stand mixer using the paddle attachment, cream together the butter, sugar, and honey.
Beat for about 3 minutes, until light and fluffy.Beat in egg, scrape down sides after blended.
Add in vanilla and beat for another 30 seconds.
Starting with the flour first, alternate between flour and milk, ending with flour.
So 1/3 of flour, ½ of milk, 1/3 of flour, ½ milk, 1/3 flour.
Blend until fully combined.
Fill cupcake pan (you can use liners, I just don't like to) 2/3 of the way full with batter.
Fill until all batter is used.
Bake for 20-22 minutes.
Remove from oven and let cool for 5 minutes in pan.
Then remove from pan and place on a wire rack to finish cooling.
Cool completely before frosting.
For the Honey Buttercream Frosting:
In a stand mixer using the paddle attachment, cream together the butter and the honey for 2 minutes.
Add 2 cups of the powdered sugar.
Start on low speed on the mixer, beat until smooth and creamy, about 3-5 minutes.
Gradually add the remaining sugar, 1 cup at a time, beating well after each addition (about 2 minutes), until the icing is thick enough to be of good spreading consistency.
Use milk to thin out frosting to reach desired consistency.
To assemble cupcakes:
Take cooled cupcake.
Place frosting in a piping bag.
Starting at one end pipe in a circle, continuing around and around until you form a beehive shape.
Dip top of cupcake into crushed Peanut Butter Crunch Candy.
I used Fairhaven Crumblz Original Peanut. If you can't find it, crushed up Butterfinger or crushed up peanut brittle would work nicely as well.