Chocolate Mascarpone Cheesecake Pots are made with Mascarpone cheese instead of cream cheese to give it a silky finish with raspberry sauce.
It's not having what you want, it's wanting what you have.
I'm pretty sure that is the secret to life, a happy life that is. Too bad hardly anyone can follow that.
It's that time of year again.
The time when people make resolutions to better themselves and my blog readership goes down…too much temptation.
I think New Years is the worst time to start anything.
I mean, and I'll be honest here, if you really were dedicated to change your life and really stick to it, you would have started it when you thought of it.
There have been two times in my life where I lost a decent amount of weight (gaining it back of course 😉 ), both times were not at new years.
One time was December 24th.
Something snapped and I was not even tempted by all the Christmas goodies.
The other time was in December as well.
So if your plan is to stuff your face right up until the bitter end on New Years Eve and then start fresh the next day, I fear my dear friend you are setting yourself up for most likely failure.
Why say this?
Well, for one, I don't want the extra people in my gym 😛
But the reality is it's true.
Sorry kids it's true.
If you wanted to stop smoking you would have stopped when you thought about.
January 1st is not the magic deadline.
If you want to start exercising more there was really no reason you couldn't have done it on December 18th.
January is not a mythical month that will make it all better.
My New Years resolution if I really had one would be to be happy with what I have.
I wish this on all of you.
If you have a picture of yourself up when you were at your thinnest, take that down, that's not motivation, that's torture.
Because most likely you were in high school or college and you could eat 3 cheeseburgers without blinking and eye and your metabolism ate it up.
Well, those days are past.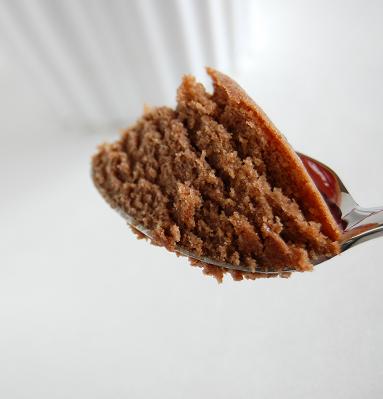 Are you holding on to clothing that hasn't fit in 10 years, throw it out.
Do you refuse to not buy yourself nice clothing until you lose weight?
Guess what?
You're at the weight you are at.
If you dress yourself nicely, you will carry yourself nicely.
If you carry yourself nicely you gain confidence, and a dose of confidence is far better than a skinny ass any day.
Splurge on some nice core pieces and buy the trendy clothing from the cheap places.
You are you at this moment.
Celebrate you at this moment.
Take this year to celebrate you and take care of yourself.
If that mean you want to eat healthier, then fabulous, go for that. But starving yourself and eating 6 bags of popcorn and 3 bowls of zero point soup really isn't eating healthier.
Want to work out, fabulous.
But don't set an unrealistic goal of working out for an hour everyday.
Most people don't have time for that.
Break it up.
Take a walk on your break at work instead of seeing what is in the candy machine at work and hoping the expiration date hasn't passed.
Try not to draw on the negatives.
For those of you sticking around on temptation food blog here I offer up these little dishes of yumminess.
Cheesecake in a dish made with Mascarpone cheese instead of cream cheese.
Oh the silkiness of these treats really is well, a treat.
They can be flavored with just about any liqueur you would like but I chose Chambord so that I could serve them with a raspberry sauce.
These are fantastic for a dinner party as they can be made ahead up to two days in advance.
They are super easy to make but don't taste that way. Real keeper of a recipe.
Those of you going the resolution route I do wish you the best and hope you are one of the lucky few to keep your resolution.
Last but not least…it's a great time to order my cookbook.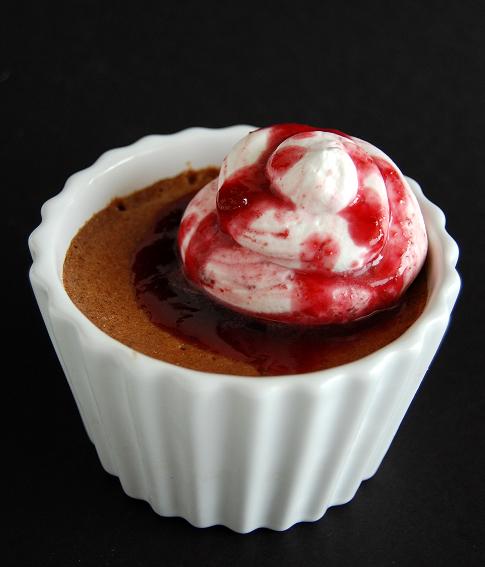 Want More Cheesecake Recipes?
Sprinkle Sugar Cookie Cheesecake Bars
Cinnamon Roll Caramel Apple Cheesecake
Caramel Apple Toffee Cheesecake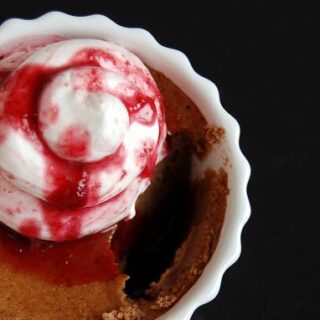 Chocolate Mascarpone Cheesecake Pots
Ingredients
For the Cheesecake Pots:
1 cup heavy cream
4 ounces semisweet chocolate, finely chopped
8 ounces Mascarpone cheese
¼ cup sugar
1 tsp vanilla
pinch of salt
1 tsp all-purpose flour
3 large eggs
1 TBSP Chambord (optional)
For the Raspberry Sauce:
½ cup sugar
3 TBSP water
12 ounces frozen raspberries thawed
1 TBSP Chambord Framboise liqueur (optional)
Instructions
Position rack in the middle of the oven and preheat to 325F.
In a saucepan, bring cream to a simmer over medium heat.
Remove the pan from heat before the cream starts to boil and add the chocolate, stirring constantly until mixture is smooth.
Set aside and let cool to room temperature.
In a large bowl, whisk together the mascarpone and sugar until smooth.
Add eggs one at a time, whisking well after each addition ( I like to scrape down the bowl after each addition as well) until smooth.
Add flour and mix until incorporated.
Add vanilla, Chambord and salt and whisk to combine.
Pour the cooled chocolate mixture into the mascarpone cheese mixture and whisk gently until smooth.
Put eight 4-ounce custard cups, ramekins, or small oven proof coffee cups in and empty 9 by 13-inch baking pan.
Divide the chocolate-cheesecake mixture among the cups.
Put the baking dish in the oven and then carefully pour boiling water into the pan.
Adding just enough water to reach halfway up the sides of the custard cups. Cover with aluminum foil.
Bake until the tops of the cheesecakes appear solid but jiggle slightly when shaken, 30-40 minutes.
These will firm up as they cool to room temperature.
Cover each pot with plastic wrap and refrigerate for at least 4 hours, preferably overnight.
These can be made up to 2 days in advance.
For the Raspberry Sauce:
Combine sugar and water microwave-safe cup or bowl. Stir to combine. The mixture will be very thick.
Cook in the microwave on high power for two minutes. Stir for 5-10 seconds to ensure that the sugar crystals are dissolved.
Combine frozen raspberries and hot syrup in a blender container. Blend until the mixture is smooth and pureed.
Pour puree through a fine-mesh strainer set over a medium-size bowl. Stir and push on the solids with the back of a rubber spatula until all of the liquid has been extracted. This will take several minutes as the mixture will be thick.
Discard the seeds. Add the liqueur, if using and stir to combine.
Store in the refrigerator for 5-7 days or in the freezer for 2-3 months.
Top the cheesecake pots with whipped cream and raspberry sauce.